Teen mom denied right to breast feed
After sophomore Jaielyn Belong was denied breastfeeding accommodations at her Delaware high school, moms across Facebook came together to support the new mother.
Yesterday, a community – both real and virtual – came together when a Delaware teen was denied breastfeeding accommodations at her high school.
Five weeks ago, Felton High School sophomore Jaielyn Belong gave birth to her son,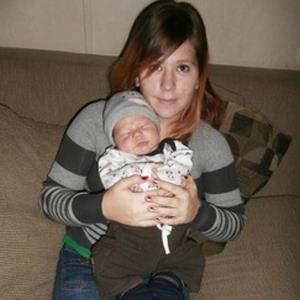 Adrian Amir Belong. As the new mom heads back to high school next week, she plans to exclusively breastfeed her baby as per the current recommendation by the American Academy of Pediatrics.
The only catch? The nurse, a counselor and a school administrator recommended Jaielyn only breastfeed her son before and after school hours, reports MommaTraumaBlog.com. This would mean Jaielyn could not pump for or nurse her baby for over eight hours every weekday.
More from MSN Living: 10 juicy mom confessions
This recommendation goes against Delaware law which reads:
31 Del. C. § 310
Notwithstanding any provision of law to the contrary, a mother shall be entitled to breast-feed her baby in any location of a place of public accommodation, wherein the mother is otherwise permitted.
More from MSN Living: 10 worst moments in mom judgment
Local La Leche League (LLL) leader, Heather Felker, said Jaielyn "has shown great maturity by taking responsibility for her pregnancy and now her son. She chose breast milk as the healthiest possible start for her son, and as a cost saving measure for her family. By not supporting these choices, the school is sending a negative message."
Moms of all ages were outraged by this message and took to Facebook, starting a 'We support Jaielyn Belong' Facebook page that garnered more than 1,400 'likes' in one day.
School officials took notice, and the pro-pumping Facebook page posted a message they received from Jaielyn's mom, Betty Belong: "She's allowed to pump her milk and they will provide a private area for her!"
The post added that someone has agreed that if the school will give her the space she needs, they will donate a refrigerator so that she will have a place to store her milk.
"I only want what's the very best for him and it is scientifically proven, breast milk is the best choice," Jaielyn told MommaTraumaBlog.com.
Listen to a WXDE Delaware 105.9 News Talk Radio interview with the Lake Forest High School superintendent here.
Do you think teen moms should be able to pump and store breast milk at school?
Bing: Bizarre uses for breast milk
More from Family Room:
Most addictive video games for kids
Toddler death raises concern over car seat rules
Violent video games and child aggression
Love content like this? Friend us on Facebook, follow us on Twitter and find us on Pinterest.
Readers: Calling all mom bloggers – we're looking for fresh voices on MSN Living. Email us your samples and contact info!
Photo: via Facebook 
family: tips, trends & advice for all things family
From designer crosses to giant breeds, we scoured Vetstreet's data of millions of dog breeds to determine the trendiest breeds of the past decade.

One of the most unsettling consequences of bringing a child into your previously simple, happily oblivious manly life is that you're now unquestionably, inescapably…The Man.

Whether it was baby's first kick or the first time your boobs leaked in public, there's a point in every mom's life when the world as you know it ends and you realize -- Whoa, I'm someone's mom now. Some of our favorite mommy bloggers revealed what their aha moments were. They range from heartwarming to completely hilarious.

From DIY jewelry to homemade "flowers" to sweet vases, you can help your kid make mom's day with these crafty gifts.

The first parenting shock: They let you take the baby home. Like, without supervision. Only then do the real surprises unfold. Here's what readers told us was most unexpected for them as they embraced this whole mama thing.

Be prepared to say, 'awww,' multiple times while flipping through this collection super-sweet stuff for babies and kids on Etsy.com. Take a peek at some of our favorite finds for moms (and click 'More' to find out how to get this amazing gnome hat!)...By MSN Living editors

Your Mother's Day plans are all set, right? Brunch is booked and a fabulous gift is wrapped and ready to go. So take a breather and celebrate these stylish celebrity moms who work hard, care for their kids, and manage to look amazing in the process.

Find out this year's top baby names on Parenting.com, and see what we predict will be big in 2013

Sophia and Jacob reign supreme.

In an online contest, Parenting.com asked readers to tell us what it means to "have it all." Read the winner's moving essay on how that phrase has defined her motherhood, plus essays from the three runners up.

Tow lot employee finds abandoned pup.

Animals, says Dr. Patty Khuly, are the best listeners in the world and don't care that you've just been dumped or laid off.