Teen mom denied right to breast feed
After sophomore Jaielyn Belong was denied breastfeeding accommodations at her Delaware high school, moms across Facebook came together to support the new mother.
Yesterday, a community – both real and virtual – came together when a Delaware teen was denied breastfeeding accommodations at her high school.
Five weeks ago, Felton High School sophomore Jaielyn Belong gave birth to her son,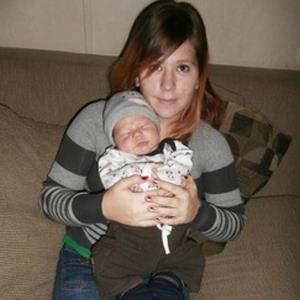 Adrian Amir Belong. As the new mom heads back to high school next week, she plans to exclusively breastfeed her baby as per the current recommendation by the American Academy of Pediatrics.
The only catch? The nurse, a counselor and a school administrator recommended Jaielyn only breastfeed her son before and after school hours, reports MommaTraumaBlog.com. This would mean Jaielyn could not pump for or nurse her baby for over eight hours every weekday.
More from MSN Living: 10 juicy mom confessions
This recommendation goes against Delaware law which reads:
31 Del. C. § 310
Notwithstanding any provision of law to the contrary, a mother shall be entitled to breast-feed her baby in any location of a place of public accommodation, wherein the mother is otherwise permitted.
More from MSN Living: 10 worst moments in mom judgment
Local La Leche League (LLL) leader, Heather Felker, said Jaielyn "has shown great maturity by taking responsibility for her pregnancy and now her son. She chose breast milk as the healthiest possible start for her son, and as a cost saving measure for her family. By not supporting these choices, the school is sending a negative message."
Moms of all ages were outraged by this message and took to Facebook, starting a 'We support Jaielyn Belong' Facebook page that garnered more than 1,400 'likes' in one day.
School officials took notice, and the pro-pumping Facebook page posted a message they received from Jaielyn's mom, Betty Belong: "She's allowed to pump her milk and they will provide a private area for her!"
The post added that someone has agreed that if the school will give her the space she needs, they will donate a refrigerator so that she will have a place to store her milk.
"I only want what's the very best for him and it is scientifically proven, breast milk is the best choice," Jaielyn told MommaTraumaBlog.com.
Listen to a WXDE Delaware 105.9 News Talk Radio interview with the Lake Forest High School superintendent here.
Do you think teen moms should be able to pump and store breast milk at school?
Bing: Bizarre uses for breast milk
More from Family Room:
Most addictive video games for kids
Toddler death raises concern over car seat rules
Violent video games and child aggression
Love content like this? Friend us on Facebook, follow us on Twitter and find us on Pinterest.
Readers: Calling all mom bloggers – we're looking for fresh voices on MSN Living. Email us your samples and contact info!
Photo: via Facebook 
News, stories, tips and laughs for moms & dads
Get ready to hit the mall! Check out the hottest back-to-school trends—and get ready to make a major style statement this year.

Unique, or downright strange?

This is Kevin Droniak and his grandma. They're besties, they're awesome and they're YouTube stars.

It can be difficult to entice little ones to eat anything at all, let alone to devour a healthy plate. But feeding your kids nutritious snacks after school just got way easier, thanks to these adorably clever and cute snack ideas! For more smart and fun ways to get your kids to enjoy healthful and delicious foods, try one of these amazingly artsy lunch ideas.

Through a tonsillectomy all the way to brain surgery, my mother deserves some recognition. She's my spine, my birthday shadow, my BFF, my thunder buddy, so Mommy, thank you.

My son needs me, as much as yours needs you. Sadly, my son needs me more. He needs someone to have his back, when it seems that the police, the men he'd wave to with excitement as a little boy, see him as a being worthy only of prison or death.

If you know someone who has adopted and have made some of these comments, don't fret... now you know!

"Because you shine from within," I said, touching my finger to her heart. "Not everybody sees it, but I do. I see it. And my job is to protect that light. So when people say mean comments that squelch that light, I want you to tell me. I will protect your light by listening and loving you, my brave, courageous, and unique little firefly."

Studies have shown that it helps, top education officials have recommended it, and now doctors are officially saying the same.

I may have accidentally dropped you a few times, forgotten to document your first fart, let a little pee fly and dressed you like an idiot, but I have also loved you with every piece of me, and you will never hear an apology for that.

Back-to-school shopping is still in full swing, and your little gents probably need some new kicks to round out their fall wardrobes (you already picked up some bold shoes for the little ladies in your life, right?).

Not every kid is a fan of returning to the classroom, so parents try to ease the blow with a little back-to-school shopping.