Homeless Children in NYC Nears Great Depression Levels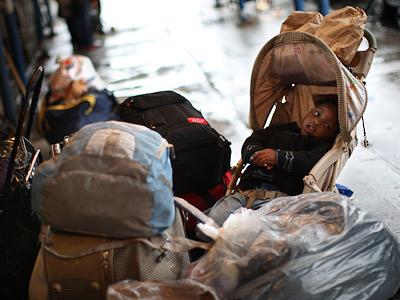 Nineteen thousand homeless children are currently seeking help in New York City shelters, according to new data from the city. For comparison, 20,000 children were homeless in The Big Apple during the Great Depression.
The Daily News story profiles 14-year-old Francheska Luciano who spends her nights in one of the city's shelters. She said it's "like living in hell."
Luciano, who lives in a shelter with her family, said it's particularly difficult for her younger siblings.
"They're young, they have no childhood, they don't sleep well," she said. "It's not fair to them."
The number of homeless children in New York has grown 18 percent in the past year (view the city's report here).
"Not since the grim days of the Great Depression has New York City had 20,000 children sleeping homeless each night," said Patrick Markee, a senior policy analyst with the Coalition for the Homeless.
The coalition said that with "no housing assistance in place to help families move out of shelter and into permanent housing, the city is on track to reach the unthinkable milestone of 20,000 homeless kids before year's end."
"Study after study show children who become homeless do worse in school as well as suffer in their physical and mental health development," a statement from the coalition reads.
There are currently 1.6 million homeless children living in the United States.
Tell us on Facebook: What would you propose as a solution to this problem?
Photo: Spencer Platt/Getty Images
News, stories, tips and laughs for moms & dads
What are we teaching our children when we focus on their achievements rather than their kindness?

Discover the seemingly insignificant things that can affect your chances of getting pregnant.

A thrill-obsessed subculture claimed another life this week.

A few suggested answers for the diciest questions

Must-haves for every mommy on the road

Here's our list of fifteen moms in the food industry that deserve some recognition.

The site gets high marks for its user-friendly interface and excellent and responsive customer service. And the reviews are also pretty accurate. Compare amenities and prices next to a hotel's in the same area, and you're likely to see Airbnb come out on top.

We captured a frame-by-frame look just for you.

Other moms can be ruthless when it comes to picking apart your parenting choices. From dissing your decision to go back to work to criticizing when you started baby on solids, here are the most ridiculous comments moms have heard. Bonus, we've got just the right way to respond to the haters! You're welcome.

Nope, you don't have to spend the next nine months in black elastic-waist pants and oversize sweaters. And you don't have to shell out a fortune on your "temporary" wardrobe either. Check out these stylish and affordable maternity clothes.

Because society crumbles without us

Another kid figured out how to get into a claw machine.