Homeless Children in NYC Nears Great Depression Levels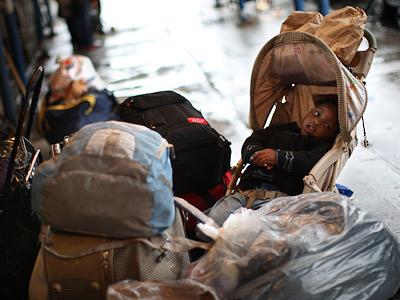 Nineteen thousand homeless children are currently seeking help in New York City shelters, according to new data from the city. For comparison, 20,000 children were homeless in The Big Apple during the Great Depression.
The Daily News story profiles 14-year-old Francheska Luciano who spends her nights in one of the city's shelters. She said it's "like living in hell."
Luciano, who lives in a shelter with her family, said it's particularly difficult for her younger siblings.
"They're young, they have no childhood, they don't sleep well," she said. "It's not fair to them."
The number of homeless children in New York has grown 18 percent in the past year (view the city's report here).
"Not since the grim days of the Great Depression has New York City had 20,000 children sleeping homeless each night," said Patrick Markee, a senior policy analyst with the Coalition for the Homeless.
The coalition said that with "no housing assistance in place to help families move out of shelter and into permanent housing, the city is on track to reach the unthinkable milestone of 20,000 homeless kids before year's end."
"Study after study show children who become homeless do worse in school as well as suffer in their physical and mental health development," a statement from the coalition reads.
There are currently 1.6 million homeless children living in the United States.
Tell us on Facebook: What would you propose as a solution to this problem?
Photo: Spencer Platt/Getty Images
News, stories, tips and laughs for moms & dads
As all the kids line up to go to school, your son, Timmy, turns to you and says, "I don't want to take the bus. My stomach hurts. Please don't make me go." You cringe and think, Here we go again. What should be a simple morning routine explodes into a daunting challenge.

Learning these 10 things is a good base with which to begin the tough preteen and teen years. Helping our children maneuver life is our jobs as parents, even if we haven't quite figured it all out ourselves yet.

We've all seen her... But should we judge her?

Unique, or downright strange?

In a few short weeks you'll be dropping your child off at college, where they'll spend the next four years learning, laughing, and probably partying. Of course, in true teen fashion, your child has already started shopping for their dorm room essentials. Don't panic just yet!

When tots burst through the door after a busy day at school, the first order of business is securing a snack.

The only thing more important than what you pack your child for lunch is what you pack it in.

Frustrated mom invents Ignore No More app

Do you have the right mix of moms surrounding you?

It's hard to keep young kids entertained while being confined indoors, but fear not, for we have some fun ideas to keep the entire family from climbing the walls during rainy days.

Back in our day, ending up with the same exact backpack as your BFF was a legitimate back-to-school concern. Nowadays? There are so many options, it's dizzying!

It is a parent's eternal dilemma: What do I make the kids for lunch today? And tomorrow? And next week? We fall into ruts, succumb to the tried-and-true, give in to our children's demands for junk food. No more! These school lunch ideas—for everything from sandwiches to snacks to hot meals—will freshen up your daily routine, so much so you may be tempted to make them for yourself.