Homeless Children in NYC Nears Great Depression Levels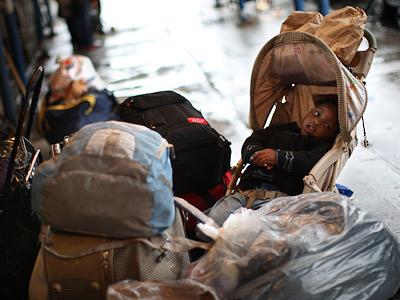 Nineteen thousand homeless children are currently seeking help in New York City shelters, according to new data from the city. For comparison, 20,000 children were homeless in The Big Apple during the Great Depression.
The Daily News story profiles 14-year-old Francheska Luciano who spends her nights in one of the city's shelters. She said it's "like living in hell."
Luciano, who lives in a shelter with her family, said it's particularly difficult for her younger siblings.
"They're young, they have no childhood, they don't sleep well," she said. "It's not fair to them."
The number of homeless children in New York has grown 18 percent in the past year (view the city's report here).
"Not since the grim days of the Great Depression has New York City had 20,000 children sleeping homeless each night," said Patrick Markee, a senior policy analyst with the Coalition for the Homeless.
The coalition said that with "no housing assistance in place to help families move out of shelter and into permanent housing, the city is on track to reach the unthinkable milestone of 20,000 homeless kids before year's end."
"Study after study show children who become homeless do worse in school as well as suffer in their physical and mental health development," a statement from the coalition reads.
There are currently 1.6 million homeless children living in the United States.
Tell us on Facebook: What would you propose as a solution to this problem?
Photo: Spencer Platt/Getty Images
News, stories, tips and laughs for moms & dads
Transform the fall vegetable into cool decor pieces.

Put together these creative, but simple, Halloween looks for your youngsters.

We know you're documenting just about every move baby makes. (Do you even have any memory left on your phone? We didn't think so.) These tips from professional photographers can help you perfect your pics.

These six on-trend ideas will make baby's room your new favorite place to hang out.

Baby probably won't remember his first birthday party, but that doesn't mean you can't go all out (after all, parents need to celebrate making it through this first year, right?). These fun, colorful themes take planning to the next level.

See what celebrities who had problems conceiving have to say.

You'll be hearing a lot of advice and opinions. Some of it will be really helpful and some will be just plain wrong. Here are the most common things people say about babies that aren't true.

A new dad finds an Epcot Center's worth of innovation after expecting none at all.

The dog days of summer may be well behind us, but that doesn't mean it's time to pack in the outdoor adventures quite yet.

Protect yourself and your family with these ingenious gizmos and smartphone apps.

Make sure your go-to gadgets are as cute as your style, with these trendy tech finds!

Oh, how the times have changed...