Mom delivers baby herself on the way to hospital
Atlanta woman didn't tell fast-driving husband of the birth, so as not to cause him to crash.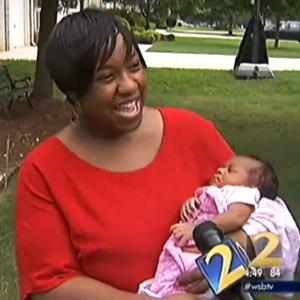 Terrance Leonard was driving more than 80 mph to rush his wife, Katrena, to the hospital in time to deliver their baby. But Baby Kylie wasn't going to wait. Sitting in the passenger's seat, Katrena Leonard delivered the baby herself, catching the newborn in the bottom of her dress.
Gallery: Most hilarious baby photos
"I thought I had time," Katrena Leonard told WSB-TV in Atlanta. "I was just holding the dress with her inside so that [my husband] couldn't see. I didn't want him to wreck."
Yes, she not only delivered her own baby but tried to keep the birth from her husband in order to avoid a distraction from the road. This woman's mommy skills are already on point.
Once they arrived at the hospital, the staff had a hard time believing the baby was already born.
"The nurses and everyone … they didn't believe the baby was there all of a sudden. They say, 'She's got the baby,'" Terrance Leonard said. "All Kylie was doing was just looking at her mom like, 'I'm here.'"
Welcome to the world, Baby Kylie.
More from Family Room: 
Woman wakes from coma and finds out she's pregnant
Poll: Most babies make Facebook debut within hour of birth
Subscribe to The Family Room | Friend us on Facebook, follow us on Twitter and find us on Pinterest.
Photo: Katrena Leonard holds the baby she delivered on the way to an Atlanta hospital. (​Courtesy of WSB-TV, Atlanta)
News, stories, tips and laughs for moms & dads
Protect yourself and your family with these ingenious gizmos and smartphone apps.

Make sure your go-to gadgets are as cute as your style, with these trendy tech finds!

Oh, how the times have changed...

Get ready to hit the mall! Check out the hottest back-to-school trends—and get ready to make a major style statement this year.

Unique, or downright strange?

This is Kevin Droniak and his grandma. They're besties, they're awesome and they're YouTube stars.

It can be difficult to entice little ones to eat anything at all, let alone to devour a healthy plate. But feeding your kids nutritious snacks after school just got way easier, thanks to these adorably clever and cute snack ideas! For more smart and fun ways to get your kids to enjoy healthful and delicious foods, try one of these amazingly artsy lunch ideas.

Through a tonsillectomy all the way to brain surgery, my mother deserves some recognition. She's my spine, my birthday shadow, my BFF, my thunder buddy, so Mommy, thank you.

My son needs me, as much as yours needs you. Sadly, my son needs me more. He needs someone to have his back, when it seems that the police, the men he'd wave to with excitement as a little boy, see him as a being worthy only of prison or death.

If you know someone who has adopted and have made some of these comments, don't fret... now you know!

"Because you shine from within," I said, touching my finger to her heart. "Not everybody sees it, but I do. I see it. And my job is to protect that light. So when people say mean comments that squelch that light, I want you to tell me. I will protect your light by listening and loving you, my brave, courageous, and unique little firefly."

Studies have shown that it helps, top education officials have recommended it, and now doctors are officially saying the same.