Mom delivers baby herself on the way to hospital
Atlanta woman didn't tell fast-driving husband of the birth, so as not to cause him to crash.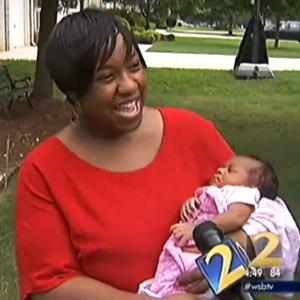 Terrance Leonard was driving more than 80 mph to rush his wife, Katrena, to the hospital in time to deliver their baby. But Baby Kylie wasn't going to wait. Sitting in the passenger's seat, Katrena Leonard delivered the baby herself, catching the newborn in the bottom of her dress.
Gallery: Most hilarious baby photos
"I thought I had time," Katrena Leonard told WSB-TV in Atlanta. "I was just holding the dress with her inside so that [my husband] couldn't see. I didn't want him to wreck."
Yes, she not only delivered her own baby but tried to keep the birth from her husband in order to avoid a distraction from the road. This woman's mommy skills are already on point.
Once they arrived at the hospital, the staff had a hard time believing the baby was already born.
"The nurses and everyone … they didn't believe the baby was there all of a sudden. They say, 'She's got the baby,'" Terrance Leonard said. "All Kylie was doing was just looking at her mom like, 'I'm here.'"
Welcome to the world, Baby Kylie.
More from Family Room: 
Woman wakes from coma and finds out she's pregnant
Poll: Most babies make Facebook debut within hour of birth
Subscribe to The Family Room | Friend us on Facebook, follow us on Twitter and find us on Pinterest.
Photo: Katrena Leonard holds the baby she delivered on the way to an Atlanta hospital. (​Courtesy of WSB-TV, Atlanta)
News, stories, tips and laughs for moms & dads
Transform the fall vegetable into cool decor pieces.

Put together these creative, but simple, Halloween looks for your youngsters.

We know you're documenting just about every move baby makes. (Do you even have any memory left on your phone? We didn't think so.) These tips from professional photographers can help you perfect your pics.

These six on-trend ideas will make baby's room your new favorite place to hang out.

Baby probably won't remember his first birthday party, but that doesn't mean you can't go all out (after all, parents need to celebrate making it through this first year, right?). These fun, colorful themes take planning to the next level.

See what celebrities who had problems conceiving have to say.

You'll be hearing a lot of advice and opinions. Some of it will be really helpful and some will be just plain wrong. Here are the most common things people say about babies that aren't true.

A new dad finds an Epcot Center's worth of innovation after expecting none at all.

The dog days of summer may be well behind us, but that doesn't mean it's time to pack in the outdoor adventures quite yet.

Protect yourself and your family with these ingenious gizmos and smartphone apps.

Make sure your go-to gadgets are as cute as your style, with these trendy tech finds!

Oh, how the times have changed...