How to stay sane when school's closed
Snow storm or holiday kept your kids out of school? There, there. Here's help.
Of course we love our kids. They make our worlds go 'round. That said, when school's out and you've got a million things to get done, it's a challenge for even the best, most Pinterest-y, crafty, patient, attentive parents on the planet.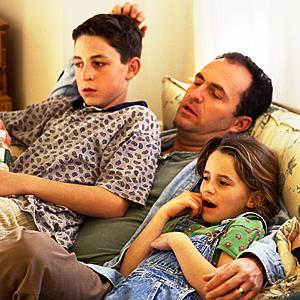 Maybe you're a working parent trying to get your job done at home while your kids pepper you with nerf darts and questions about Pokémon character statistics.

Perhaps you're simply exhausted from playing 84 rounds of Mario Kart and your duties as a short order grilled cheese sous chef. You're a great parent. And you're irritated, burnt out, at your rope's end. We get it, frazzled moms and dads, and fret not - we bring you these ways to stay sane when their school is rude enough to close, whether for a holiday you didn't get off from work or an inconsiderate act of nature:
Play the "How long can you stay quiet?" game. It's really fun. You get the kids upstairs into the playroom and you tell them that whichever one stays quiet and plays nicely the longest gets a prize. And that anyone that comes downstairs tattling is immediately disqualified.
Bubble bath time. Get bath paints, bubble bath and a whole bunch of plastic cups and containers. Get into the bath. Make sure your kids aren't in the bathroom with you. Lock the door and tell your kids to go play hide 'n seek.
Get out crayons and paper. Draw squiggly lines on them. Ask your kids to turn your scribbles into actual pictures and then have them guess each other's drawings.
Drink. Drink a lot of wine. If that's not an option for you, eat. Eat a lot of Girl Scout cookies.
Hand them your iPhone. Your Kindle. Your Surface. Your life's savings. Anything, really. Just hand them things.
Get out a stack of your old high school yearbooks and have them vote on the funniest looking person on every page. Bonus points if they happen upon your old crushes. Take points away if they find you and your giant crimped hair-do and double polo shirt ensemble.
Have them organize the junk drawer, their sock drawers, the shoe closet, the garage. If they tire, just go back to the 'How long can you stay quiet?' game. Lather, rinse, repeat.
Bing: Tips for keeping kids safe online
More from Family Room:
Teen mom denied right to breast feed
Toddler death raises concern over car seat rules
Violent video games and child aggression
Love content like this? Friend us on Facebook, follow us on Twitter and find us on Pinterest.
Readers: Calling all mom bloggers – we're looking for fresh voices on MSN Living. Email us your samples and contact info!

Wow, people!!  If you really think having your kids around for times beyond the weekend is this bad, why do you have them in the first place?  This article makes kids out to be uncontrolable demons who are out to get you.  Drink?  It actually says to drink.  Vote on the funniest looking person?  Ya, that'll teach 'em some good lessons about reacting to the way others may look.  And the one about keeping them as quiet as you can?  Absolutely!!! If you don't shut them up, you may find that they know more than you, or you may even get to know them better!!  And I love the one about the electonic babysitter.  Ya, quick!!  Give them something so they don't have to pick up a book or actually start talking to each other or playing a board game!!!  Boy!  This seems to be the norm in dealing with our kids today - that ONLY the schools know how to handle them past a certain age!!  Thats why we send them there as soon as they are potty trained, and sometimes not even.  You want Mom Bloggers, Family Room?  Well, maybe this Mama would be a little antagonistic for your purposes.  I have alot of other Mom Blogger friends who are also not afraid of their children, and in fact, spend each and every glorious day with their wonderful kids, without having to DRINK and HIDE in the BATHROOM!  Get a grip!    
Are you sure you want to delete this comment?
News, stories, tips and laughs for moms & dads
Oh, how the times have changed...

Get ready to hit the mall! Check out the hottest back-to-school trends—and get ready to make a major style statement this year.

Unique, or downright strange?

This is Kevin Droniak and his grandma. They're besties, they're awesome and they're YouTube stars.

It can be difficult to entice little ones to eat anything at all, let alone to devour a healthy plate. But feeding your kids nutritious snacks after school just got way easier, thanks to these adorably clever and cute snack ideas! For more smart and fun ways to get your kids to enjoy healthful and delicious foods, try one of these amazingly artsy lunch ideas.

Through a tonsillectomy all the way to brain surgery, my mother deserves some recognition. She's my spine, my birthday shadow, my BFF, my thunder buddy, so Mommy, thank you.

My son needs me, as much as yours needs you. Sadly, my son needs me more. He needs someone to have his back, when it seems that the police, the men he'd wave to with excitement as a little boy, see him as a being worthy only of prison or death.

If you know someone who has adopted and have made some of these comments, don't fret... now you know!

"Because you shine from within," I said, touching my finger to her heart. "Not everybody sees it, but I do. I see it. And my job is to protect that light. So when people say mean comments that squelch that light, I want you to tell me. I will protect your light by listening and loving you, my brave, courageous, and unique little firefly."

Studies have shown that it helps, top education officials have recommended it, and now doctors are officially saying the same.

I may have accidentally dropped you a few times, forgotten to document your first fart, let a little pee fly and dressed you like an idiot, but I have also loved you with every piece of me, and you will never hear an apology for that.