Do single-sex schools teach kids stereotypes?
Sex segregation reinforces outdated gender roles, some say.
Earlier this year, Maine faced a bill that would allow public schools to offer single-gender classrooms. After a local school district tried it for several years, Sen. John Tuttle argued that sex segregation allows kids to learn more effectively.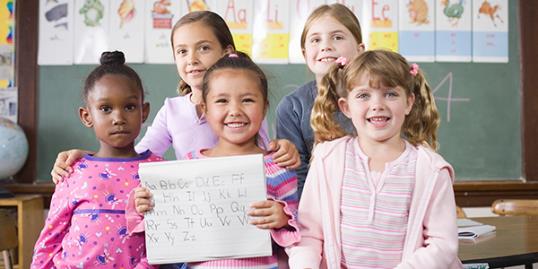 But the opposition complains that sex segregation reinforces negative gender stereotypes and roles. As an op-ed in the Portland Press Herald argues:
"If both boys and girls are told that girls are too shy to raise their hands in a mixed-gender classroom, so they have to be sent to a quieter place where they can learn, they will carry that message through life."
The piece adds that girls are likely to assume all boys are "cartoon images" who need "constant physical action."
"Boys who don't see girls performing alongside them in the classroom will develop ideas about girls' abilities based on what others tell them. They won't grow up seeing girls as individuals and knowing some who fit the stereotype and others who do not."
It's not all speculation; some experts would agree. A 2011 report in the Journal of Science argued the ineffectiveness of single-sex schooling. In "The Pseudoscience of Single-Sex Schooling," experts reported:
"...sex-segregated education is deeply misguided and often justified by weak, cherry-picked or misconstrued scientific claims rather than by valid scientific evidence."
They added that research in other countries has found little difference between single-sex and coed education.
Gallery: 7 annoying moms you'll meet at the park (or wherever else you go)
Still, other studies would beg to differ.  There was a 2009 report from UCLA's Graduate School of Education, for example. Professors found that graduates of all-girls' schools showed stronger math and computer skills and had higher standardized test scores than coed graduates.
But psychologists and neuroscientists alike argue that any benefit to single-sex education is sorely outweighed by the long-term negative impact of gender segregation.
What do you think? Does single-sex education teach stereotypes? Or does it lead to better learning?
News, stories, tips and laughs for moms & dads
6-year-old has rare brain condition

He wanted to know if woman was pregnant

Did your state make the grade?

A new dad finds an Epcot Center's worth of innovation after expecting none at all.

Alcohol and tattoos are not meant for the pre-teen set

But Debra Harrell now has custody of daughter again

I am probably not the first to tell you this: Kids come with lots of stuff. Even if you try to be as minimal as possible, the little creatures require an awful lot to keep things running smoothly. Here's a master-plan slideshow of ways to cut corners on space in every room to accommodate all the things that come along with kids.

You never know for certain what type of parent you'll be until you've actually become one and your parenting style, as it becomes evident, may surprise you. Here are 4 parenting books to help you figure it all out.

Sunshine! Camping! Pool parties! BBQs! The sunny season is here and to help you make the most of it, we've hand-picked 7 great products to make this summer the best your family has ever had. Click through for our list to inspire your sunny day fun. From our sponsor: Walmart

We all love a picnic. But do one quick search for 'picnic ideas' on Pinterest and you're instantly teleported into a land of overachieving home chefs clearly looking for their big break on Food Network. Well, never mind that, we say. Scratch the 25-ingredient recipes and the incessant trips to the craft store for that perfect tablescape. Here are 5 truly simple picnic ideas that will look great, taste great, and make you feel like the winner you are! From our sponsor: Walmart

Admit it — you do these things, too! And that's OK. But maybe — just maybe — it's time to think about changing things up a little bit, for the sake of your sanity, your relationship with your kids, and because life's too short.

We asked veterinary experts and readers which breeds they think and if it is OK to shave longhaired pets in the summer.