Do single-sex schools teach kids stereotypes?
Sex segregation reinforces outdated gender roles, some say.
Earlier this year, Maine faced a bill that would allow public schools to offer single-gender classrooms. After a local school district tried it for several years, Sen. John Tuttle argued that sex segregation allows kids to learn more effectively.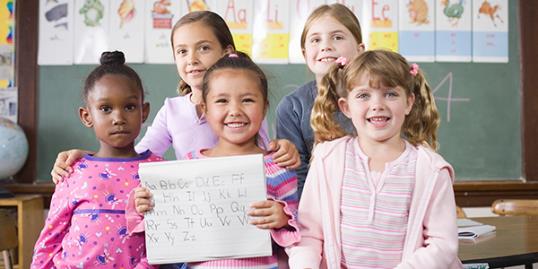 But the opposition complains that sex segregation reinforces negative gender stereotypes and roles. As an op-ed in the Portland Press Herald argues:
"If both boys and girls are told that girls are too shy to raise their hands in a mixed-gender classroom, so they have to be sent to a quieter place where they can learn, they will carry that message through life."
The piece adds that girls are likely to assume all boys are "cartoon images" who need "constant physical action."
"Boys who don't see girls performing alongside them in the classroom will develop ideas about girls' abilities based on what others tell them. They won't grow up seeing girls as individuals and knowing some who fit the stereotype and others who do not."
It's not all speculation; some experts would agree. A 2011 report in the Journal of Science argued the ineffectiveness of single-sex schooling. In "The Pseudoscience of Single-Sex Schooling," experts reported:
"...sex-segregated education is deeply misguided and often justified by weak, cherry-picked or misconstrued scientific claims rather than by valid scientific evidence."
They added that research in other countries has found little difference between single-sex and coed education.
Gallery: 7 annoying moms you'll meet at the park (or wherever else you go)
Still, other studies would beg to differ.  There was a 2009 report from UCLA's Graduate School of Education, for example. Professors found that graduates of all-girls' schools showed stronger math and computer skills and had higher standardized test scores than coed graduates.
But psychologists and neuroscientists alike argue that any benefit to single-sex education is sorely outweighed by the long-term negative impact of gender segregation.
What do you think? Does single-sex education teach stereotypes? Or does it lead to better learning?
News, stories, tips and laughs for moms & dads
As a new mom, you've recently discovered there are many things you can live without—sleep and modesty being chief among them. But what can't you live without? Seasoned moms share their Top 10 list for how to survive the early months of motherhood.

Here are our experts' best tips for how to be a positive role model for your kids so that they grow up healthy, strong and confident about the way they look.

The center of the family is your relationship; not the children.

Transform your mornings from grumpy to great by following these 12 simple steps. (Singing in the shower is highly encouraged.)

We're all aware of the reasons one might prefer to raise biological children. There's the miraculous experience that is pregnancy and childbirth. Also, let's not forget how expensive adoption is (though with the cost of childbirth in the United States growing ever-more crippling, it's hard to say which method is most economical). Couple that with the difficulty of the adoption process -- unless, of course, you're Madonna -- and you've got plenty of strong incentives to go the traditional route. Despite the arduous adoption process and the significant financial commitment, all kinds of people -- both famous and not -- choose to adopt for a variety of reasons. Check out this slideshow to see which celebrities (besides the famous Jolie-Pitts) opted to adopt.

One of our favorite ways to start the day is with a piping hot cup of coffee and a thought-provoking TED talk. In case you'€™re not familiar with the group, TED (which stands for Technology, Entertainment and Design) is a nonprofit organization dedicated to spreading ideas through projects and talks by a diverse group of inspired thinkers - people of all cultures, ages and disciplines. As you can probably guess, listening to these innovators share their ideas is a surefire way to jumpstart your day and get your creative juices flowing. Click through the slideshow above for the eight TED talks every parent needs to see. By Cordelia Tai

Got kids that are questioning whether or not the Easter Bunny is real? If you want to keep the tradition going at least one more year, try one of these ideas...

You're cold-hearted? We'll take care of that for you...read on.

This kid despises poetry and he's not afraid to let you know.

I used to be one of those moms who thought, 'who on earth would bring their child to an event like that?' and then I had a son. Here's why you might become a convert, too.

Take a look at your house for these telltale signs that a cat is running the show.

Check out this list of requirements you should meet before getting a new puppy or adult dog.