Do single-sex schools teach kids stereotypes?
Sex segregation reinforces outdated gender roles, some say.
Earlier this year, Maine faced a bill that would allow public schools to offer single-gender classrooms. After a local school district tried it for several years, Sen. John Tuttle argued that sex segregation allows kids to learn more effectively.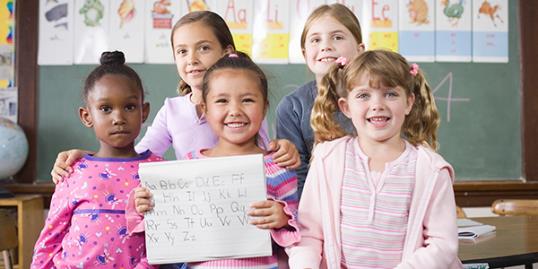 But the opposition complains that sex segregation reinforces negative gender stereotypes and roles. As an op-ed in the Portland Press Herald argues:
"If both boys and girls are told that girls are too shy to raise their hands in a mixed-gender classroom, so they have to be sent to a quieter place where they can learn, they will carry that message through life."
The piece adds that girls are likely to assume all boys are "cartoon images" who need "constant physical action."
"Boys who don't see girls performing alongside them in the classroom will develop ideas about girls' abilities based on what others tell them. They won't grow up seeing girls as individuals and knowing some who fit the stereotype and others who do not."
It's not all speculation; some experts would agree. A 2011 report in the Journal of Science argued the ineffectiveness of single-sex schooling. In "The Pseudoscience of Single-Sex Schooling," experts reported:
"...sex-segregated education is deeply misguided and often justified by weak, cherry-picked or misconstrued scientific claims rather than by valid scientific evidence."
They added that research in other countries has found little difference between single-sex and coed education.
Gallery: 7 annoying moms you'll meet at the park (or wherever else you go)
Still, other studies would beg to differ.  There was a 2009 report from UCLA's Graduate School of Education, for example. Professors found that graduates of all-girls' schools showed stronger math and computer skills and had higher standardized test scores than coed graduates.
But psychologists and neuroscientists alike argue that any benefit to single-sex education is sorely outweighed by the long-term negative impact of gender segregation.
What do you think? Does single-sex education teach stereotypes? Or does it lead to better learning?
News, stories, tips and laughs for moms & dads
Transform the fall vegetable into cool decor pieces.

Put together these creative, but simple, Halloween looks for your youngsters.

We know you're documenting just about every move baby makes. (Do you even have any memory left on your phone? We didn't think so.) These tips from professional photographers can help you perfect your pics.

These six on-trend ideas will make baby's room your new favorite place to hang out.

Baby probably won't remember his first birthday party, but that doesn't mean you can't go all out (after all, parents need to celebrate making it through this first year, right?). These fun, colorful themes take planning to the next level.

See what celebrities who had problems conceiving have to say.

You'll be hearing a lot of advice and opinions. Some of it will be really helpful and some will be just plain wrong. Here are the most common things people say about babies that aren't true.

A new dad finds an Epcot Center's worth of innovation after expecting none at all.

The dog days of summer may be well behind us, but that doesn't mean it's time to pack in the outdoor adventures quite yet.

Protect yourself and your family with these ingenious gizmos and smartphone apps.

Make sure your go-to gadgets are as cute as your style, with these trendy tech finds!

Oh, how the times have changed...