A baby is trending and her name is Hashtag
Did one couple take Twitter too far in the naming of their newborn?
Baby Hashtag made her debut in the Twitterverse on Saturday night. Named for an action on the popular social media platform, a hashtag or "#" for short, is a symbol used to mark keywords or topics in a tweet. The baby's debut was announced on her parent's Facebook page:
"Hashtag Jameson was born at 10oclock last nite. She weys 8pounds and I luv her so much!!!!!!"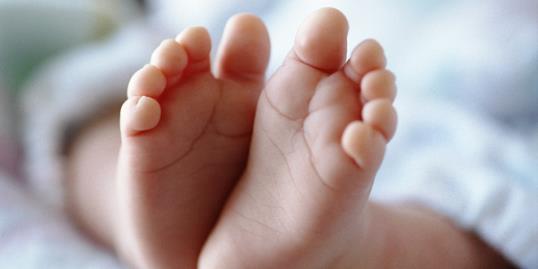 It's not the first time that a baby has been given a social media-inspired name. Last year, TechCrunch reported that a young Egyptian man named his firstborn daughter "Facebook" to celebrate the Jan. 25 revolution and the role social media played in organizing protests in Tahrir Square.
More on MSN Living: 50 ways to stay bonded with your kids
An Israeli couple took it one step further, naming their newborn girl "Like" for the popular thumbs-up feature on the Facebook site, according to WebProNews.com.
"I'm not going to come out and judge another parent's choice of name, but I wonder if this is the kind of thing that mom and dad will regret in two years when people are talking about Twitter the way we talk about Friendster today," says Matt Villano, author of the "Are We There Yet?: Traveling With Kids" blog on Parenting.com. "That said, if Ron Artest can change his name to Metta World Peace and Chad Ochocinco can change his name back to Chad Johnson, perhaps names mean less in today's day and age than we'd like to admit."
So the million-dollar baby-naming question is, who's going to call dibs on Pinterest? #LOL
Weigh in on Facebook – Awesome or awful?
More on MSN Living: Totally awkward pet holiday photos
Read the full story at Mashable.com.
Bing: Weirdest baby names
More on MSN Living:
10 most popular cat names
5 weird reasons couples have divorced
15 themed rooms for your teen
Photo: Barbara Peacock/Getty Images
News, stories, tips and laughs for moms & dads
Megan Davies Mennes has been blogging and posting photos of her son Quinn online for some time now. Quinn has Down syndrome, and Mennes has dealt with a few nasty comments here and there, the type of stuff you'd expect to encounter on the Internet.

From a cozy-chic hotel by the seashore in Los Angeles that doubles as a home away from home to a nature-lover's tropical paradise in Costa Rica, each of these properties is a family-friendly in its own special way.

Two controversial science projects resembled weapons, school officials said.

Must-haves for every mommy on the road

What are we teaching our children when we focus on their achievements rather than their kindness?

Discover the seemingly insignificant things that can affect your chances of getting pregnant.

A thrill-obsessed subculture claimed another life this week.

A few suggested answers for the diciest questions

Here's our list of fifteen moms in the food industry that deserve some recognition.

The site gets high marks for its user-friendly interface and excellent and responsive customer service. And the reviews are also pretty accurate. Compare amenities and prices next to a hotel's in the same area, and you're likely to see Airbnb come out on top.

We captured a frame-by-frame look just for you.

Other moms can be ruthless when it comes to picking apart your parenting choices. From dissing your decision to go back to work to criticizing when you started baby on solids, here are the most ridiculous comments moms have heard. Bonus, we've got just the right way to respond to the haters! You're welcome.