A baby is trending and her name is Hashtag
Did one couple take Twitter too far in the naming of their newborn?
Baby Hashtag made her debut in the Twitterverse on Saturday night. Named for an action on the popular social media platform, a hashtag or "#" for short, is a symbol used to mark keywords or topics in a tweet. The baby's debut was announced on her parent's Facebook page:
"Hashtag Jameson was born at 10oclock last nite. She weys 8pounds and I luv her so much!!!!!!"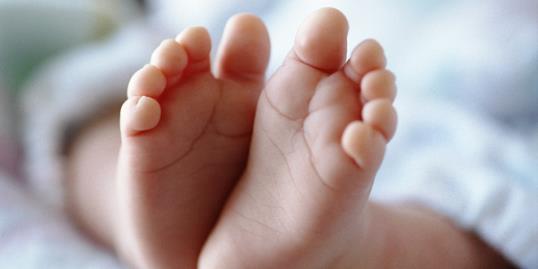 It's not the first time that a baby has been given a social media-inspired name. Last year, TechCrunch reported that a young Egyptian man named his firstborn daughter "Facebook" to celebrate the Jan. 25 revolution and the role social media played in organizing protests in Tahrir Square.
More on MSN Living: 50 ways to stay bonded with your kids
An Israeli couple took it one step further, naming their newborn girl "Like" for the popular thumbs-up feature on the Facebook site, according to WebProNews.com.
"I'm not going to come out and judge another parent's choice of name, but I wonder if this is the kind of thing that mom and dad will regret in two years when people are talking about Twitter the way we talk about Friendster today," says Matt Villano, author of the "Are We There Yet?: Traveling With Kids" blog on Parenting.com. "That said, if Ron Artest can change his name to Metta World Peace and Chad Ochocinco can change his name back to Chad Johnson, perhaps names mean less in today's day and age than we'd like to admit."
So the million-dollar baby-naming question is, who's going to call dibs on Pinterest? #LOL
Weigh in on Facebook – Awesome or awful?
More on MSN Living: Totally awkward pet holiday photos
Read the full story at Mashable.com.
Bing: Weirdest baby names
More on MSN Living:
10 most popular cat names
5 weird reasons couples have divorced
15 themed rooms for your teen
Photo: Barbara Peacock/Getty Images
News, stories, tips and laughs for moms & dads
We scoured Pinterest for 30 way-too-cute Elf on the Shelf poses we'd never seen before...let these inspire you during your family's funniest tradition.

Stroll down any aisle of a Toys"R"Us these days and you'll be confronted with a billion options that are light-years beyond anything you had to entertain yourself with as a kid. Lego cruise ships (complete with flatscreen TVs in the lounge and sideboard jet-skis), battery-operated Mercedes-Benz sedans, and hi-tech tablets with Android operating systems abound. We wondered, as we let ourselves get nostalgic for a moment, if any of the beloved toys we played with as children were still even on the market. Thanks to a quick hunt on the Internet we were able to find that Fisher Price still makes their classic Two Tune TV, and you can still get your hands on a good ol' Slinky. Here's a roundup of the best old-school toys for kids-- we encourage you to click through the slideshow and consider wrapping up a well-loved classic for your little one this year.

Cabbage Path Kids turn 30 this year.

Baby booms are certainly fun, but the pileup of shower invites can be rough on a bank account. The challenge: Find a great gift for cheap that's cute, useful, "big" enough to count as a whole gift...and doesn't seem like you skimped. Here are eight fun, functional options I love that definitely fit the bill. And they're all under $30! By The Bump Editors

You'd be shocked at how much a choice selection of apps can change your life for the better. From a honing device for kid-friendly locations to a virtual accountant, these eleven apps belong on every parent's home screen. It may seem counterintuitive, but amping up your smartphone with these handy features will actually make unplugging that much easier, since you know you've got your bases covered. Check them out in the slideshow above, download what you will, and we bet you won't be able to remember what life was like without them.

12 playful and engaging gift ideas for babies and toddlers this season.

When it comes to being single and pregnant, it feels like everybody has their own opinion -- or way-too-nosy questions. Whether they're trying to get the "dirt" on baby's father, or asking about your quest for child support (so not their business!), people really say ridiculous things to single moms-to-be.

Thanksgivukkah, a mash-up super-holiday that magically occurs this year as Hanukkah and Thanksgiving fall on the same day, is quickly becoming every foodie's dream. It's literally a once-in-a-lifetime chance (the next one doesn't occur for another 77,798 years!) to make insanely delicious foods combining both traditions, like sweet potato latkes and pumpkin challah. Below is a round-up of some must follow Thanksgivukkah Pinterest boards!

From unsolicited advice that comes from someone without kids to real-life momzillas who always one-up baby's accomplishments, read on for the 12 worst comments new mamas have ever heard (and prepare for some serious LOLs).

It's not just a walk in the park. Get the real deal. By Bonnie Vengrow

Even the most organized person has mornings when something goes wrong. Here are a few remedies to help you survive, or avoid, those pesky morning annoyances.