A baby is trending and her name is Hashtag
Did one couple take Twitter too far in the naming of their newborn?
Baby Hashtag made her debut in the Twitterverse on Saturday night. Named for an action on the popular social media platform, a hashtag or "#" for short, is a symbol used to mark keywords or topics in a tweet. The baby's debut was announced on her parent's Facebook page:
"Hashtag Jameson was born at 10oclock last nite. She weys 8pounds and I luv her so much!!!!!!"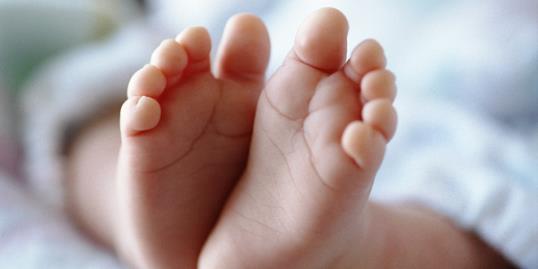 It's not the first time that a baby has been given a social media-inspired name. Last year, TechCrunch reported that a young Egyptian man named his firstborn daughter "Facebook" to celebrate the Jan. 25 revolution and the role social media played in organizing protests in Tahrir Square.
More on MSN Living: 50 ways to stay bonded with your kids
An Israeli couple took it one step further, naming their newborn girl "Like" for the popular thumbs-up feature on the Facebook site, according to WebProNews.com.
"I'm not going to come out and judge another parent's choice of name, but I wonder if this is the kind of thing that mom and dad will regret in two years when people are talking about Twitter the way we talk about Friendster today," says Matt Villano, author of the "Are We There Yet?: Traveling With Kids" blog on Parenting.com. "That said, if Ron Artest can change his name to Metta World Peace and Chad Ochocinco can change his name back to Chad Johnson, perhaps names mean less in today's day and age than we'd like to admit."
So the million-dollar baby-naming question is, who's going to call dibs on Pinterest? #LOL
Weigh in on Facebook – Awesome or awful?
More on MSN Living: Totally awkward pet holiday photos
Read the full story at Mashable.com.
Bing: Weirdest baby names
More on MSN Living:
10 most popular cat names
5 weird reasons couples have divorced
15 themed rooms for your teen
Photo: Barbara Peacock/Getty Images
News, stories, tips and laughs for moms & dads
But Debra Harrell now has custody of daughter again

I am probably not the first to tell you this: Kids come with lots of stuff. Even if you try to be as minimal as possible, the little creatures require an awful lot to keep things running smoothly. Here's a master-plan slideshow of ways to cut corners on space in every room to accommodate all the things that come along with kids.

You never know for certain what type of parent you'll be until you've actually become one and your parenting style, as it becomes evident, may surprise you. Here are 4 parenting books to help you figure it all out.

Sunshine! Camping! Pool parties! BBQs! The sunny season is here and to help you make the most of it, we've hand-picked 7 great products to make this summer the best your family has ever had. Click through for our list to inspire your sunny day fun. From our sponsor: Walmart

We all love a picnic. But do one quick search for 'picnic ideas' on Pinterest and you're instantly teleported into a land of overachieving home chefs clearly looking for their big break on Food Network. Well, never mind that, we say. Scratch the 25-ingredient recipes and the incessant trips to the craft store for that perfect tablescape. Here are 5 truly simple picnic ideas that will look great, taste great, and make you feel like the winner you are! From our sponsor: Walmart

Admit it — you do these things, too! And that's OK. But maybe — just maybe — it's time to think about changing things up a little bit, for the sake of your sanity, your relationship with your kids, and because life's too short.

We asked veterinary experts and readers which breeds they think and if it is OK to shave longhaired pets in the summer.

You've exhausted your bag of craft tricks, found inspiration through our rainy day activity guide, and are still hungry for more artsy activities for your kids! We've found nine Pinterest users who have so many fantastic craft ideas for little ones that even we were slightly overwhelmed! (What to make first? Milk-box playhouses? Duct-tape rings?) The crafting possibilities are endless — and beautiful — so start clicking and get ready to repin!

Celeb moms post photos to show off their weight loss, but then they undermine their progress in the captions.

Kriste Lewis was inspired by her kidney disease to try out

Hittin' the road, moms and dads? Plan for these five things to happen...

Who knew parenting would make you feel so dumb?