7 things parents blame on teachers
Calling all annoying parents! Here's what parents like to blame on teachers when usually it's usually their own fault.
Sure, there are some bad teachers out there. But, by and large, the men and women who care for and teach our children are rock-star awesome in our book. Think about how challenging it is to parent one or two little ones -- and then multiply that by 20 or more.
More from MSN Living: 4 musts for moms of boys
"Teachers rock because they are able to make 60 decisions a minute, all while sipping cold coffee, helping children overcome problems in reading and subtraction with regrouping, and filling out about a million forms in triplicate," Michelle Howell-Martin was quoted as saying on MLive.com.
More from MSN Living: 10 single mom secrets
A teacher's job is hard enough without having to deal with annoying parents. Over at The Stir, writer Julie Ryan Evans took a look at seven things parents like to blame on teachers when usually they should be pointing the finger elsewhere.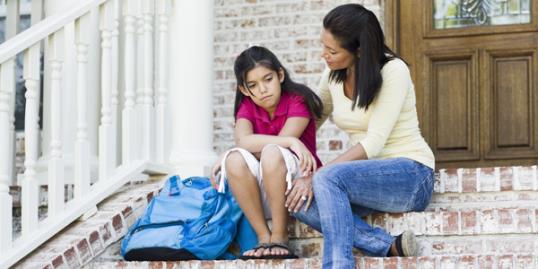 Here are the seven things parents blame on teachers, according to The Stir:
1. Poor grades.
If a child isn't doing well on assignments, it's very rarely because the teacher doesn't like him or is out to get her, or anything else subjective.
2. The need for extra assistance.
The fact is not every child is a genius, and some will be stronger in certain subjects than others.
3. Getting into trouble.
Chances are, if your kid is getting into trouble a lot, he is the problem, not the teacher.
4. Their choice of friends (or lack of friends).
If you've ever tried to choose your child's friends for her, you know how well that works.
5. Moodiness when they come home from school.
Some kids get overwhelmed by keeping it together at school all day, then release when they're home in a familiar environment.
6. They haaaaaaate school.
Teachers can certainly make it more or less enjoyable, but the bottom line is that kids are there to learn, not to be entertained, and that lesson needs to start at home with messages about the importance of education.
7. Lack of individual attention and enrichment activities.
The best schools and classes have the support of involved parents who step in to assist teachers with such activities.
Read the whole story at The Stir.
Have you blamed a teacher for anything or seen other parents guilty of this act?
Bing: Teacher horror stories
More from Family Room:
Study: Same-sex parents raise well-adjusted kids
Some teachers ban kids from having best friends
Love content like this? Friend us on Facebook, follow us on Twitter and find us on Pinterest.
Readers: Calling all mom bloggers — we're looking for fresh voices on MSN Living. Email us your samples and contact info!
News, stories, tips and laughs for moms & dads
Make sure your go-to gadgets are as cute as your style, with these trendy tech finds!

Oh, how the times have changed...

Get ready to hit the mall! Check out the hottest back-to-school trends—and get ready to make a major style statement this year.

Unique, or downright strange?

This is Kevin Droniak and his grandma. They're besties, they're awesome and they're YouTube stars.

It can be difficult to entice little ones to eat anything at all, let alone to devour a healthy plate. But feeding your kids nutritious snacks after school just got way easier, thanks to these adorably clever and cute snack ideas! For more smart and fun ways to get your kids to enjoy healthful and delicious foods, try one of these amazingly artsy lunch ideas.

Through a tonsillectomy all the way to brain surgery, my mother deserves some recognition. She's my spine, my birthday shadow, my BFF, my thunder buddy, so Mommy, thank you.

My son needs me, as much as yours needs you. Sadly, my son needs me more. He needs someone to have his back, when it seems that the police, the men he'd wave to with excitement as a little boy, see him as a being worthy only of prison or death.

If you know someone who has adopted and have made some of these comments, don't fret... now you know!

"Because you shine from within," I said, touching my finger to her heart. "Not everybody sees it, but I do. I see it. And my job is to protect that light. So when people say mean comments that squelch that light, I want you to tell me. I will protect your light by listening and loving you, my brave, courageous, and unique little firefly."

Studies have shown that it helps, top education officials have recommended it, and now doctors are officially saying the same.

I may have accidentally dropped you a few times, forgotten to document your first fart, let a little pee fly and dressed you like an idiot, but I have also loved you with every piece of me, and you will never hear an apology for that.