7 things parents blame on teachers
Calling all annoying parents! Here's what parents like to blame on teachers when usually it's usually their own fault.
Sure, there are some bad teachers out there. But, by and large, the men and women who care for and teach our children are rock-star awesome in our book. Think about how challenging it is to parent one or two little ones -- and then multiply that by 20 or more.
More from MSN Living: 4 musts for moms of boys
"Teachers rock because they are able to make 60 decisions a minute, all while sipping cold coffee, helping children overcome problems in reading and subtraction with regrouping, and filling out about a million forms in triplicate," Michelle Howell-Martin was quoted as saying on MLive.com.
More from MSN Living: 10 single mom secrets
A teacher's job is hard enough without having to deal with annoying parents. Over at The Stir, writer Julie Ryan Evans took a look at seven things parents like to blame on teachers when usually they should be pointing the finger elsewhere.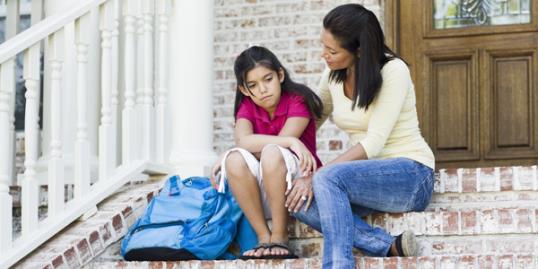 Here are the seven things parents blame on teachers, according to The Stir:
1. Poor grades.
If a child isn't doing well on assignments, it's very rarely because the teacher doesn't like him or is out to get her, or anything else subjective.
2. The need for extra assistance.
The fact is not every child is a genius, and some will be stronger in certain subjects than others.
3. Getting into trouble.
Chances are, if your kid is getting into trouble a lot, he is the problem, not the teacher.
4. Their choice of friends (or lack of friends).
If you've ever tried to choose your child's friends for her, you know how well that works.
5. Moodiness when they come home from school.
Some kids get overwhelmed by keeping it together at school all day, then release when they're home in a familiar environment.
6. They haaaaaaate school.
Teachers can certainly make it more or less enjoyable, but the bottom line is that kids are there to learn, not to be entertained, and that lesson needs to start at home with messages about the importance of education.
7. Lack of individual attention and enrichment activities.
The best schools and classes have the support of involved parents who step in to assist teachers with such activities.
Read the whole story at The Stir.
Have you blamed a teacher for anything or seen other parents guilty of this act?
Bing: Teacher horror stories
More from Family Room:
Study: Same-sex parents raise well-adjusted kids
Some teachers ban kids from having best friends
Love content like this? Friend us on Facebook, follow us on Twitter and find us on Pinterest.
Readers: Calling all mom bloggers — we're looking for fresh voices on MSN Living. Email us your samples and contact info!
News, stories, tips and laughs for moms & dads
"Because you shine from within," I said, touching my finger to her heart. "Not everybody sees it, but I do. I see it. And my job is to protect that light. So when people say mean comments that squelch that light, I want you to tell me. I will protect your light by listening and loving you, my brave, courageous, and unique little firefly."

Studies have shown that it helps, top education officials have recommended it, and now doctors are officially saying the same.

I may have accidentally dropped you a few times, forgotten to document your first fart, let a little pee fly and dressed you like an idiot, but I have also loved you with every piece of me, and you will never hear an apology for that.

Back-to-school shopping is still in full swing, and your little gents probably need some new kicks to round out their fall wardrobes (you already picked up some bold shoes for the little ladies in your life, right?).

Not every kid is a fan of returning to the classroom, so parents try to ease the blow with a little back-to-school shopping.

Would you rather be a parent now or then?

As all the kids line up to go to school, your son, Timmy, turns to you and says, "I don't want to take the bus. My stomach hurts. Please don't make me go." You cringe and think, Here we go again. What should be a simple morning routine explodes into a daunting challenge.

The strong bonds that dogs can form are undeniable.

Think you know your pet's every unspoken wish? Think again. Your pet is unlikely to be capable of communicating her wants and needs in ways you might assume she would. Even those of you most in touch with your pets' feelings are likely missing a few cues here and there.

The Chesapeake Bay Retriever made both our readers' and veterinary professionals' lists of breeds that love the water.

You might proudly call yourself a dog owner, pet parent or canine guardian, but let's be real: Your dog owns you. You might be laughing now, but think about it — you've surrendered the best seat on the sofa to him, you plan your entire weekend around his trips to the dog park, and you take him to the groomer more often than you get your own hair cut. And let's not forget who's in every photo on your Facebook and Instagram feeds. Sound familiar? We thought so. But in case you still think you're in charge, here are seven classic signs that your dog is the one calling the shots.

One of the best things about being a veterinarian is all the different dogs I get to meet. Of course, I love the Labs and Beagles and Boxers and Poodles, not to mention those crazy Canine Cocktails, or what my parents used to call Heinz 57s. They are among the more popular dogs out there, and I see a lot of them. In fact, it used to be that it was rare to see anything else. Here are nine dog breeds I sometimes see now that I didn't see in the past.