7 things parents blame on teachers
Calling all annoying parents! Here's what parents like to blame on teachers when usually it's usually their own fault.
Sure, there are some bad teachers out there. But, by and large, the men and women who care for and teach our children are rock-star awesome in our book. Think about how challenging it is to parent one or two little ones -- and then multiply that by 20 or more.
More from MSN Living: 4 musts for moms of boys
"Teachers rock because they are able to make 60 decisions a minute, all while sipping cold coffee, helping children overcome problems in reading and subtraction with regrouping, and filling out about a million forms in triplicate," Michelle Howell-Martin was quoted as saying on MLive.com.
More from MSN Living: 10 single mom secrets
A teacher's job is hard enough without having to deal with annoying parents. Over at The Stir, writer Julie Ryan Evans took a look at seven things parents like to blame on teachers when usually they should be pointing the finger elsewhere.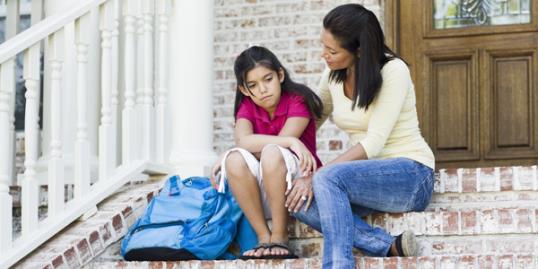 Here are the seven things parents blame on teachers, according to The Stir:
1. Poor grades.
If a child isn't doing well on assignments, it's very rarely because the teacher doesn't like him or is out to get her, or anything else subjective.
2. The need for extra assistance.
The fact is not every child is a genius, and some will be stronger in certain subjects than others.
3. Getting into trouble.
Chances are, if your kid is getting into trouble a lot, he is the problem, not the teacher.
4. Their choice of friends (or lack of friends).
If you've ever tried to choose your child's friends for her, you know how well that works.
5. Moodiness when they come home from school.
Some kids get overwhelmed by keeping it together at school all day, then release when they're home in a familiar environment.
6. They haaaaaaate school.
Teachers can certainly make it more or less enjoyable, but the bottom line is that kids are there to learn, not to be entertained, and that lesson needs to start at home with messages about the importance of education.
7. Lack of individual attention and enrichment activities.
The best schools and classes have the support of involved parents who step in to assist teachers with such activities.
Read the whole story at The Stir.
Have you blamed a teacher for anything or seen other parents guilty of this act?
Bing: Teacher horror stories
More from Family Room:
Study: Same-sex parents raise well-adjusted kids
Some teachers ban kids from having best friends
Love content like this? Friend us on Facebook, follow us on Twitter and find us on Pinterest.
Readers: Calling all mom bloggers — we're looking for fresh voices on MSN Living. Email us your samples and contact info!
News, stories, tips and laughs for moms & dads
Adopting an animal is a major commitment. Yet all too often people put more effort into researching what kind of car to get than the type of pet that would best fit their lifestyle.

'Tis the season to send out holiday greeting cards to all your friends and family. But, as our friends at Awkward Family Pet Photos know, not all holiday snapshots are the same. Some are just plain kooky — especially when pets are included. So with good tidings and great cheer, here are 10 wacky holiday animal portraits that are sure to make you laugh out loud and get you in the holiday spirit. And possibly make you think twice about dressing up the family cat this year.

King of the jungle? Nah, it's just a labradoodle!

Side-by-side images of adorable babies and their celebrity doppelgängers

Do you have a finicky furry friend on your holiday gift list this year? You're in luck! We've rounded up the coolest cat-approved products to bring you purrfect gift ideas for every kind of cat -- from the curious kitten to the most refined feline. Any one of these special gifts could make your resident kitty purr with pleasure and maybe, just maybe, like the present this year even more than the box and wrapping paper it came in!

Plus, puppy names to watch

This holiday season's hottest toy has yet to be revealed, but more often than not, the best gifts are the ones kids don't even know to ask for. So this year, surprise your kids with unique presents under the tree, and watch as their eyes light up when they unwrap them. From space-age sand to a DIY race track, these out-of-the-box gift ideas will provide some serious shopping inspiration. Click through the slideshow above for all our favorite picks.

Yep, you're older than you think

Avoid these gaffes for a better relationship with your stepchildren—and your spouse.

The top 25 best holiday movies for kids and their families, from old school classics like Miracle on 34th Street and It's a Wonderful Life, to newer classics like Elf and The Nightmare Before Christmas.

Since the dawn of time, we men have been preprogrammed with two biological imperatives: Number one: to bravely kill bathtub spiders; and number two: to reproduce. (Actually, I really should have ordered those in reverse.) So what happens when we find out we're infertile?

New mamas weigh in on all the things they wish someone had warned them about before baby arrived.