12-year-old Mass. boy wins National Geographic Bee
Sathwik Karnik clinched the title from 13-year-old runner-up Conrad Oberhaus.
By BEN NUCKOLS of The Associated Press
WASHINGTON (AP) — Gaining confidence as he nailed questions about obscure island chains, bodies of water, global trade and culture, 12-year-old Sathwik Karnik cruised to victory Wednesday in the 2013 National Geographic Bee.
Sathwik, of Plainville, Mass., correctly named Chimborazo as the mountain in Ecuador that represents the farthest point from the Earth's center to clinch the title. He got all five questions right in his one-on-one duel with the runner-up, 13-year-old Conrad Oberhaus of Lincolnshire, Ill.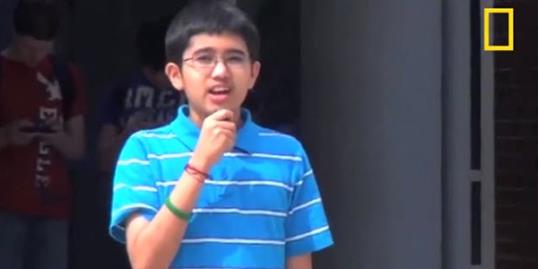 Sathwik pushed ahead of Conrad on the second question, correctly naming Baotou as the largest city in China's Inner Mongolia Autonomous Region, which is home to one of the world's largest deposits of rare-earth elements. While Conrad didn't miss another question, Sathwik never relinquished the lead.
It was Sathwik's first appearance in the National Geographic Bee finals — but he might have made it earlier if not for his 15-year-old brother, Karthik, who beat him twice in the Massachusetts state bee. Karthik finished 5th in the national bee in 2011 and sixth in 2012.
"I'm just shocked," Sathwik said. "I didn't think I could win. I thought I would end up somewhere in the top 10."
Slideshow: The secret life of a stay-at-home mom
When her boys were in elementary school, Sathwik's mother, Rathma Karnik, had them play games with an atlas instead of hide-and-seek, asking them to be the first to find a city, body of water or landmark.
Rathma and her husband, Vishwanath, who both work in the software industry, emigrated from near Mangalore, India, in 2002. Indian-American children have dominated both the geography bee and the Scripps National Spelling Bee in recent years. Vishwanath said the trend can be attributed to coming from a country of 1.2 billion people.
Gallery: 7 annoying moms you'll meet at the park (or wherever else you go)
"That brought us the competitive spirit," he said. "If we don't work hard and put forth our best effort, we can't succeed in this world."
Sathwik led throughout the final round of the 25th geography bee and was the last contestant to get a question wrong. Participants earned between 1 and 5 points for each correct answer, with the harder questions worth more points, and the competitors with the lowest scores were eliminated at various points in the competition. He wins a $25,000 scholarship, a trip to the Galapagos Islands and a lifetime membership in the National Geographic Society.
Bing: The smartest kid on Earth
Sathwik, who stands 4-foot-11 and has the fuzzy outline of a mustache on his upper lip, said he was nervous at first because he had never been on television before, but he became more comfortable as he rattled off a string of correct answers.
Conrad gets a $15,000 scholarship for finishing second. Ricky Uppaluri of Roswell, Ga., at 11 the youngest of the final 10, was third and receives a $10,000 scholarship. Akhil Rekulapelli of Ashburn, Va., finished fourth and won $1,000 in cash.
"Jeopardy!" host Alex Trebek, who has hosted the bee finals since the inaugural competition in 1989, is stepping down after this year and will be replaced by broadcast journalist Soledad O'Brien. The finals will be broadcast Thursday evening on the National Geographic Channel.
During a commercial break, Trebek warned the audience at Washington's National Theatre not to blurt out or silently mouth the answers.
"As if that's likely to happen," he said. "Most of you can't even find Detroit."
More from Family Room:
Mom spent more than $25K on 8-year-old's clothes
Superhero games banned from one preschool
Report: Finland is best place to be a mother
Love content like this? Friend us on Facebook, follow us on Twitter, and find us on Pinterest.
Readers: Calling all mom bloggers — we're looking for fresh voices on MSN Living. Email us your samples and contact info.
Photo: 2013 National Geographic Bee winner Sathwik Karnik (Courtesy of NationalGeographic via YouTube, http://youtu.be/VLyF​3REvB1s)
News, stories, tips and laughs for moms & dads
Watch the video of Kristen Bell going head to head with paparazzi - it will make you angry

Every year, toy makers from around the world gather to show their latest creations at the Toy Fair in New York City. The high-tech models, gadgets and trinkets on display put those basic Legos we played with at kids to shame. Here are 10 new toys that we'd happily buy or children. Or, really, ourselves.

Find yourself wandering the aisles, suddenly needing an owl-shaped candle while drinking a $5 latte? You're not alone, moms...

Here's some parenting advice for whatever stage of separation or divorce you're in.

Whether you pop it in the mail or post it on social media, a creative photo is a surefire way to grab everyone's attention and proudly say, "I'm pregnant!" Prepare for a lot of likes.

Remember the magical children's rooms in Peter Pan and The Little Prince? These timeless novels described spaces that were enchanting and made us wish that we could inhabit the rooms ourselves. The sumptuous interiors that were filled with never-ending toys and fort-like draping may seem like a fairytale, but thanks to four of our favorite kids' furniture websites, the dream could actually become a reality. Click through the slideshow to check out the best kids furniture websites that have everything necessary to create a fantasy room for your little one. And check out Sophia Demenge's super-fun space in the video below. By Barry Samaha

They lay, they play, and they take selfies with supermodels. Meet 5 of the most social media-savvy pets—animals taking control of their own fashionable online image.

We could try to offer you carefully researched and crafted words of Dad-centric inspiration, intended to show you the path to being a better man and, in turn, a better father. But Tom Limbert took up the task for us in his new book 'Dad's Playbook: Wisdom for Fathers from the Greatest Coaches of All Time,' so we left it to him. Limbert -- a parent coach and the founder of the Studio Grow children's play space in Berkeley, California -- has collected pearls of wisdom from an elite crew of coaches who have not only experienced greatness themselves, but also found ways to consistently instill it in their teams. "It's monkey-see, monkey-do," Limbert told us, after we asked him to gather the best quotes on achieving one's goals. "If you want your child to follow, you have to lead." Click on to read the often simple-seeming words that have inspired countless others to follow through on the field, but that can also easily be translated to the school, work, fitness, and, of course, parenting arenas.

What parents need to know

It's raining, it's pouring ... but that doesn't mean the day has to be a snore. Rather than let the kids grow restless and rambunctious, why not divert their energy toward some fun family bonding activities? Although the weather may have scotched your original plans for the day, seize the opportunity to reconnect and let loose with your loved ones. Click through this slideshow for ten refreshing rainy day activities that'll make you glad the clouds (almost) rained on your parade.

Every family has its oddballs. And the holiday season is the one time of year when you're pretty much forced to interact and play nice with the grand majority of them. Click through the slideshow above for our guide to dealing with the five worst kinds of kin. *Disclaimer: All characters appearing in this work are fictitious. Any resemblance to real persons, living or dead, is purely coincidental.

Not great with a budget? Don't sweat it. Try these simple ways to save.