12-year-old Mass. boy wins National Geographic Bee
Sathwik Karnik clinched the title from 13-year-old runner-up Conrad Oberhaus.
By BEN NUCKOLS of The Associated Press
WASHINGTON (AP) — Gaining confidence as he nailed questions about obscure island chains, bodies of water, global trade and culture, 12-year-old Sathwik Karnik cruised to victory Wednesday in the 2013 National Geographic Bee.
Sathwik, of Plainville, Mass., correctly named Chimborazo as the mountain in Ecuador that represents the farthest point from the Earth's center to clinch the title. He got all five questions right in his one-on-one duel with the runner-up, 13-year-old Conrad Oberhaus of Lincolnshire, Ill.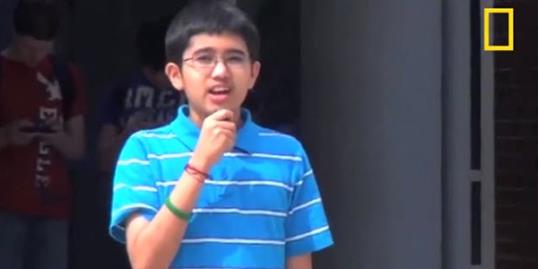 Sathwik pushed ahead of Conrad on the second question, correctly naming Baotou as the largest city in China's Inner Mongolia Autonomous Region, which is home to one of the world's largest deposits of rare-earth elements. While Conrad didn't miss another question, Sathwik never relinquished the lead.
It was Sathwik's first appearance in the National Geographic Bee finals — but he might have made it earlier if not for his 15-year-old brother, Karthik, who beat him twice in the Massachusetts state bee. Karthik finished 5th in the national bee in 2011 and sixth in 2012.
"I'm just shocked," Sathwik said. "I didn't think I could win. I thought I would end up somewhere in the top 10."
Slideshow: The secret life of a stay-at-home mom
When her boys were in elementary school, Sathwik's mother, Rathma Karnik, had them play games with an atlas instead of hide-and-seek, asking them to be the first to find a city, body of water or landmark.
Rathma and her husband, Vishwanath, who both work in the software industry, emigrated from near Mangalore, India, in 2002. Indian-American children have dominated both the geography bee and the Scripps National Spelling Bee in recent years. Vishwanath said the trend can be attributed to coming from a country of 1.2 billion people.
Gallery: 7 annoying moms you'll meet at the park (or wherever else you go)
"That brought us the competitive spirit," he said. "If we don't work hard and put forth our best effort, we can't succeed in this world."
Sathwik led throughout the final round of the 25th geography bee and was the last contestant to get a question wrong. Participants earned between 1 and 5 points for each correct answer, with the harder questions worth more points, and the competitors with the lowest scores were eliminated at various points in the competition. He wins a $25,000 scholarship, a trip to the Galapagos Islands and a lifetime membership in the National Geographic Society.
Bing: The smartest kid on Earth
Sathwik, who stands 4-foot-11 and has the fuzzy outline of a mustache on his upper lip, said he was nervous at first because he had never been on television before, but he became more comfortable as he rattled off a string of correct answers.
Conrad gets a $15,000 scholarship for finishing second. Ricky Uppaluri of Roswell, Ga., at 11 the youngest of the final 10, was third and receives a $10,000 scholarship. Akhil Rekulapelli of Ashburn, Va., finished fourth and won $1,000 in cash.
"Jeopardy!" host Alex Trebek, who has hosted the bee finals since the inaugural competition in 1989, is stepping down after this year and will be replaced by broadcast journalist Soledad O'Brien. The finals will be broadcast Thursday evening on the National Geographic Channel.
During a commercial break, Trebek warned the audience at Washington's National Theatre not to blurt out or silently mouth the answers.
"As if that's likely to happen," he said. "Most of you can't even find Detroit."
More from Family Room:
Mom spent more than $25K on 8-year-old's clothes
Superhero games banned from one preschool
Report: Finland is best place to be a mother
Love content like this? Friend us on Facebook, follow us on Twitter, and find us on Pinterest.
Readers: Calling all mom bloggers — we're looking for fresh voices on MSN Living. Email us your samples and contact info.
Photo: 2013 National Geographic Bee winner Sathwik Karnik (Courtesy of NationalGeographic via YouTube, http://youtu.be/VLyF​3REvB1s)
News, stories, tips and laughs for moms & dads
Transform the fall vegetable into cool decor pieces.

Put together these creative, but simple, Halloween looks for your youngsters.

We know you're documenting just about every move baby makes. (Do you even have any memory left on your phone? We didn't think so.) These tips from professional photographers can help you perfect your pics.

These six on-trend ideas will make baby's room your new favorite place to hang out.

Baby probably won't remember his first birthday party, but that doesn't mean you can't go all out (after all, parents need to celebrate making it through this first year, right?). These fun, colorful themes take planning to the next level.

See what celebrities who had problems conceiving have to say.

You'll be hearing a lot of advice and opinions. Some of it will be really helpful and some will be just plain wrong. Here are the most common things people say about babies that aren't true.

A new dad finds an Epcot Center's worth of innovation after expecting none at all.

The dog days of summer may be well behind us, but that doesn't mean it's time to pack in the outdoor adventures quite yet.

Protect yourself and your family with these ingenious gizmos and smartphone apps.

Make sure your go-to gadgets are as cute as your style, with these trendy tech finds!

Oh, how the times have changed...