Parrots appear to name their young
Scientists believe it may be a historic find.
A National Geographic team studying green-rumped parrotlets in Venezuela found some very rare behavior: The parents seem to name their fledglings.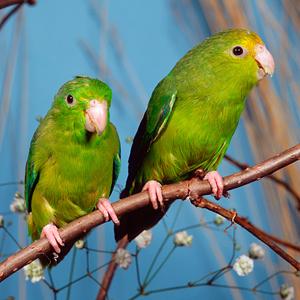 By listening to recordings of the birds' chatter, explorer Karl Berg's team found that the baby birds appeared to recognize and learn individual calls made specifically for them by the adults.
If the babies were learning the contact calls directly from their parents, then this would be the first example of a nonhuman species teaching acoustical communication.
— Watch it at National Geographic
Bing: Watch and listen to parrots talking.
Image: Green-rumped Parrotlet (Arco Images GmbH/Alamy)
More from Vetstreet:
5 Cold Weather Pet Dangers to Avoid
Bald Eagles Making a Remarkable Comeback, Even Near Urban Areas
5 Dog Breeds That Are Sadly Losing Popularity
Video: Kitten & Parrot Fight Over Couch Supremacy
Why Does My Dog… Sleep Belly Up?
News, stories, tips and laughs for moms & dads
I am probably not the first to tell you this: Kids come with lots of stuff. Even if you try to be as minimal as possible, the little creatures require an awful lot to keep things running smoothly. Here's a master-plan slideshow of ways to cut corners on space in every room to accommodate all the things that come along with kids.

You never know for certain what type of parent you'll be until you've actually become one and your parenting style, as it becomes evident, may surprise you. Here are 4 parenting books to help you figure it all out.

Sunshine! Camping! Pool parties! BBQs! The sunny season is here and to help you make the most of it, we've hand-picked 7 great products to make this summer the best your family has ever had. Click through for our list to inspire your sunny day fun. From our sponsor: Walmart

We all love a picnic. But do one quick search for 'picnic ideas' on Pinterest and you're instantly teleported into a land of overachieving home chefs clearly looking for their big break on Food Network. Well, never mind that, we say. Scratch the 25-ingredient recipes and the incessant trips to the craft store for that perfect tablescape. Here are 5 truly simple picnic ideas that will look great, taste great, and make you feel like the winner you are! From our sponsor: Walmart

Admit it — you do these things, too! And that's OK. But maybe — just maybe — it's time to think about changing things up a little bit, for the sake of your sanity, your relationship with your kids, and because life's too short.

We asked veterinary experts and readers which breeds they think and if it is OK to shave longhaired pets in the summer.

Celeb moms post photos to show off their weight loss, but then they undermine their progress in the captions.

Kriste Lewis was inspired by her kidney disease to try out

Hittin' the road, moms and dads? Plan for these five things to happen...

Who knew parenting would make you feel so dumb?

Bob King, 68, found himself stuck

Witnesses now say they were helping mom, who was on the scene