Parrots appear to name their young
Scientists believe it may be a historic find.
A National Geographic team studying green-rumped parrotlets in Venezuela found some very rare behavior: The parents seem to name their fledglings.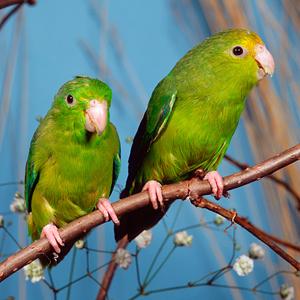 By listening to recordings of the birds' chatter, explorer Karl Berg's team found that the baby birds appeared to recognize and learn individual calls made specifically for them by the adults.
If the babies were learning the contact calls directly from their parents, then this would be the first example of a nonhuman species teaching acoustical communication.
— Watch it at National Geographic
Bing: Watch and listen to parrots talking.
Image: Green-rumped Parrotlet (Arco Images GmbH/Alamy)
More from Vetstreet:
5 Cold Weather Pet Dangers to Avoid
Bald Eagles Making a Remarkable Comeback, Even Near Urban Areas
5 Dog Breeds That Are Sadly Losing Popularity
Video: Kitten & Parrot Fight Over Couch Supremacy
Why Does My Dog… Sleep Belly Up?
News, stories, tips and laughs for moms & dads
What are we teaching our children when we focus on their achievements rather than their kindness?

Discover the seemingly insignificant things that can affect your chances of getting pregnant.

A thrill-obsessed subculture claimed another life this week.

A few suggested answers for the diciest questions

Must-haves for every mommy on the road

Here's our list of fifteen moms in the food industry that deserve some recognition.

The site gets high marks for its user-friendly interface and excellent and responsive customer service. And the reviews are also pretty accurate. Compare amenities and prices next to a hotel's in the same area, and you're likely to see Airbnb come out on top.

We captured a frame-by-frame look just for you.

Other moms can be ruthless when it comes to picking apart your parenting choices. From dissing your decision to go back to work to criticizing when you started baby on solids, here are the most ridiculous comments moms have heard. Bonus, we've got just the right way to respond to the haters! You're welcome.

Nope, you don't have to spend the next nine months in black elastic-waist pants and oversize sweaters. And you don't have to shell out a fortune on your "temporary" wardrobe either. Check out these stylish and affordable maternity clothes.

Because society crumbles without us

Another kid figured out how to get into a claw machine.