Parrots appear to name their young
Scientists believe it may be a historic find.
A National Geographic team studying green-rumped parrotlets in Venezuela found some very rare behavior: The parents seem to name their fledglings.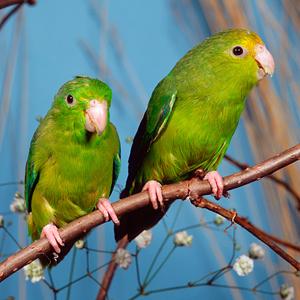 By listening to recordings of the birds' chatter, explorer Karl Berg's team found that the baby birds appeared to recognize and learn individual calls made specifically for them by the adults.
If the babies were learning the contact calls directly from their parents, then this would be the first example of a nonhuman species teaching acoustical communication.
— Watch it at National Geographic
Bing: Watch and listen to parrots talking.
Image: Green-rumped Parrotlet (Arco Images GmbH/Alamy)
More from Vetstreet:
5 Cold Weather Pet Dangers to Avoid
Bald Eagles Making a Remarkable Comeback, Even Near Urban Areas
5 Dog Breeds That Are Sadly Losing Popularity
Video: Kitten & Parrot Fight Over Couch Supremacy
Why Does My Dog… Sleep Belly Up?
News, stories, tips and laughs for moms & dads
Transform the fall vegetable into cool decor pieces.

Put together these creative, but simple, Halloween looks for your youngsters.

We know you're documenting just about every move baby makes. (Do you even have any memory left on your phone? We didn't think so.) These tips from professional photographers can help you perfect your pics.

These six on-trend ideas will make baby's room your new favorite place to hang out.

Baby probably won't remember his first birthday party, but that doesn't mean you can't go all out (after all, parents need to celebrate making it through this first year, right?). These fun, colorful themes take planning to the next level.

See what celebrities who had problems conceiving have to say.

You'll be hearing a lot of advice and opinions. Some of it will be really helpful and some will be just plain wrong. Here are the most common things people say about babies that aren't true.

A new dad finds an Epcot Center's worth of innovation after expecting none at all.

The dog days of summer may be well behind us, but that doesn't mean it's time to pack in the outdoor adventures quite yet.

Protect yourself and your family with these ingenious gizmos and smartphone apps.

Make sure your go-to gadgets are as cute as your style, with these trendy tech finds!

Oh, how the times have changed...