The NRA shooting game for 4-year-olds?
A new app causes controversy
The new shooting game NRA: Practice Range is sparking controversy, as its awkwardly-timed release falls directly in the wake of the Sandy Hook tragedy. 
Yesterday the video game news and gossip site Kotaku reported that the free game, which involves shooting moving targets with weapons like handguns and assault rifles, was available for download and marketed to kids ages 4 and up. But game designer MEDL Mobile replied on Twitter that the app aims to promote gun safety and is not in fact for kids ages 4 and older.  So who exactly is this National Rifle Association-branded game targeting?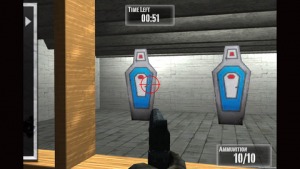 NRA: Practice Range is given a rating of 4+ on the iTunes site, but it is unclear as to whether that is an explicit reference to age. When asked what the rating refers to, an Apple rep told Parenting.com that she did not know and emailed a link from Apple's support page. According to the page, "an app rated 4+ contains nonobjectionable material, but an app rated 9+ may not be suitable for children under the age of 9." Apple's media contact has not responded with clarification.
Plus: Do video games cause violent behavior?
Those familiar with National Rifle Association leader Wayne LaPierre's outcry against video games last month may be surprised that the app is listed as an "Official NRA Licensed Product" on iTunes.  After the Sandy Hook shooting LaPierre called gaming "a corrupt shadow industry that sells and sows violence against its own people" and blamed the tragedy on games like Mortal Kombat and Bulletstorm, reported Kotaku.
Plus: 10 violent video games to avoid
So is this new game a huge PR gaffe for the NRA? Or a super-savvy marketing move? Game designer and scholar Ian Bogost seems to think its consistent with the NRA's message.
"It's another specimen in the NRA's ongoing effort to present gun ownership and use as a part of a practice of sportsmanship and as participation in an existing community of 'responsible gun owners,'" he told Kotaku. "Contrary to immediate reaction among some of the game playing and development community, the NRA's presentation of the game as an educational tool fit for kids will read as consistent with their overall project and message among NRA supporters."
Should there be an age rating for NRA: Practice Range, or is it an educational tool appropriate for all ages?
More from MSN Living:

Gun safety: I was first shown the power of a gun when I was 8. My step-father helped me to shoot a shotgun at ice off of the barbed wire fence that separated my back yard from a field. This showed me that firearms can do a lot of damage, and did not make me want to turn them on people, but instead had the opposite affect. This is because I have enough sense of right and wrong to not want to hurt people. I think teaching gun safety at a young age is as important as teaching children that the stove is hot. I also think that when parents encourage their kids to be respectful of people, that teaching them respect for firearms will actually lower the frequency of firearm related violence and firearm related accidents.
I think that too often parents, and adults in general, push responsibility for their actions and their children's actions on to a third party. Parents need to teach their children about the world in a positive way, not just sheltering them from bad situations, but showing them how successfully manage those situations. Too often do parents' own immaturity and outbursts show children that its okay to be violent to other people. When parents both teach their children right from wrong and that actions have consequences, their children will learn to look at the consequences before taking actions.

I was shooting when I was 6. But before that, I was taught by my father and grandfather,  to respect firearms and the finality of a bullet. The problem isn`t availibility of guns, it`s that we have generations of people who lack proper character and who are never taught right from wrong. Guns do not make someone evil. If a person commits an act of evil with a gun, they had evil in their hearts long before they obtained that weapon. 
There was a time in this country when high school boys drove the family truck to school, and in that truck was a rifle rack and on that rack was a loaded long gun. Additionally, it was customary for boys to carry pocket knives. And as boys do, they had disagreements. Those arguments were settled after school with fists and those weapons were not touched. Today, we have children who attack their parents because they are not instantly given what they want, and bad parenting is to blame for that. What happened? The destruction of the family and proper instruction given to our children.
Are you sure you want to delete this comment?
News, stories, tips and laughs for moms & dads
Transform the fall vegetable into cool decor pieces.

Put together these creative, but simple, Halloween looks for your youngsters.

We know you're documenting just about every move baby makes. (Do you even have any memory left on your phone? We didn't think so.) These tips from professional photographers can help you perfect your pics.

These six on-trend ideas will make baby's room your new favorite place to hang out.

Baby probably won't remember his first birthday party, but that doesn't mean you can't go all out (after all, parents need to celebrate making it through this first year, right?). These fun, colorful themes take planning to the next level.

See what celebrities who had problems conceiving have to say.

You'll be hearing a lot of advice and opinions. Some of it will be really helpful and some will be just plain wrong. Here are the most common things people say about babies that aren't true.

A new dad finds an Epcot Center's worth of innovation after expecting none at all.

The dog days of summer may be well behind us, but that doesn't mean it's time to pack in the outdoor adventures quite yet.

Protect yourself and your family with these ingenious gizmos and smartphone apps.

Make sure your go-to gadgets are as cute as your style, with these trendy tech finds!

Oh, how the times have changed...