'Meanest mother' sells son's truck after he drives drunk
When a Wyoming women's son was pulled over for drunk driving, she promptly put the teen's truck up for sale in best classified ad ever.
What would you do if your teen got pulled over for drunk driving? I'm guessing most moms would get mad. Like, grounded indefinitely really mad. Instead, a mother in Wyoming decided to take a completely different tack in disciplining her teen and curbing his dangerous behavior – she got creative.
She put a classified ad in her town's local paper that read:
VERY mad mother selling 16 yr. old son's 1993 Ford Ranger. Drove 3 mos. before son forgot to use his brain and got caught driving drunk. $3500 OBO. Call meanest mother in Wyoming.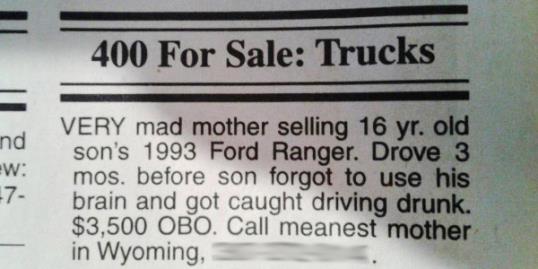 More from MSN Living: 11 mom sayings it's ok to ditch
The "world's meanest mother" is getting a lot of support. A radio station posted her ad on its Facebook page and it's received over 61,000 likes, and comments keep pouring in showering the mom with praise, reports The Stir on CafeMom.com.
More from MSN Living: The top 10 worst moments in mom judgment
I asked some moms what they thought of this woman's drastic measures.
Here's what they had to say:
"I wouldn't sell the truck. I would take it to the junk yard and pay to have it flattened by one of those machines right in front of him," says Raquel Segura, mother of two, including a 16-year old son in Pembroke Pines, Fla. "Kudos to this woman for showing her kid that what he did was wrong and that she wouldn't tolerate it!"
"I commend this woman for having the guts to be a parent. Too many folks want to be their kids BFF (best friend forever) and it causes more harm than good," says Kathy Cammack Akers of Bellingham, Wa.
Do you agree with what the Wyoming mother did?
Bing: Quirky discipline that works
More from the Family Room:
Library reconsiders ban on children
Districts look to beef up school safety with panic buttons
Love content like this? Friend us on Facebook, follow us on Twitter and find us on Pinterest
Photo: Courtesy of www.theriver1079.com​
News, stories, tips and laughs for moms & dads
You just had a baby? You're a superstar! All those diapers, all that spit up, and you're makin' magic happen. But you're also likely tired - really tired - and busy (so, so busy). Taking time for yourself might seem like an indulgence but a happy mom makes for a happy baby. Here are 7 things you should definitely do to keep your sanity intact and your spirit high. <more, below>

Summertime is on, and the kids are out of school. Every mom knows that for these three months it's more important than ever to keep the kids busy. But you don't have to schedule your life away with camps, or drop a bundle on activities and games that come in a box. You can make your own fun, and even include the kids in the prep, with some simple, inexpensive DIY crafts that will keep them playing 'til the lightening bugs come out. Make your own fingerpaint, bubbles, and crayons. Create a fort-building kit and superhero capes that will kick their imaginations into overdrive. Here are 10 of our favorite kid-friendly DIY crafts to fuel your summertime fun.

Let these DIY dog bed projects be your inspiration and within a single weekend, you can construct something that really makes Rex feel like a king.

The task of finding an eco-friendly, safe-for-baby gift parents-to-be will actually use is kind of challenging. Add to that a price limit of $50, and the feat suddenly feels impossible! Fortunately, we combed the marketplace for some of the prettiest, most useful, sweetest gifts for baby and family. Many are fine on their own, while others would work well as part of a bigger basket — you know, if you wish to achieve that shower-goer hero status.

Jennifer Goodall gave birth Friday after much drama

My kids snapped a pic of me on my phone and it changed how I see myself

6-year-old has rare brain condition

He wanted to know if woman was pregnant

Did your state make the grade?

Remember the concept of weekends being a time for rest, relaxation, and togetherness? No? Us either. Between soccer games, playdates, dragging your kids to see the new exhibition at the local children's museum, and we need to pick up a gift for that birthday party that starts in . . . 20 minutes, juggling a busy family's weekend schedule can be more stressful than a weekday. While we know it's simply not realistic to cancel all your plans and obligations moving forward, clearing the calendar for just one weekend can be just the refresher that your family's craving. Here's why.

A new dad finds an Epcot Center's worth of innovation after expecting none at all.

Alcohol and tattoos are not meant for the pre-teen set