'Meanest mother' sells son's truck after he drives drunk
When a Wyoming women's son was pulled over for drunk driving, she promptly put the teen's truck up for sale in best classified ad ever.
What would you do if your teen got pulled over for drunk driving? I'm guessing most moms would get mad. Like, grounded indefinitely really mad. Instead, a mother in Wyoming decided to take a completely different tack in disciplining her teen and curbing his dangerous behavior – she got creative.
She put a classified ad in her town's local paper that read:
VERY mad mother selling 16 yr. old son's 1993 Ford Ranger. Drove 3 mos. before son forgot to use his brain and got caught driving drunk. $3500 OBO. Call meanest mother in Wyoming.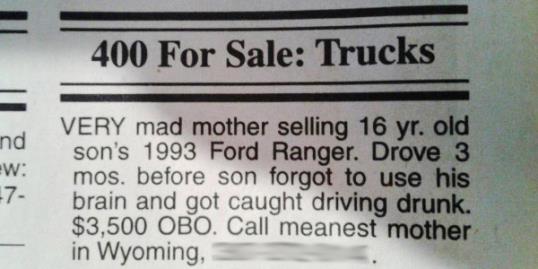 More from MSN Living: 11 mom sayings it's ok to ditch
The "world's meanest mother" is getting a lot of support. A radio station posted her ad on its Facebook page and it's received over 61,000 likes, and comments keep pouring in showering the mom with praise, reports The Stir on CafeMom.com.
More from MSN Living: The top 10 worst moments in mom judgment
I asked some moms what they thought of this woman's drastic measures.
Here's what they had to say:
"I wouldn't sell the truck. I would take it to the junk yard and pay to have it flattened by one of those machines right in front of him," says Raquel Segura, mother of two, including a 16-year old son in Pembroke Pines, Fla. "Kudos to this woman for showing her kid that what he did was wrong and that she wouldn't tolerate it!"
"I commend this woman for having the guts to be a parent. Too many folks want to be their kids BFF (best friend forever) and it causes more harm than good," says Kathy Cammack Akers of Bellingham, Wa.
Do you agree with what the Wyoming mother did?
Bing: Quirky discipline that works
More from the Family Room:
Library reconsiders ban on children
Districts look to beef up school safety with panic buttons
Love content like this? Friend us on Facebook, follow us on Twitter and find us on Pinterest
Photo: Courtesy of www.theriver1079.com​
News, stories, tips and laughs for moms & dads
From unsolicited advice that comes from someone without kids to real-life momzillas who always one-up baby's accomplishments, read on for the 12 worst comments new mamas have ever heard (and prepare for some serious LOLs).

It's not just a walk in the park. Get the real deal. By Bonnie Vengrow

Even the most organized person has mornings when something goes wrong. Here are a few remedies to help you survive, or avoid, those pesky morning annoyances.

Pinterest is the perfect place to find fun, crafty Thanksgiving ideas that are sure to make the big day special for kids – and the whole family.

We asked 218 veterinary professionals to vote on the dog breeds and mixes that are not good choices for first-time pet parents. German Shepherds, Bulldogs and Akitas are among the breeds new pet owners should steer clear of.

"No! Bad dog!" How many times have you scolded your misbehaving canine with those words? Probably too many. But before you fly off the handle, one of the most important things to understand about correcting bad behavior is that punishment doesn't work.