'Meanest mother' sells son's truck after he drives drunk
When a Wyoming women's son was pulled over for drunk driving, she promptly put the teen's truck up for sale in best classified ad ever.
What would you do if your teen got pulled over for drunk driving? I'm guessing most moms would get mad. Like, grounded indefinitely really mad. Instead, a mother in Wyoming decided to take a completely different tack in disciplining her teen and curbing his dangerous behavior – she got creative.
She put a classified ad in her town's local paper that read:
VERY mad mother selling 16 yr. old son's 1993 Ford Ranger. Drove 3 mos. before son forgot to use his brain and got caught driving drunk. $3500 OBO. Call meanest mother in Wyoming.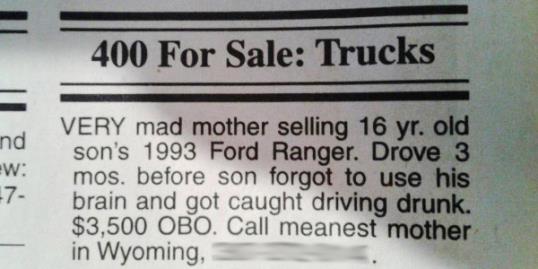 More from MSN Living: 11 mom sayings it's ok to ditch
The "world's meanest mother" is getting a lot of support. A radio station posted her ad on its Facebook page and it's received over 61,000 likes, and comments keep pouring in showering the mom with praise, reports The Stir on CafeMom.com.
More from MSN Living: The top 10 worst moments in mom judgment
I asked some moms what they thought of this woman's drastic measures.
Here's what they had to say:
"I wouldn't sell the truck. I would take it to the junk yard and pay to have it flattened by one of those machines right in front of him," says Raquel Segura, mother of two, including a 16-year old son in Pembroke Pines, Fla. "Kudos to this woman for showing her kid that what he did was wrong and that she wouldn't tolerate it!"
"I commend this woman for having the guts to be a parent. Too many folks want to be their kids BFF (best friend forever) and it causes more harm than good," says Kathy Cammack Akers of Bellingham, Wa.
Do you agree with what the Wyoming mother did?
Bing: Quirky discipline that works
More from the Family Room:
Library reconsiders ban on children
Districts look to beef up school safety with panic buttons
Love content like this? Friend us on Facebook, follow us on Twitter and find us on Pinterest
Photo: Courtesy of www.theriver1079.com​
News, stories, tips and laughs for moms & dads
But Debra Harrell now has custody of daughter again

I am probably not the first to tell you this: Kids come with lots of stuff. Even if you try to be as minimal as possible, the little creatures require an awful lot to keep things running smoothly. Here's a master-plan slideshow of ways to cut corners on space in every room to accommodate all the things that come along with kids.

You never know for certain what type of parent you'll be until you've actually become one and your parenting style, as it becomes evident, may surprise you. Here are 4 parenting books to help you figure it all out.

Sunshine! Camping! Pool parties! BBQs! The sunny season is here and to help you make the most of it, we've hand-picked 7 great products to make this summer the best your family has ever had. Click through for our list to inspire your sunny day fun. From our sponsor: Walmart

We all love a picnic. But do one quick search for 'picnic ideas' on Pinterest and you're instantly teleported into a land of overachieving home chefs clearly looking for their big break on Food Network. Well, never mind that, we say. Scratch the 25-ingredient recipes and the incessant trips to the craft store for that perfect tablescape. Here are 5 truly simple picnic ideas that will look great, taste great, and make you feel like the winner you are! From our sponsor: Walmart

Admit it — you do these things, too! And that's OK. But maybe — just maybe — it's time to think about changing things up a little bit, for the sake of your sanity, your relationship with your kids, and because life's too short.

We asked veterinary experts and readers which breeds they think and if it is OK to shave longhaired pets in the summer.

You've exhausted your bag of craft tricks, found inspiration through our rainy day activity guide, and are still hungry for more artsy activities for your kids! We've found nine Pinterest users who have so many fantastic craft ideas for little ones that even we were slightly overwhelmed! (What to make first? Milk-box playhouses? Duct-tape rings?) The crafting possibilities are endless — and beautiful — so start clicking and get ready to repin!

Celeb moms post photos to show off their weight loss, but then they undermine their progress in the captions.

Kriste Lewis was inspired by her kidney disease to try out

Hittin' the road, moms and dads? Plan for these five things to happen...

Who knew parenting would make you feel so dumb?