'Meanest mother' sells son's truck after he drives drunk
When a Wyoming women's son was pulled over for drunk driving, she promptly put the teen's truck up for sale in best classified ad ever.
What would you do if your teen got pulled over for drunk driving? I'm guessing most moms would get mad. Like, grounded indefinitely really mad. Instead, a mother in Wyoming decided to take a completely different tack in disciplining her teen and curbing his dangerous behavior – she got creative.
She put a classified ad in her town's local paper that read:
VERY mad mother selling 16 yr. old son's 1993 Ford Ranger. Drove 3 mos. before son forgot to use his brain and got caught driving drunk. $3500 OBO. Call meanest mother in Wyoming.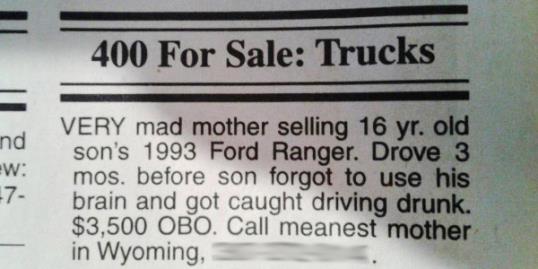 More from MSN Living: 11 mom sayings it's ok to ditch
The "world's meanest mother" is getting a lot of support. A radio station posted her ad on its Facebook page and it's received over 61,000 likes, and comments keep pouring in showering the mom with praise, reports The Stir on CafeMom.com.
More from MSN Living: The top 10 worst moments in mom judgment
I asked some moms what they thought of this woman's drastic measures.
Here's what they had to say:
"I wouldn't sell the truck. I would take it to the junk yard and pay to have it flattened by one of those machines right in front of him," says Raquel Segura, mother of two, including a 16-year old son in Pembroke Pines, Fla. "Kudos to this woman for showing her kid that what he did was wrong and that she wouldn't tolerate it!"
"I commend this woman for having the guts to be a parent. Too many folks want to be their kids BFF (best friend forever) and it causes more harm than good," says Kathy Cammack Akers of Bellingham, Wa.
Do you agree with what the Wyoming mother did?
Bing: Quirky discipline that works
More from the Family Room:
Library reconsiders ban on children
Districts look to beef up school safety with panic buttons
Love content like this? Friend us on Facebook, follow us on Twitter and find us on Pinterest
Photo: Courtesy of www.theriver1079.com​
News, stories, tips and laughs for moms & dads
Get ready to hit the mall! Check out the hottest back-to-school trends—and get ready to make a major style statement this year.

Unique, or downright strange?

This is Kevin Droniak and his grandma. They're besties, they're awesome and they're YouTube stars.

It can be difficult to entice little ones to eat anything at all, let alone to devour a healthy plate. But feeding your kids nutritious snacks after school just got way easier, thanks to these adorably clever and cute snack ideas! For more smart and fun ways to get your kids to enjoy healthful and delicious foods, try one of these amazingly artsy lunch ideas.

Through a tonsillectomy all the way to brain surgery, my mother deserves some recognition. She's my spine, my birthday shadow, my BFF, my thunder buddy, so Mommy, thank you.

My son needs me, as much as yours needs you. Sadly, my son needs me more. He needs someone to have his back, when it seems that the police, the men he'd wave to with excitement as a little boy, see him as a being worthy only of prison or death.

If you know someone who has adopted and have made some of these comments, don't fret... now you know!

"Because you shine from within," I said, touching my finger to her heart. "Not everybody sees it, but I do. I see it. And my job is to protect that light. So when people say mean comments that squelch that light, I want you to tell me. I will protect your light by listening and loving you, my brave, courageous, and unique little firefly."

Studies have shown that it helps, top education officials have recommended it, and now doctors are officially saying the same.

I may have accidentally dropped you a few times, forgotten to document your first fart, let a little pee fly and dressed you like an idiot, but I have also loved you with every piece of me, and you will never hear an apology for that.

Back-to-school shopping is still in full swing, and your little gents probably need some new kicks to round out their fall wardrobes (you already picked up some bold shoes for the little ladies in your life, right?).

Not every kid is a fan of returning to the classroom, so parents try to ease the blow with a little back-to-school shopping.