'Meanest mother' sells son's truck after he drives drunk
When a Wyoming women's son was pulled over for drunk driving, she promptly put the teen's truck up for sale in best classified ad ever.
What would you do if your teen got pulled over for drunk driving? I'm guessing most moms would get mad. Like, grounded indefinitely really mad. Instead, a mother in Wyoming decided to take a completely different tack in disciplining her teen and curbing his dangerous behavior – she got creative.
She put a classified ad in her town's local paper that read:
VERY mad mother selling 16 yr. old son's 1993 Ford Ranger. Drove 3 mos. before son forgot to use his brain and got caught driving drunk. $3500 OBO. Call meanest mother in Wyoming.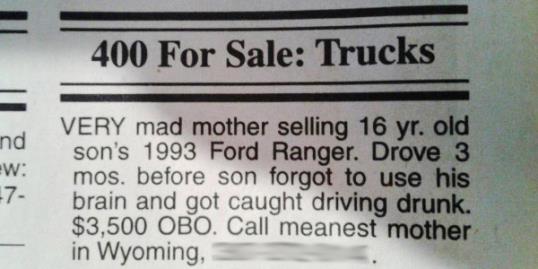 More from MSN Living: 11 mom sayings it's ok to ditch
The "world's meanest mother" is getting a lot of support. A radio station posted her ad on its Facebook page and it's received over 61,000 likes, and comments keep pouring in showering the mom with praise, reports The Stir on CafeMom.com.
More from MSN Living: The top 10 worst moments in mom judgment
I asked some moms what they thought of this woman's drastic measures.
Here's what they had to say:
"I wouldn't sell the truck. I would take it to the junk yard and pay to have it flattened by one of those machines right in front of him," says Raquel Segura, mother of two, including a 16-year old son in Pembroke Pines, Fla. "Kudos to this woman for showing her kid that what he did was wrong and that she wouldn't tolerate it!"
"I commend this woman for having the guts to be a parent. Too many folks want to be their kids BFF (best friend forever) and it causes more harm than good," says Kathy Cammack Akers of Bellingham, Wa.
Do you agree with what the Wyoming mother did?
Bing: Quirky discipline that works
More from the Family Room:
Library reconsiders ban on children
Districts look to beef up school safety with panic buttons
Love content like this? Friend us on Facebook, follow us on Twitter and find us on Pinterest
Photo: Courtesy of www.theriver1079.com​
News, stories, tips and laughs for moms & dads
'Tis the season to send out holiday greeting cards to all your friends and family. But, as our friends at Awkward Family Pet Photos know, not all holiday snapshots are the same. Some are just plain kooky — especially when pets are included. So with good tidings and great cheer, here are 10 wacky holiday animal portraits that are sure to make you laugh out loud and get you in the holiday spirit. And possibly make you think twice about dressing up the family cat this year.

King of the jungle? Nah, it's just a labradoodle!

Side-by-side images of adorable babies and their celebrity doppelgängers

Do you have a finicky furry friend on your holiday gift list this year? You're in luck! We've rounded up the coolest cat-approved products to bring you purrfect gift ideas for every kind of cat -- from the curious kitten to the most refined feline. Any one of these special gifts could make your resident kitty purr with pleasure and maybe, just maybe, like the present this year even more than the box and wrapping paper it came in!

Plus, puppy names to watch

This holiday season's hottest toy has yet to be revealed, but more often than not, the best gifts are the ones kids don't even know to ask for. So this year, surprise your kids with unique presents under the tree, and watch as their eyes light up when they unwrap them. From space-age sand to a DIY race track, these out-of-the-box gift ideas will provide some serious shopping inspiration. Click through the slideshow above for all our favorite picks.

Yep, you're older than you think

Avoid these gaffes for a better relationship with your stepchildren—and your spouse.

The top 25 best holiday movies for kids and their families, from old school classics like Miracle on 34th Street and It's a Wonderful Life, to newer classics like Elf and The Nightmare Before Christmas.

Since the dawn of time, we men have been preprogrammed with two biological imperatives: Number one: to bravely kill bathtub spiders; and number two: to reproduce. (Actually, I really should have ordered those in reverse.) So what happens when we find out we're infertile?

New mamas weigh in on all the things they wish someone had warned them about before baby arrived.

We scoured Pinterest for 30 way-too-cute Elf on the Shelf poses we'd never seen before...let these inspire you during your family's funniest tradition.