Breastfeeding moms hold 'nurse-in' at airport
Protest staged at Baltimore-Washington International Thurgood Marshall Airport in response to American Airlines' reaction to in-flight feeding.
American Airlines has come under worldwide fire after a recent in-flight incident.
A mother, a member of the group the Milkmakers, was nursing her newborn son on a recent flight when a flight attendant asked her to cover up.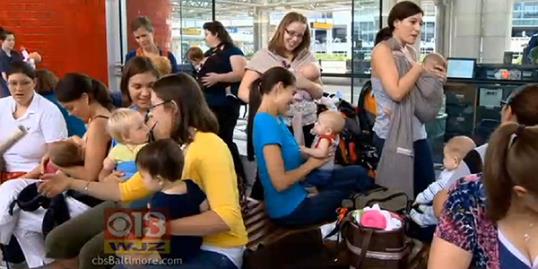 More on MSN Living: Teen mom denied right to breastfeed
"It's common that breastfeeding moms are asked to cover up or asked to feed their babies elsewhere, when really it's illegal to do so," Katy Whipple told CBS News. "They are allowed to breastfeed however and wherever they see fit.
In response to this incident, Whipple helped stage a "nurse-in" protest at Baltimore-Washington​ International Thurgood Marshall Airport with about 25 nursing mothers and their babies.
The mother received a written apology, but friends say it isn't enough.
Photos: Most hilarious baby photos
A media representative from American Airlines reiterates that the company apologized and says that nursing is allowed at any time during the flight.
Read the complete story on CBS News here.
Tell us: Do you think mothers should be able to breastfeed on flights?
Bing: Celebrities expecting in 2013
More from The Family Room: 
Avoid what-not-to-say moments with new parents
Spanking in public: Another great parenting debate
Can you have it all without having kids?
Subscribe to The Family Room | Friend us on Facebook, follow us on Twitter and find us on Pinterest.
Photo: Moms hold a "nurse-in" at BWI Thurgood Marshall Airport to protest a breastfeeding incident involving American Airlines. (CBS Baltimore, http://aka.ms/airpor​t-nurse-in)
News, stories, tips and laughs for moms & dads
No scared, crying kids sitting on the Easter bunny's lap here! We scoured Pinterest for some of the most adorable Easter-ready babies ever pinned, and these little cuties definitely did not disappoint...

Oh, Pinterest. We love you, we hate you. You inspire us, and you make us feel terribly lame at the same time. But what we always love, without a fault, is finding examples of people who have tried, and failed, to create a Pinterest-inspired work of art. With that, our fave 'fails.' Original Pinterest inspirations on the left, crafting fails on the right - away we go… By Gina Cohen and Charyn Pfeuffer, MSN Living

The company reportedly considered her act "destruction of property."

Why it's time to retire the trend already

It's not nice to make an expectant mom cry

Tummy troubles in your four-legged friends? Carrageenan in their pet food may be to blame.