Breastfeeding moms hold 'nurse-in' at airport
Protest staged at Baltimore-Washington International Thurgood Marshall Airport in response to American Airlines' reaction to in-flight feeding.
American Airlines has come under worldwide fire after a recent in-flight incident.
A mother, a member of the group the Milkmakers, was nursing her newborn son on a recent flight when a flight attendant asked her to cover up.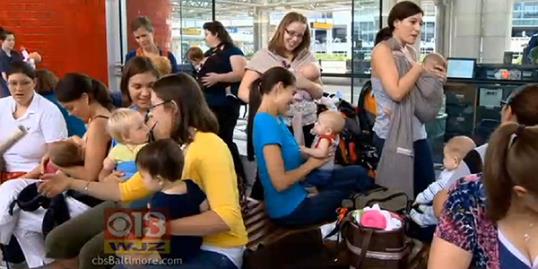 More on MSN Living: Teen mom denied right to breastfeed
"It's common that breastfeeding moms are asked to cover up or asked to feed their babies elsewhere, when really it's illegal to do so," Katy Whipple told CBS News. "They are allowed to breastfeed however and wherever they see fit.
In response to this incident, Whipple helped stage a "nurse-in" protest at Baltimore-Washington​ International Thurgood Marshall Airport with about 25 nursing mothers and their babies.
The mother received a written apology, but friends say it isn't enough.
Photos: Most hilarious baby photos
A media representative from American Airlines reiterates that the company apologized and says that nursing is allowed at any time during the flight.
Read the complete story on CBS News here.
Tell us: Do you think mothers should be able to breastfeed on flights?
Bing: Celebrities expecting in 2013
More from The Family Room: 
Avoid what-not-to-say moments with new parents
Spanking in public: Another great parenting debate
Can you have it all without having kids?
Subscribe to The Family Room | Friend us on Facebook, follow us on Twitter and find us on Pinterest.
Photo: Moms hold a "nurse-in" at BWI Thurgood Marshall Airport to protest a breastfeeding incident involving American Airlines. (CBS Baltimore, http://aka.ms/airpor​t-nurse-in)
News, stories, tips and laughs for moms & dads
Baby booms are certainly fun, but the pileup of shower invites can be rough on a bank account. The challenge: Find a great gift for cheap that's cute, useful, "big" enough to count as a whole gift...and doesn't seem like you skimped. Here are eight fun, functional options I love that definitely fit the bill. And they're all under $30! By The Bump Editors

You'd be shocked at how much a choice selection of apps can change your life for the better. From a honing device for kid-friendly locations to a virtual accountant, these eleven apps belong on every parent's home screen. It may seem counterintuitive, but amping up your smartphone with these handy features will actually make unplugging that much easier, since you know you've got your bases covered. Check them out in the slideshow above, download what you will, and we bet you won't be able to remember what life was like without them.

12 playful and engaging gift ideas for babies and toddlers this season.

When it comes to being single and pregnant, it feels like everybody has their own opinion -- or way-too-nosy questions. Whether they're trying to get the "dirt" on baby's father, or asking about your quest for child support (so not their business!), people really say ridiculous things to single moms-to-be.

Thanksgivukkah, a mash-up super-holiday that magically occurs this year as Hanukkah and Thanksgiving fall on the same day, is quickly becoming every foodie's dream. It's literally a once-in-a-lifetime chance (the next one doesn't occur for another 77,798 years!) to make insanely delicious foods combining both traditions, like sweet potato latkes and pumpkin challah. Below is a round-up of some must follow Thanksgivukkah Pinterest boards!

From unsolicited advice that comes from someone without kids to real-life momzillas who always one-up baby's accomplishments, read on for the 12 worst comments new mamas have ever heard (and prepare for some serious LOLs).