Breastfeeding moms hold 'nurse-in' at airport
Protest staged at Baltimore-Washington International Thurgood Marshall Airport in response to American Airlines' reaction to in-flight feeding.
American Airlines has come under worldwide fire after a recent in-flight incident.
A mother, a member of the group the Milkmakers, was nursing her newborn son on a recent flight when a flight attendant asked her to cover up.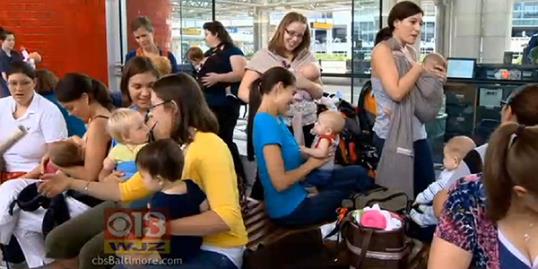 More on MSN Living: Teen mom denied right to breastfeed
"It's common that breastfeeding moms are asked to cover up or asked to feed their babies elsewhere, when really it's illegal to do so," Katy Whipple told CBS News. "They are allowed to breastfeed however and wherever they see fit.
In response to this incident, Whipple helped stage a "nurse-in" protest at Baltimore-Washington​ International Thurgood Marshall Airport with about 25 nursing mothers and their babies.
The mother received a written apology, but friends say it isn't enough.
Photos: Most hilarious baby photos
A media representative from American Airlines reiterates that the company apologized and says that nursing is allowed at any time during the flight.
Read the complete story on CBS News here.
Tell us: Do you think mothers should be able to breastfeed on flights?
Bing: Celebrities expecting in 2013
More from The Family Room: 
Avoid what-not-to-say moments with new parents
Spanking in public: Another great parenting debate
Can you have it all without having kids?
Subscribe to The Family Room | Friend us on Facebook, follow us on Twitter and find us on Pinterest.
Photo: Moms hold a "nurse-in" at BWI Thurgood Marshall Airport to protest a breastfeeding incident involving American Airlines. (CBS Baltimore, http://aka.ms/airpor​t-nurse-in)
News, stories, tips and laughs for moms & dads
Would you rather be a parent now or then?

As all the kids line up to go to school, your son, Timmy, turns to you and says, "I don't want to take the bus. My stomach hurts. Please don't make me go." You cringe and think, Here we go again. What should be a simple morning routine explodes into a daunting challenge.

The strong bonds that dogs can form are undeniable.

Think you know your pet's every unspoken wish? Think again. Your pet is unlikely to be capable of communicating her wants and needs in ways you might assume she would. Even those of you most in touch with your pets' feelings are likely missing a few cues here and there.

The Chesapeake Bay Retriever made both our readers' and veterinary professionals' lists of breeds that love the water.

You might proudly call yourself a dog owner, pet parent or canine guardian, but let's be real: Your dog owns you. You might be laughing now, but think about it — you've surrendered the best seat on the sofa to him, you plan your entire weekend around his trips to the dog park, and you take him to the groomer more often than you get your own hair cut. And let's not forget who's in every photo on your Facebook and Instagram feeds. Sound familiar? We thought so. But in case you still think you're in charge, here are seven classic signs that your dog is the one calling the shots.