Breastfeeding moms hold 'nurse-in' at airport
Protest staged at Baltimore-Washington International Thurgood Marshall Airport in response to American Airlines' reaction to in-flight feeding.
American Airlines has come under worldwide fire after a recent in-flight incident.
A mother, a member of the group the Milkmakers, was nursing her newborn son on a recent flight when a flight attendant asked her to cover up.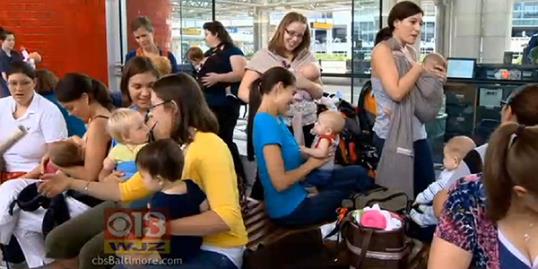 More on MSN Living: Teen mom denied right to breastfeed
"It's common that breastfeeding moms are asked to cover up or asked to feed their babies elsewhere, when really it's illegal to do so," Katy Whipple told CBS News. "They are allowed to breastfeed however and wherever they see fit.
In response to this incident, Whipple helped stage a "nurse-in" protest at Baltimore-Washington​ International Thurgood Marshall Airport with about 25 nursing mothers and their babies.
The mother received a written apology, but friends say it isn't enough.
Photos: Most hilarious baby photos
A media representative from American Airlines reiterates that the company apologized and says that nursing is allowed at any time during the flight.
Read the complete story on CBS News here.
Tell us: Do you think mothers should be able to breastfeed on flights?
Bing: Celebrities expecting in 2013
More from The Family Room: 
Avoid what-not-to-say moments with new parents
Spanking in public: Another great parenting debate
Can you have it all without having kids?
Subscribe to The Family Room | Friend us on Facebook, follow us on Twitter and find us on Pinterest.
Photo: Moms hold a "nurse-in" at BWI Thurgood Marshall Airport to protest a breastfeeding incident involving American Airlines. (CBS Baltimore, http://aka.ms/airpor​t-nurse-in)
News, stories, tips and laughs for moms & dads
Gone are the days of mystery meat and the crabby, hairnet-wearing lunch lady. Across the nation, school lunchrooms are getting a face-lift and a menu makeover. From picked-from-the-garden veggies to fresh-caught fish tacos, students are experiencing the gourmet treatment. Here's a sample of the most innovative (and delicious) lunch programs we uncovered — bet your school lunch never tasted this good!

In a few short weeks you'll be dropping your child off at college, where they'll spend the next four years learning, laughing, and probably partying. Of course, in true teen fashion, your child has already started shopping for their dorm room essentials. Don't panic just yet!

When tots burst through the door after a busy day at school, the first order of business is securing a snack.

The only thing more important than what you pack your child for lunch is what you pack it in.

Frustrated mom invents Ignore No More app

Do you have the right mix of moms surrounding you?