Breastfeeding moms hold 'nurse-in' at airport
Protest staged at Baltimore-Washington International Thurgood Marshall Airport in response to American Airlines' reaction to in-flight feeding.
American Airlines has come under worldwide fire after a recent in-flight incident.
A mother, a member of the group the Milkmakers, was nursing her newborn son on a recent flight when a flight attendant asked her to cover up.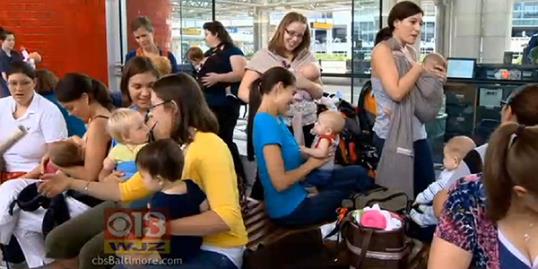 More on MSN Living: Teen mom denied right to breastfeed
"It's common that breastfeeding moms are asked to cover up or asked to feed their babies elsewhere, when really it's illegal to do so," Katy Whipple told CBS News. "They are allowed to breastfeed however and wherever they see fit.
In response to this incident, Whipple helped stage a "nurse-in" protest at Baltimore-Washington​ International Thurgood Marshall Airport with about 25 nursing mothers and their babies.
The mother received a written apology, but friends say it isn't enough.
Photos: Most hilarious baby photos
A media representative from American Airlines reiterates that the company apologized and says that nursing is allowed at any time during the flight.
Read the complete story on CBS News here.
Tell us: Do you think mothers should be able to breastfeed on flights?
Bing: Celebrities expecting in 2013
More from The Family Room: 
Avoid what-not-to-say moments with new parents
Spanking in public: Another great parenting debate
Can you have it all without having kids?
Subscribe to The Family Room | Friend us on Facebook, follow us on Twitter and find us on Pinterest.
Photo: Moms hold a "nurse-in" at BWI Thurgood Marshall Airport to protest a breastfeeding incident involving American Airlines. (CBS Baltimore, http://aka.ms/airpor​t-nurse-in)
News, stories, tips and laughs for moms & dads
Actress Kimberly Williams-Paisley hated the dementia that made her mother seem like a different person—erratic, silent, sometimes angry. Then she found a way to love that mom too.

Getting back into dating after baby can be tough -- and complicated -- but you deserve a shot at love, Mama! Just be on the look out for these red flags.

Mamas, take a cue from these smart ladies.

A habit of avoiding disappointment may result in idle adults.

What one mom learned about herself might just change your world

The 4 crucial conversations you need to have with your spouse before you make this decision.

You bring baby home and it seems like everyone has an opinion on which techniques you should use to get her to sleep, to feed her and to help her learn and develop. And they tell you which ones not to use too. So what's worth trying out and what's completely insane? Decide for yourself!

I'll say it: if your baby is melting down at Din Tai Fung, please pack your wipes and go

Pregnancy is just one long, unending stream of unsolicited advice—people love to tell you what to do, how to do it, and why you'd be crazy to do it any other way.

Maybe I was naïve, but I thought getting pregnant was as simple as having unprotected sex, and I'd be a mom in nine months flat. We spent years trying to prevent pregnancy, waiting until we were ready and having panic attacks if my period was late. So naturally, once we stopped preventing — boom! — it should've happened, right? Silly me.