Breastfeeding moms hold 'nurse-in' at airport
Protest staged at Baltimore-Washington International Thurgood Marshall Airport in response to American Airlines' reaction to in-flight feeding.
American Airlines has come under worldwide fire after a recent in-flight incident.
A mother, a member of the group the Milkmakers, was nursing her newborn son on a recent flight when a flight attendant asked her to cover up.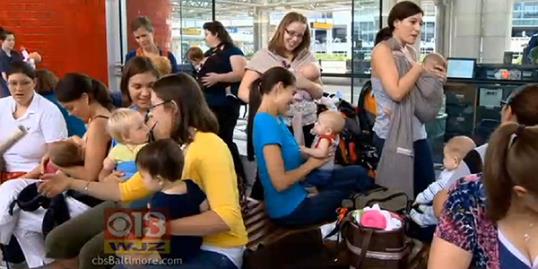 More on MSN Living: Teen mom denied right to breastfeed
"It's common that breastfeeding moms are asked to cover up or asked to feed their babies elsewhere, when really it's illegal to do so," Katy Whipple told CBS News. "They are allowed to breastfeed however and wherever they see fit.
In response to this incident, Whipple helped stage a "nurse-in" protest at Baltimore-Washington​ International Thurgood Marshall Airport with about 25 nursing mothers and their babies.
The mother received a written apology, but friends say it isn't enough.
Photos: Most hilarious baby photos
A media representative from American Airlines reiterates that the company apologized and says that nursing is allowed at any time during the flight.
Read the complete story on CBS News here.
Tell us: Do you think mothers should be able to breastfeed on flights?
Bing: Celebrities expecting in 2013
More from The Family Room: 
Avoid what-not-to-say moments with new parents
Spanking in public: Another great parenting debate
Can you have it all without having kids?
Subscribe to The Family Room | Friend us on Facebook, follow us on Twitter and find us on Pinterest.
Photo: Moms hold a "nurse-in" at BWI Thurgood Marshall Airport to protest a breastfeeding incident involving American Airlines. (CBS Baltimore, http://aka.ms/airpor​t-nurse-in)
News, stories, tips and laughs for moms & dads
Who knew parenting would make you feel so dumb?

Bob King, 68, found himself stuck

Witnesses now say they were helping mom, who was on the scene

Screaming won't make things better.

Adventures, friends, and boys—all the makings of a great movie. We may be a bit too old for summer camp, but these 10 movies bring us back to those times when all that mattered was winning Capture the Flag. We can practically taste the s'mores.

With summer comes vacations, trips, and relaxed time in the backyard, all of which I'd like to capture on film - hopefully with my kids' eyes open. Here are 10 pro tips to help capture your favorite moments.

Panic gives way to calmness and all ends well

We've all been there - here's how to deal...

It's not nice to make an expectant mom cry

If you're searching for a breed that may enjoy the company of a kid, we have some great suggestions for you.

It's all fun and games...unless you're a hyper-observant parent

Battle-hardened warrior? She also goes by Mom.