Prince William to get 2 weeks of paternity leave
William is the first senior royal to receive statutory paternity leave.
LONDON (AP) — He may be royal, but when it comes to paternity leave, Prince William is in the same boat as everyone else. Like thousands of other new fathers in Britain, he will get two weeks off when his child is born.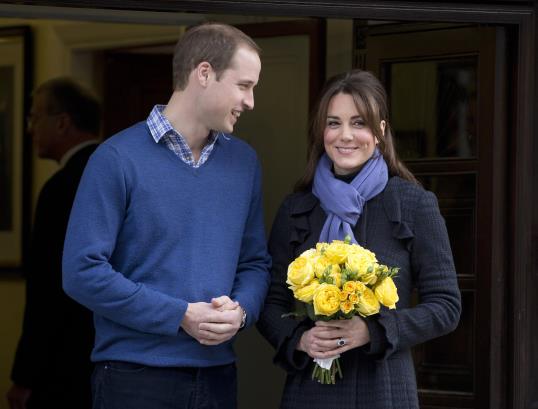 Along with British society, the royal family has been gradually modernizing its attitudes toward birth and parenting. William's father, Prince Charles, was present at the birth of his two sons, who were born in a hospital rather than a palace — both breaks from royal tradition. But William is the first senior royal to receive statutory paternity leave, which was introduced in Britain in 2003.
MSN Living: Kate Middleton's maternity style
Some family campaigners say William, a Royal Air Force search-and-rescue helicopter pilot, is setting a good example in a country where until recently new fathers have taken little time off.
But others say two weeks is not enough, and argue that social and economic pressures still discourage fathers from spending time looking after their newborns.
"There is an element that employers — and men themselves — are thinking of them as the ones who earn the money and stick in that role when children come along," said Jeremy Davies of the Fatherhood Institute think tank. "It can be quite difficult to set yourself apart from that."
MSN Living: Kate Middleton's most memorable outfits
Under British law, William is entitled to two weeks off at a flat pay rate of just under 137 pounds ($206) a week. He's lucky — the military is among employers that pay more, and he will receive his full salary for the fortnight.
The government says two-thirds of new fathers take some paternity leave, but less than half take the full two weeks. Some are ineligible because they are self-employed or haven't been at a job for at least six months. Others just can't afford it.
Mothers, who receive the bulk of parental leave, can take up to a year off, though only 39 weeks of it is paid, and not at full salary.
Bing: Royal baby due date?
The rules are changing. Under recent changes, new fathers can take up to six months leave by using up some of the year of a partner who has returned to work.
But few do. Elizabeth Gardiner of campaign group Working Families said that in the first year the flexible leave was offered, only 1,650 men in Britain took it.
She said the solution is to set aside some time off for fathers only — a practice in Scandinavia known as "daddy months."
"If you really want fathers to take up leave, you have to earmark it for them and you have to pay it properly," she said.
That's what they do in Sweden, where new parents can take 16 months' paid leave, divided between the parents as they like. Two months can only be taken by the mother and two months by the father — if not, the time cannot be transferred to the partner and is forfeited.
As an incentive, it works. In 2000, Swedish men took out only 12.4 percent of parental leave; by 2010 their share had nearly doubled to 23.1 percent, according to government statistics.
At the other end of the scale is the United States, where there is no government-subsidize​d nationwide paid paternity leave, though some companies and a few states offer it. Many companies and the public sector offer unpaid leave to new fathers.
Britain is moving to offer fathers more time. Under legislation currently before Parliament, from 2015 parents will be able to split the 50 weeks of paid leave as they like.
Changing attitudes may be harder than changing the law. A recent study by the Rotman School of Management at the University of Toronto found that men who take on caregiving duties at home receive more abuse at work than men who stick to conventional gender roles.
"It was a pretty powerful result," said Jennifer Berdahl, professor of organizational behavior at the Rotman School. "Men who did relatively more caregiving at home experienced a lot more 'not man enough' harassment and teasing that threatens their status in the workplace."
Prime Minister David Cameron took two weeks' leave when his daughter Florence was born in 2010, and it drew comment — some approving, some critical of a national leader stepping back for 14 days to look after a baby.
Jeremy Davies of the Fatherhood Institute said William was setting a good example — up to a point.
"What would be fantastic would be to see Prince William to take some time where he was the primary carer at some time during the first year," Davies said. "That's the stuff that leads to a really strong relationship with the child."
More from Family Room:
Royal baby could arrive as late as next week
7 tips Prince Harry needs before becoming an uncle
6 reasons Prince William will be a great dad
Subscribe to The Family Room | Friend us on Facebook, follow us on Twitter and find us on Pinterest.
File photo: Britain's Prince William stands next to his wife, Kate, Duchess of Cambridge, as she leaves the King Edward VII hospital in central London. (AP Photo/Alastair Grant, File)
News, stories, tips and laughs for moms & dads
Watch the video of Kristen Bell going head to head with paparazzi - it will make you angry

Every year, toy makers from around the world gather to show their latest creations at the Toy Fair in New York City. The high-tech models, gadgets and trinkets on display put those basic Legos we played with at kids to shame. Here are 10 new toys that we'd happily buy or children. Or, really, ourselves.

Find yourself wandering the aisles, suddenly needing an owl-shaped candle while drinking a $5 latte? You're not alone, moms...

Here's some parenting advice for whatever stage of separation or divorce you're in.

Whether you pop it in the mail or post it on social media, a creative photo is a surefire way to grab everyone's attention and proudly say, "I'm pregnant!" Prepare for a lot of likes.

Remember the magical children's rooms in Peter Pan and The Little Prince? These timeless novels described spaces that were enchanting and made us wish that we could inhabit the rooms ourselves. The sumptuous interiors that were filled with never-ending toys and fort-like draping may seem like a fairytale, but thanks to four of our favorite kids' furniture websites, the dream could actually become a reality. Click through the slideshow to check out the best kids furniture websites that have everything necessary to create a fantasy room for your little one. And check out Sophia Demenge's super-fun space in the video below. By Barry Samaha

They lay, they play, and they take selfies with supermodels. Meet 5 of the most social media-savvy pets—animals taking control of their own fashionable online image.

We could try to offer you carefully researched and crafted words of Dad-centric inspiration, intended to show you the path to being a better man and, in turn, a better father. But Tom Limbert took up the task for us in his new book 'Dad's Playbook: Wisdom for Fathers from the Greatest Coaches of All Time,' so we left it to him. Limbert -- a parent coach and the founder of the Studio Grow children's play space in Berkeley, California -- has collected pearls of wisdom from an elite crew of coaches who have not only experienced greatness themselves, but also found ways to consistently instill it in their teams. "It's monkey-see, monkey-do," Limbert told us, after we asked him to gather the best quotes on achieving one's goals. "If you want your child to follow, you have to lead." Click on to read the often simple-seeming words that have inspired countless others to follow through on the field, but that can also easily be translated to the school, work, fitness, and, of course, parenting arenas.

What parents need to know

It's raining, it's pouring ... but that doesn't mean the day has to be a snore. Rather than let the kids grow restless and rambunctious, why not divert their energy toward some fun family bonding activities? Although the weather may have scotched your original plans for the day, seize the opportunity to reconnect and let loose with your loved ones. Click through this slideshow for ten refreshing rainy day activities that'll make you glad the clouds (almost) rained on your parade.

Every family has its oddballs. And the holiday season is the one time of year when you're pretty much forced to interact and play nice with the grand majority of them. Click through the slideshow above for our guide to dealing with the five worst kinds of kin. *Disclaimer: All characters appearing in this work are fictitious. Any resemblance to real persons, living or dead, is purely coincidental.

Not great with a budget? Don't sweat it. Try these simple ways to save.