Prince William to get 2 weeks of paternity leave
William is the first senior royal to receive statutory paternity leave.
LONDON (AP) — He may be royal, but when it comes to paternity leave, Prince William is in the same boat as everyone else. Like thousands of other new fathers in Britain, he will get two weeks off when his child is born.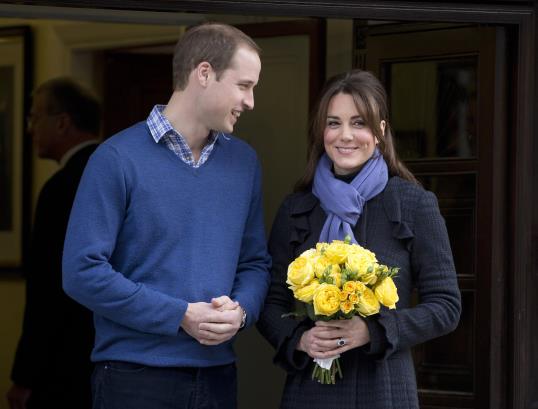 Along with British society, the royal family has been gradually modernizing its attitudes toward birth and parenting. William's father, Prince Charles, was present at the birth of his two sons, who were born in a hospital rather than a palace — both breaks from royal tradition. But William is the first senior royal to receive statutory paternity leave, which was introduced in Britain in 2003.
MSN Living: Kate Middleton's maternity style
Some family campaigners say William, a Royal Air Force search-and-rescue helicopter pilot, is setting a good example in a country where until recently new fathers have taken little time off.
But others say two weeks is not enough, and argue that social and economic pressures still discourage fathers from spending time looking after their newborns.
"There is an element that employers — and men themselves — are thinking of them as the ones who earn the money and stick in that role when children come along," said Jeremy Davies of the Fatherhood Institute think tank. "It can be quite difficult to set yourself apart from that."
MSN Living: Kate Middleton's most memorable outfits
Under British law, William is entitled to two weeks off at a flat pay rate of just under 137 pounds ($206) a week. He's lucky — the military is among employers that pay more, and he will receive his full salary for the fortnight.
The government says two-thirds of new fathers take some paternity leave, but less than half take the full two weeks. Some are ineligible because they are self-employed or haven't been at a job for at least six months. Others just can't afford it.
Mothers, who receive the bulk of parental leave, can take up to a year off, though only 39 weeks of it is paid, and not at full salary.
Bing: Royal baby due date?
The rules are changing. Under recent changes, new fathers can take up to six months leave by using up some of the year of a partner who has returned to work.
But few do. Elizabeth Gardiner of campaign group Working Families said that in the first year the flexible leave was offered, only 1,650 men in Britain took it.
She said the solution is to set aside some time off for fathers only — a practice in Scandinavia known as "daddy months."
"If you really want fathers to take up leave, you have to earmark it for them and you have to pay it properly," she said.
That's what they do in Sweden, where new parents can take 16 months' paid leave, divided between the parents as they like. Two months can only be taken by the mother and two months by the father — if not, the time cannot be transferred to the partner and is forfeited.
As an incentive, it works. In 2000, Swedish men took out only 12.4 percent of parental leave; by 2010 their share had nearly doubled to 23.1 percent, according to government statistics.
At the other end of the scale is the United States, where there is no government-subsidize​d nationwide paid paternity leave, though some companies and a few states offer it. Many companies and the public sector offer unpaid leave to new fathers.
Britain is moving to offer fathers more time. Under legislation currently before Parliament, from 2015 parents will be able to split the 50 weeks of paid leave as they like.
Changing attitudes may be harder than changing the law. A recent study by the Rotman School of Management at the University of Toronto found that men who take on caregiving duties at home receive more abuse at work than men who stick to conventional gender roles.
"It was a pretty powerful result," said Jennifer Berdahl, professor of organizational behavior at the Rotman School. "Men who did relatively more caregiving at home experienced a lot more 'not man enough' harassment and teasing that threatens their status in the workplace."
Prime Minister David Cameron took two weeks' leave when his daughter Florence was born in 2010, and it drew comment — some approving, some critical of a national leader stepping back for 14 days to look after a baby.
Jeremy Davies of the Fatherhood Institute said William was setting a good example — up to a point.
"What would be fantastic would be to see Prince William to take some time where he was the primary carer at some time during the first year," Davies said. "That's the stuff that leads to a really strong relationship with the child."
More from Family Room:
Royal baby could arrive as late as next week
7 tips Prince Harry needs before becoming an uncle
6 reasons Prince William will be a great dad
Subscribe to The Family Room | Friend us on Facebook, follow us on Twitter and find us on Pinterest.
File photo: Britain's Prince William stands next to his wife, Kate, Duchess of Cambridge, as she leaves the King Edward VII hospital in central London. (AP Photo/Alastair Grant, File)
News, stories, tips and laughs for moms & dads
6-year-old has rare brain condition

He wanted to know if woman was pregnant

Did your state make the grade?

A new dad finds an Epcot Center's worth of innovation after expecting none at all.

Alcohol and tattoos are not meant for the pre-teen set

But Debra Harrell now has custody of daughter again

I am probably not the first to tell you this: Kids come with lots of stuff. Even if you try to be as minimal as possible, the little creatures require an awful lot to keep things running smoothly. Here's a master-plan slideshow of ways to cut corners on space in every room to accommodate all the things that come along with kids.

You never know for certain what type of parent you'll be until you've actually become one and your parenting style, as it becomes evident, may surprise you. Here are 4 parenting books to help you figure it all out.

Sunshine! Camping! Pool parties! BBQs! The sunny season is here and to help you make the most of it, we've hand-picked 7 great products to make this summer the best your family has ever had. Click through for our list to inspire your sunny day fun. From our sponsor: Walmart

We all love a picnic. But do one quick search for 'picnic ideas' on Pinterest and you're instantly teleported into a land of overachieving home chefs clearly looking for their big break on Food Network. Well, never mind that, we say. Scratch the 25-ingredient recipes and the incessant trips to the craft store for that perfect tablescape. Here are 5 truly simple picnic ideas that will look great, taste great, and make you feel like the winner you are! From our sponsor: Walmart

Admit it — you do these things, too! And that's OK. But maybe — just maybe — it's time to think about changing things up a little bit, for the sake of your sanity, your relationship with your kids, and because life's too short.

We asked veterinary experts and readers which breeds they think and if it is OK to shave longhaired pets in the summer.