'Women and Children First' is a Myth, Shipwreck Study Shows -- Unless Leonardo DiCaprio Was Involved
Rather than treasure, scientists unearth buried cowardice.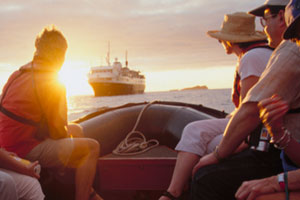 If you are a woman or a child about to take an Atlantic voyage by ship, you might want to sleep a little less soundly. Swedish economists have discovered that in most cases, women and children were not put on lifeboats first, and men survived at a significantly higher rate during shipwrecks. The shipwreck study, published this week in the National Academy of Sciences , was designed to test humanity's capacity for selflessness—a test it's fair to say men have failed.
In the study, 18 sunken ships were examined. The survival rate was 44 percent for captains, 37 percent for male passengers, 27 percent for women, and a Darwinian 15 percent for children. Not only was chivalry dead, it appears to have been sinking to the bottom of the ocean. The evidence clearly demonstrates that men did not surrender their survival advantage. That is, except for a few famous occasions.
"On the Titanic, the survival rate of women was more than three times higher than the survival rate of men," wrote study authors Mikael Elinder of Sweden's Uppsala University and Oscar Erixson of the Research Institute of Industrial Economics in Stockholm.
Well, at least there's some good news for Leonardo DiCaprio fans.
The Birkenhead, a British troopship, is the other documented sinking in which men bravely stood on deck (because they were ordered to do so) as women spun their parasols down onto the lifeboats with their little ones in hand. In fact, the Birkenhead sinking is where the concept of "women and children first" is said to have originated.
Like the Titanic, songs of male bravery celebrate the Birkenhead incident. I wonder what songs should be sung about the overwhelming majority of shipwrecks in which the fairer sex were served up as shark food? 
I guess if you ever meet a survivor, you could ask him. 
Photo: Doug Plummer/Getty Images
Love our blog? Become a fan of MSN Living on Facebook.  We're like the Lady Gaga of news and entertainment portals.
Check out my hilarious book Sorry I Peed on You (and other heartwarming letters to Mommy)(Andrews McMeel). Makes a great baby shower gift!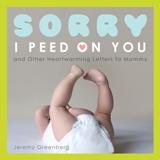 And hey, do ya love doggies and puppies? My hilarious and adorable new book, Sorry I Pooped in Your Shoe (and Other Heartwarming Letters from Doggie) (Andrews McMeel) is now available!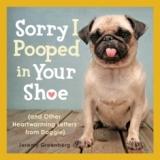 News, stories, tips and laughs for moms & dads
Did your state make the grade?

A new dad finds an Epcot Center's worth of innovation after expecting none at all.

Alcohol and tattoos are not meant for the pre-teen set

But Debra Harrell now has custody of daughter again

I am probably not the first to tell you this: Kids come with lots of stuff. Even if you try to be as minimal as possible, the little creatures require an awful lot to keep things running smoothly. Here's a master-plan slideshow of ways to cut corners on space in every room to accommodate all the things that come along with kids.

You never know for certain what type of parent you'll be until you've actually become one and your parenting style, as it becomes evident, may surprise you. Here are 4 parenting books to help you figure it all out.

Sunshine! Camping! Pool parties! BBQs! The sunny season is here and to help you make the most of it, we've hand-picked 7 great products to make this summer the best your family has ever had. Click through for our list to inspire your sunny day fun. From our sponsor: Walmart

We all love a picnic. But do one quick search for 'picnic ideas' on Pinterest and you're instantly teleported into a land of overachieving home chefs clearly looking for their big break on Food Network. Well, never mind that, we say. Scratch the 25-ingredient recipes and the incessant trips to the craft store for that perfect tablescape. Here are 5 truly simple picnic ideas that will look great, taste great, and make you feel like the winner you are! From our sponsor: Walmart

Admit it — you do these things, too! And that's OK. But maybe — just maybe — it's time to think about changing things up a little bit, for the sake of your sanity, your relationship with your kids, and because life's too short.

We asked veterinary experts and readers which breeds they think and if it is OK to shave longhaired pets in the summer.

Celeb moms post photos to show off their weight loss, but then they undermine their progress in the captions.

Kriste Lewis was inspired by her kidney disease to try out