'Women and Children First' is a Myth, Shipwreck Study Shows -- Unless Leonardo DiCaprio Was Involved
Rather than treasure, scientists unearth buried cowardice.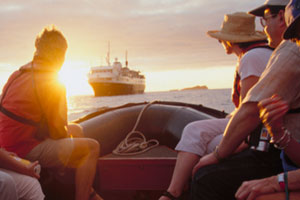 If you are a woman or a child about to take an Atlantic voyage by ship, you might want to sleep a little less soundly. Swedish economists have discovered that in most cases, women and children were not put on lifeboats first, and men survived at a significantly higher rate during shipwrecks. The shipwreck study, published this week in the National Academy of Sciences , was designed to test humanity's capacity for selflessness—a test it's fair to say men have failed.
In the study, 18 sunken ships were examined. The survival rate was 44 percent for captains, 37 percent for male passengers, 27 percent for women, and a Darwinian 15 percent for children. Not only was chivalry dead, it appears to have been sinking to the bottom of the ocean. The evidence clearly demonstrates that men did not surrender their survival advantage. That is, except for a few famous occasions.
"On the Titanic, the survival rate of women was more than three times higher than the survival rate of men," wrote study authors Mikael Elinder of Sweden's Uppsala University and Oscar Erixson of the Research Institute of Industrial Economics in Stockholm.
Well, at least there's some good news for Leonardo DiCaprio fans.
The Birkenhead, a British troopship, is the other documented sinking in which men bravely stood on deck (because they were ordered to do so) as women spun their parasols down onto the lifeboats with their little ones in hand. In fact, the Birkenhead sinking is where the concept of "women and children first" is said to have originated.
Like the Titanic, songs of male bravery celebrate the Birkenhead incident. I wonder what songs should be sung about the overwhelming majority of shipwrecks in which the fairer sex were served up as shark food? 
I guess if you ever meet a survivor, you could ask him. 
Photo: Doug Plummer/Getty Images
Love our blog? Become a fan of MSN Living on Facebook.  We're like the Lady Gaga of news and entertainment portals.
Check out my hilarious book Sorry I Peed on You (and other heartwarming letters to Mommy)(Andrews McMeel). Makes a great baby shower gift!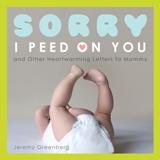 And hey, do ya love doggies and puppies? My hilarious and adorable new book, Sorry I Pooped in Your Shoe (and Other Heartwarming Letters from Doggie) (Andrews McMeel) is now available!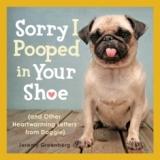 News, stories, tips and laughs for moms & dads
What are we teaching our children when we focus on their achievements rather than their kindness?

Discover the seemingly insignificant things that can affect your chances of getting pregnant.

A thrill-obsessed subculture claimed another life this week.

A few suggested answers for the diciest questions

Must-haves for every mommy on the road

Here's our list of fifteen moms in the food industry that deserve some recognition.

The site gets high marks for its user-friendly interface and excellent and responsive customer service. And the reviews are also pretty accurate. Compare amenities and prices next to a hotel's in the same area, and you're likely to see Airbnb come out on top.

We captured a frame-by-frame look just for you.

Other moms can be ruthless when it comes to picking apart your parenting choices. From dissing your decision to go back to work to criticizing when you started baby on solids, here are the most ridiculous comments moms have heard. Bonus, we've got just the right way to respond to the haters! You're welcome.

Nope, you don't have to spend the next nine months in black elastic-waist pants and oversize sweaters. And you don't have to shell out a fortune on your "temporary" wardrobe either. Check out these stylish and affordable maternity clothes.

Because society crumbles without us

Another kid figured out how to get into a claw machine.