What really happens when dad's in charge
Parenting.com is proud to present the first season of comedy web shorts that, for better or worse, present a dad's-eye view of the playground.
You've always wanted to know what dad gets up to when you're at work and he's watching the kids. Or, to put it this way, maybe you don't actually want to know but feel it's in your child's interest to find out.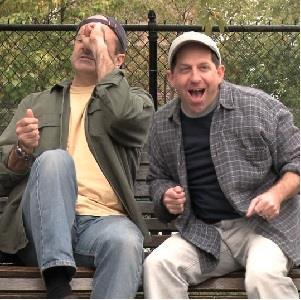 Plus: Not Your Father's Fatherhood
Either way, the Lords of the Playground are at your service. Launching today, this new comedy video series explores child-rearing from pop's playground perch. Whether it's discipline in action (check out 'Counting') the thrill of meeting new people ('The Number') or the pitfalls of baby talk ('Babble') with these videos, the Lords will have you rolling on the blacktop. Watch and learn how dad does it.
News, stories, tips and laughs for moms & dads
Protect yourself and your family with these ingenious gizmos and smartphone apps.

Make sure your go-to gadgets are as cute as your style, with these trendy tech finds!

Oh, how the times have changed...

Get ready to hit the mall! Check out the hottest back-to-school trends—and get ready to make a major style statement this year.

Unique, or downright strange?

This is Kevin Droniak and his grandma. They're besties, they're awesome and they're YouTube stars.

It can be difficult to entice little ones to eat anything at all, let alone to devour a healthy plate. But feeding your kids nutritious snacks after school just got way easier, thanks to these adorably clever and cute snack ideas! For more smart and fun ways to get your kids to enjoy healthful and delicious foods, try one of these amazingly artsy lunch ideas.

Through a tonsillectomy all the way to brain surgery, my mother deserves some recognition. She's my spine, my birthday shadow, my BFF, my thunder buddy, so Mommy, thank you.

My son needs me, as much as yours needs you. Sadly, my son needs me more. He needs someone to have his back, when it seems that the police, the men he'd wave to with excitement as a little boy, see him as a being worthy only of prison or death.

If you know someone who has adopted and have made some of these comments, don't fret... now you know!

"Because you shine from within," I said, touching my finger to her heart. "Not everybody sees it, but I do. I see it. And my job is to protect that light. So when people say mean comments that squelch that light, I want you to tell me. I will protect your light by listening and loving you, my brave, courageous, and unique little firefly."

Studies have shown that it helps, top education officials have recommended it, and now doctors are officially saying the same.