What really happens when dad's in charge
Parenting.com is proud to present the first season of comedy web shorts that, for better or worse, present a dad's-eye view of the playground.
You've always wanted to know what dad gets up to when you're at work and he's watching the kids. Or, to put it this way, maybe you don't actually want to know but feel it's in your child's interest to find out.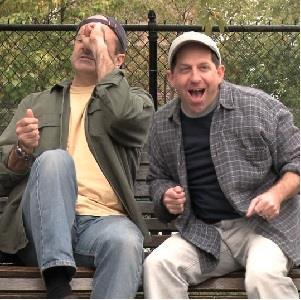 Plus: Not Your Father's Fatherhood
Either way, the Lords of the Playground are at your service. Launching today, this new comedy video series explores child-rearing from pop's playground perch. Whether it's discipline in action (check out 'Counting') the thrill of meeting new people ('The Number') or the pitfalls of baby talk ('Babble') with these videos, the Lords will have you rolling on the blacktop. Watch and learn how dad does it.
family: tips, trends & advice for all things family
One of the most unsettling consequences of bringing a child into your previously simple, happily oblivious manly life is that you're now unquestionably, inescapably…The Man.

Whether it was baby's first kick or the first time your boobs leaked in public, there's a point in every mom's life when the world as you know it ends and you realize -- Whoa, I'm someone's mom now. Some of our favorite mommy bloggers revealed what their aha moments were. They range from heartwarming to completely hilarious.

From DIY jewelry to homemade "flowers" to sweet vases, you can help your kid make mom's day with these crafty gifts.

The first parenting shock: They let you take the baby home. Like, without supervision. Only then do the real surprises unfold. Here's what readers told us was most unexpected for them as they embraced this whole mama thing.

Be prepared to say, 'awww,' multiple times while flipping through this collection super-sweet stuff for babies and kids on Etsy.com. Take a peek at some of our favorite finds for moms (and click 'More' to find out how to get this amazing gnome hat!)...By MSN Living editors

Your Mother's Day plans are all set, right? Brunch is booked and a fabulous gift is wrapped and ready to go. So take a breather and celebrate these stylish celebrity moms who work hard, care for their kids, and manage to look amazing in the process.

Find out this year's top baby names on Parenting.com, and see what we predict will be big in 2013

Sophia and Jacob reign supreme.

In an online contest, Parenting.com asked readers to tell us what it means to "have it all." Read the winner's moving essay on how that phrase has defined her motherhood, plus essays from the three runners up.

Tow lot employee finds abandoned pup.

Animals, says Dr. Patty Khuly, are the best listeners in the world and don't care that you've just been dumped or laid off.

Ask a mom if she's happier now that she has a child and she'll usually say yes.