What really happens when dad's in charge
Parenting.com is proud to present the first season of comedy web shorts that, for better or worse, present a dad's-eye view of the playground.
You've always wanted to know what dad gets up to when you're at work and he's watching the kids. Or, to put it this way, maybe you don't actually want to know but feel it's in your child's interest to find out.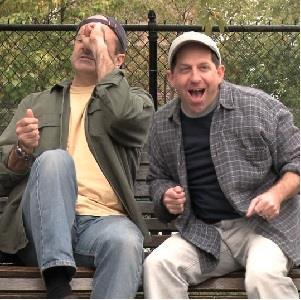 Plus: Not Your Father's Fatherhood
Either way, the Lords of the Playground are at your service. Launching today, this new comedy video series explores child-rearing from pop's playground perch. Whether it's discipline in action (check out 'Counting') the thrill of meeting new people ('The Number') or the pitfalls of baby talk ('Babble') with these videos, the Lords will have you rolling on the blacktop. Watch and learn how dad does it.
family: tips, trends & advice for all things family
A divorcing couple keeps tradition intact for their child.

Your dog loves sticking his head out the window, but imagine the tragic results of disregarding his (or your) safety.

5 ways to totally ruin the mood while trying to conceive

Down-to-earth and funny tips that help moms enjoy every minute of parenting, from The Happiest Mom.

Some celebrities seem too young or wild or weird to be grandparents. Others fit the image, but you just never knew. Think you know these famous grandparents?

Death is a natural part of life, but it's never easy to understand. Here are some tips when the time comes to talk to your kids about pets passing.