What really happens when dad's in charge
Parenting.com is proud to present the first season of comedy web shorts that, for better or worse, present a dad's-eye view of the playground.
You've always wanted to know what dad gets up to when you're at work and he's watching the kids. Or, to put it this way, maybe you don't actually want to know but feel it's in your child's interest to find out.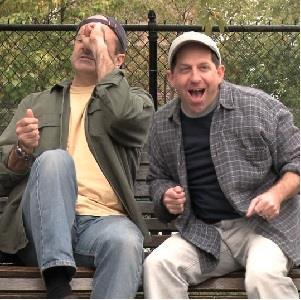 Plus: Not Your Father's Fatherhood
Either way, the Lords of the Playground are at your service. Launching today, this new comedy video series explores child-rearing from pop's playground perch. Whether it's discipline in action (check out 'Counting') the thrill of meeting new people ('The Number') or the pitfalls of baby talk ('Babble') with these videos, the Lords will have you rolling on the blacktop. Watch and learn how dad does it.
family: tips, trends & advice for all things family
In the past, Mother's Day was all about brunch, macaroni necklaces and lots of family time; but times are a-changin'!

Whether she's into board games or tea, books or bangles, it's time to spoil Mom -- without breaking the bank.

With all the glitz and glamour that comes out of Tinseltown (not to mention the endless tabloid fodder), it's not always obvious that many celebrities are animal lovers, too.

I love being spoiled by my kids, but something's missing: a chance to hug my own mother

We've seen some pretty crazy things announced though tweets and status updates, including these 10 conception sharing no-no's.

When Julia Ward Howe wrote her Mother's Day Proclamation in 1870, she encouraged women of all nationalities to band together to support peace and end the carnage of war.

The average length of maternity is actually lower.

"No! Bad dog!" How many times have you scolded your misbehaving canine with those words? Probably too many. But before you fly off the handle, one of the most important things to understand about correcting bad behavior is that punishment doesn't work.

A divorcing couple keeps tradition intact for their child.

Your dog loves sticking his head out the window, but imagine the tragic results of disregarding his (or your) safety.

5 ways to totally ruin the mood while trying to conceive

Down-to-earth and funny tips that help moms enjoy every minute of parenting, from The Happiest Mom.