6 reasons Prince William will be a great dad
We're already going gaga over what the prince will be like as a father.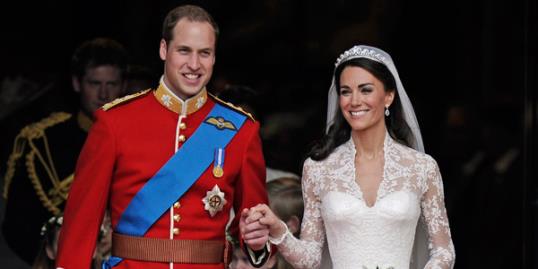 From reading bedtime stories together to royal piggy-backs, we've outlined the top six reasons Prince William will be the most incredible royal dad ever.
1. He already plans to be a "hands-on" dad. If this didn't make us swoon for Prince Will any harder, it looks as if he already plans to be very involved in his little one's life. Just like his mom, it's been said the Duke of Cambridge wants to be present in every aspect of his new baby's life, and pals say he won't have a team of nannies to take care of the baby's needs.
2. He's ready to trade in his RAF duties. When that little bundle makes his or her way into this world, the prince will probably make a permanent move to be closer to home and his family. Any dad who is willing to change up his work routine to be closer to his child gets an A+ in our book.
3. We heard he wants to change nappies. "Nappies" is British for diapers, and ugh. A husband who is pumped to change your baby's diapers is wonderful news. Yay, Will!
4. He's responsible. Compared with his rambunctious, rowdy little brother, Will has always struck us as a family man, and his marriage to Kate Middleton confirmed our speculation. He's always the first to mention how incredible and wonderful his wife is, and with the arrival of a wee one, will be expecting more candid quotes from the prince. We can't wait to see pictures of these two running around Buckingham Palace together.
5. He wants to lead a normal life. We commoners find this type of quality comes pretty naturally in our partners, but for a high-profile guy like Prince William, maintaining a down-to-earth lifestyle is nearly impossible. So when we heard that William wanted to keep things normal – he and Kate say they don't want a fleet of nannies – we fell in love with the charming prince even more.
6. His mom was pretty great. Now, we don't know for sure all the ins and outs of William's parenting skills, but judging solely by his upbringing, we're willing to bet big money that they're great. His mom, the late Princess Diana, taught her boys the value of kindness, honesty and charity. These are three traits we just know his little one will be blessed with.
Do you have any parenting predictions? Think Will will make a great dad?
More from The Bump:
News, stories, tips and laughs for moms & dads
6-year-old has rare brain condition

He wanted to know if woman was pregnant

Did your state make the grade?

A new dad finds an Epcot Center's worth of innovation after expecting none at all.

Alcohol and tattoos are not meant for the pre-teen set

But Debra Harrell now has custody of daughter again

I am probably not the first to tell you this: Kids come with lots of stuff. Even if you try to be as minimal as possible, the little creatures require an awful lot to keep things running smoothly. Here's a master-plan slideshow of ways to cut corners on space in every room to accommodate all the things that come along with kids.

You never know for certain what type of parent you'll be until you've actually become one and your parenting style, as it becomes evident, may surprise you. Here are 4 parenting books to help you figure it all out.

Sunshine! Camping! Pool parties! BBQs! The sunny season is here and to help you make the most of it, we've hand-picked 7 great products to make this summer the best your family has ever had. Click through for our list to inspire your sunny day fun. From our sponsor: Walmart

We all love a picnic. But do one quick search for 'picnic ideas' on Pinterest and you're instantly teleported into a land of overachieving home chefs clearly looking for their big break on Food Network. Well, never mind that, we say. Scratch the 25-ingredient recipes and the incessant trips to the craft store for that perfect tablescape. Here are 5 truly simple picnic ideas that will look great, taste great, and make you feel like the winner you are! From our sponsor: Walmart

Admit it — you do these things, too! And that's OK. But maybe — just maybe — it's time to think about changing things up a little bit, for the sake of your sanity, your relationship with your kids, and because life's too short.

We asked veterinary experts and readers which breeds they think and if it is OK to shave longhaired pets in the summer.