6 reasons Prince William will be a great dad
We're already going gaga over what the prince will be like as a father.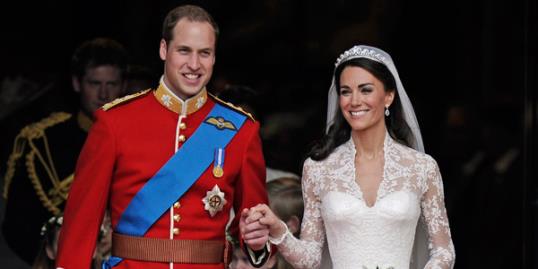 From reading bedtime stories together to royal piggy-backs, we've outlined the top six reasons Prince William will be the most incredible royal dad ever.
1. He already plans to be a "hands-on" dad. If this didn't make us swoon for Prince Will any harder, it looks as if he already plans to be very involved in his little one's life. Just like his mom, it's been said the Duke of Cambridge wants to be present in every aspect of his new baby's life, and pals say he won't have a team of nannies to take care of the baby's needs.
2. He's ready to trade in his RAF duties. When that little bundle makes his or her way into this world, the prince will probably make a permanent move to be closer to home and his family. Any dad who is willing to change up his work routine to be closer to his child gets an A+ in our book.
3. We heard he wants to change nappies. "Nappies" is British for diapers, and ugh. A husband who is pumped to change your baby's diapers is wonderful news. Yay, Will!
4. He's responsible. Compared with his rambunctious, rowdy little brother, Will has always struck us as a family man, and his marriage to Kate Middleton confirmed our speculation. He's always the first to mention how incredible and wonderful his wife is, and with the arrival of a wee one, will be expecting more candid quotes from the prince. We can't wait to see pictures of these two running around Buckingham Palace together.
5. He wants to lead a normal life. We commoners find this type of quality comes pretty naturally in our partners, but for a high-profile guy like Prince William, maintaining a down-to-earth lifestyle is nearly impossible. So when we heard that William wanted to keep things normal – he and Kate say they don't want a fleet of nannies – we fell in love with the charming prince even more.
6. His mom was pretty great. Now, we don't know for sure all the ins and outs of William's parenting skills, but judging solely by his upbringing, we're willing to bet big money that they're great. His mom, the late Princess Diana, taught her boys the value of kindness, honesty and charity. These are three traits we just know his little one will be blessed with.
Do you have any parenting predictions? Think Will will make a great dad?
More from The Bump:
News, stories, tips and laughs for moms & dads
Make sure your go-to gadgets are as cute as your style, with these trendy tech finds!

Oh, how the times have changed...

Get ready to hit the mall! Check out the hottest back-to-school trends—and get ready to make a major style statement this year.

Unique, or downright strange?

This is Kevin Droniak and his grandma. They're besties, they're awesome and they're YouTube stars.

It can be difficult to entice little ones to eat anything at all, let alone to devour a healthy plate. But feeding your kids nutritious snacks after school just got way easier, thanks to these adorably clever and cute snack ideas! For more smart and fun ways to get your kids to enjoy healthful and delicious foods, try one of these amazingly artsy lunch ideas.

Through a tonsillectomy all the way to brain surgery, my mother deserves some recognition. She's my spine, my birthday shadow, my BFF, my thunder buddy, so Mommy, thank you.

My son needs me, as much as yours needs you. Sadly, my son needs me more. He needs someone to have his back, when it seems that the police, the men he'd wave to with excitement as a little boy, see him as a being worthy only of prison or death.

If you know someone who has adopted and have made some of these comments, don't fret... now you know!

"Because you shine from within," I said, touching my finger to her heart. "Not everybody sees it, but I do. I see it. And my job is to protect that light. So when people say mean comments that squelch that light, I want you to tell me. I will protect your light by listening and loving you, my brave, courageous, and unique little firefly."

Studies have shown that it helps, top education officials have recommended it, and now doctors are officially saying the same.

I may have accidentally dropped you a few times, forgotten to document your first fart, let a little pee fly and dressed you like an idiot, but I have also loved you with every piece of me, and you will never hear an apology for that.