6 reasons Prince William will be a great dad
We're already going gaga over what the prince will be like as a father.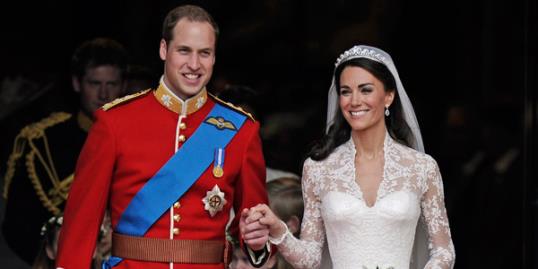 From reading bedtime stories together to royal piggy-backs, we've outlined the top six reasons Prince William will be the most incredible royal dad ever.
1. He already plans to be a "hands-on" dad. If this didn't make us swoon for Prince Will any harder, it looks as if he already plans to be very involved in his little one's life. Just like his mom, it's been said the Duke of Cambridge wants to be present in every aspect of his new baby's life, and pals say he won't have a team of nannies to take care of the baby's needs.
2. He's ready to trade in his RAF duties. When that little bundle makes his or her way into this world, the prince will probably make a permanent move to be closer to home and his family. Any dad who is willing to change up his work routine to be closer to his child gets an A+ in our book.
3. We heard he wants to change nappies. "Nappies" is British for diapers, and ugh. A husband who is pumped to change your baby's diapers is wonderful news. Yay, Will!
4. He's responsible. Compared with his rambunctious, rowdy little brother, Will has always struck us as a family man, and his marriage to Kate Middleton confirmed our speculation. He's always the first to mention how incredible and wonderful his wife is, and with the arrival of a wee one, will be expecting more candid quotes from the prince. We can't wait to see pictures of these two running around Buckingham Palace together.
5. He wants to lead a normal life. We commoners find this type of quality comes pretty naturally in our partners, but for a high-profile guy like Prince William, maintaining a down-to-earth lifestyle is nearly impossible. So when we heard that William wanted to keep things normal – he and Kate say they don't want a fleet of nannies – we fell in love with the charming prince even more.
6. His mom was pretty great. Now, we don't know for sure all the ins and outs of William's parenting skills, but judging solely by his upbringing, we're willing to bet big money that they're great. His mom, the late Princess Diana, taught her boys the value of kindness, honesty and charity. These are three traits we just know his little one will be blessed with.
Do you have any parenting predictions? Think Will will make a great dad?
More from The Bump:
News, stories, tips and laughs for moms & dads
What are we teaching our children when we focus on their achievements rather than their kindness?

Discover the seemingly insignificant things that can affect your chances of getting pregnant.

A thrill-obsessed subculture claimed another life this week.

A few suggested answers for the diciest questions

Must-haves for every mommy on the road

Here's our list of fifteen moms in the food industry that deserve some recognition.

The site gets high marks for its user-friendly interface and excellent and responsive customer service. And the reviews are also pretty accurate. Compare amenities and prices next to a hotel's in the same area, and you're likely to see Airbnb come out on top.

We captured a frame-by-frame look just for you.

Other moms can be ruthless when it comes to picking apart your parenting choices. From dissing your decision to go back to work to criticizing when you started baby on solids, here are the most ridiculous comments moms have heard. Bonus, we've got just the right way to respond to the haters! You're welcome.

Nope, you don't have to spend the next nine months in black elastic-waist pants and oversize sweaters. And you don't have to shell out a fortune on your "temporary" wardrobe either. Check out these stylish and affordable maternity clothes.

Because society crumbles without us

Another kid figured out how to get into a claw machine.