Cat survives 80-foot fall
After eight days in tree, lucky kitty lands on her feet.
A 2-year-old kitty in Marion, Mass., has had a harrowing start to the new year. Firefighters tried three times to rescue her from the tree that she'd been stuck in for eight days before she fell 80 feet from her perch on Sunday — and then took off into the brush.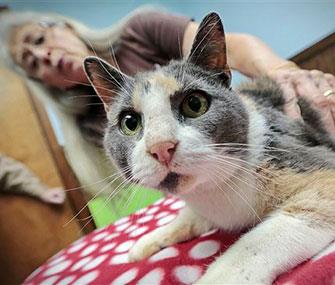 Pam Robinson, founder of a local pet shelter called It's All About the Animals, finally caught her on Tuesday, named her Fortunate, and brought her to the Marion Animal Hospital to be checked out.
"I don't see anything wrong with this cat; it's unbelievable," said veterinarian Dr. Rachel Francis, who examined her. "She's certainly a survivor."
Bing: More cat rescue stories.
Robinson and Francis said they believe the skittish but affectionate cat, who had a few pulled muscles and a possible parasitic infection, was once someone's pet.
After she recovers, Fortunate will be put up for adoption.
— Read it at Massachusetts' Sea Coast Today
Photo: AP // Fortunate survived an 80-foot fall from a tree.
More from Vetstreet:
Blind dog gets help from a guide cat
My dog has a gay tail – What does this mean?
Cat helps baby learn English
Why does my cat meow at me?
Top 10 kitten names of the year

I have a cat, his name is socrates and he is a wonderful companion who gives as much or more love than he receives.  When he is hungry he sits next to his food supply and looks directly at it until I give him what he wants.  When he needs to go out in the garage to go potty he performs the same act of siting by the door looking to go out until I let him out.  In the evening when it gets toward our bedtime he will meoww looking toward the stairwell leading toward my bedroom where he sleeps at the foot of my bed. I have to supply him with a glass of water placed on the night stand each night where he will quench his thirst periodically during the night. I got socs at a shelter a few years ago when my wife who was then suffering from alzheimers (now passed away) needed a pet for companionship. I love the little guy with all my heart and hope he and I will leave this earth together.
Are you sure you want to delete this comment?
News, stories, tips and laughs for moms & dads
Protect yourself and your family with these ingenious gizmos and smartphone apps.

Make sure your go-to gadgets are as cute as your style, with these trendy tech finds!

Oh, how the times have changed...

Get ready to hit the mall! Check out the hottest back-to-school trends—and get ready to make a major style statement this year.

Unique, or downright strange?

This is Kevin Droniak and his grandma. They're besties, they're awesome and they're YouTube stars.

It can be difficult to entice little ones to eat anything at all, let alone to devour a healthy plate. But feeding your kids nutritious snacks after school just got way easier, thanks to these adorably clever and cute snack ideas! For more smart and fun ways to get your kids to enjoy healthful and delicious foods, try one of these amazingly artsy lunch ideas.

Through a tonsillectomy all the way to brain surgery, my mother deserves some recognition. She's my spine, my birthday shadow, my BFF, my thunder buddy, so Mommy, thank you.

My son needs me, as much as yours needs you. Sadly, my son needs me more. He needs someone to have his back, when it seems that the police, the men he'd wave to with excitement as a little boy, see him as a being worthy only of prison or death.

If you know someone who has adopted and have made some of these comments, don't fret... now you know!

"Because you shine from within," I said, touching my finger to her heart. "Not everybody sees it, but I do. I see it. And my job is to protect that light. So when people say mean comments that squelch that light, I want you to tell me. I will protect your light by listening and loving you, my brave, courageous, and unique little firefly."

Studies have shown that it helps, top education officials have recommended it, and now doctors are officially saying the same.