Cat survives 80-foot fall
After eight days in tree, lucky kitty lands on her feet.
A 2-year-old kitty in Marion, Mass., has had a harrowing start to the new year. Firefighters tried three times to rescue her from the tree that she'd been stuck in for eight days before she fell 80 feet from her perch on Sunday — and then took off into the brush.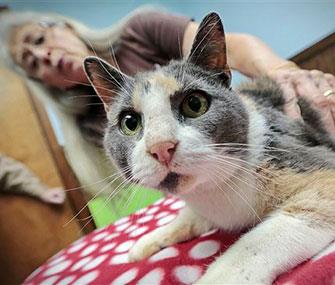 Pam Robinson, founder of a local pet shelter called It's All About the Animals, finally caught her on Tuesday, named her Fortunate, and brought her to the Marion Animal Hospital to be checked out.
"I don't see anything wrong with this cat; it's unbelievable," said veterinarian Dr. Rachel Francis, who examined her. "She's certainly a survivor."
Bing: More cat rescue stories.
Robinson and Francis said they believe the skittish but affectionate cat, who had a few pulled muscles and a possible parasitic infection, was once someone's pet.
After she recovers, Fortunate will be put up for adoption.
— Read it at Massachusetts' Sea Coast Today
Photo: AP // Fortunate survived an 80-foot fall from a tree.
More from Vetstreet:
Blind dog gets help from a guide cat
My dog has a gay tail – What does this mean?
Cat helps baby learn English
Why does my cat meow at me?
Top 10 kitten names of the year

I have a cat, his name is socrates and he is a wonderful companion who gives as much or more love than he receives.  When he is hungry he sits next to his food supply and looks directly at it until I give him what he wants.  When he needs to go out in the garage to go potty he performs the same act of siting by the door looking to go out until I let him out.  In the evening when it gets toward our bedtime he will meoww looking toward the stairwell leading toward my bedroom where he sleeps at the foot of my bed. I have to supply him with a glass of water placed on the night stand each night where he will quench his thirst periodically during the night. I got socs at a shelter a few years ago when my wife who was then suffering from alzheimers (now passed away) needed a pet for companionship. I love the little guy with all my heart and hope he and I will leave this earth together.
Are you sure you want to delete this comment?
News, stories, tips and laughs for moms & dads
A thrill-obsessed subculture claimed another life this week.

A few suggested answers for the diciest questions

Must-haves for every mommy on the road

Here's our list of fifteen moms in the food industry that deserve some recognition.

The site gets high marks for its user-friendly interface and excellent and responsive customer service. And the reviews are also pretty accurate. Compare amenities and prices next to a hotel's in the same area, and you're likely to see Airbnb come out on top.

We captured a frame-by-frame look just for you.

Other moms can be ruthless when it comes to picking apart your parenting choices. From dissing your decision to go back to work to criticizing when you started baby on solids, here are the most ridiculous comments moms have heard. Bonus, we've got just the right way to respond to the haters! You're welcome.

Nope, you don't have to spend the next nine months in black elastic-waist pants and oversize sweaters. And you don't have to shell out a fortune on your "temporary" wardrobe either. Check out these stylish and affordable maternity clothes.

Because society crumbles without us

Another kid figured out how to get into a claw machine.

As a new mom, you've recently discovered there are many things you can live without—sleep and modesty being chief among them. But what can't you live without? Seasoned moms share their Top 10 list for how to survive the early months of motherhood.

Here are our experts' best tips for how to be a positive role model for your kids so that they grow up healthy, strong and confident about the way they look.