Cat survives 80-foot fall
After eight days in tree, lucky kitty lands on her feet.
A 2-year-old kitty in Marion, Mass., has had a harrowing start to the new year. Firefighters tried three times to rescue her from the tree that she'd been stuck in for eight days before she fell 80 feet from her perch on Sunday — and then took off into the brush.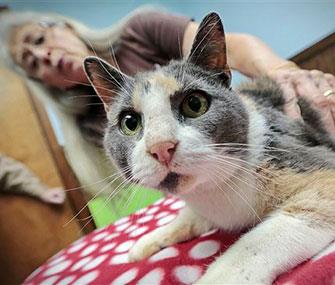 Pam Robinson, founder of a local pet shelter called It's All About the Animals, finally caught her on Tuesday, named her Fortunate, and brought her to the Marion Animal Hospital to be checked out.
"I don't see anything wrong with this cat; it's unbelievable," said veterinarian Dr. Rachel Francis, who examined her. "She's certainly a survivor."
Bing: More cat rescue stories.
Robinson and Francis said they believe the skittish but affectionate cat, who had a few pulled muscles and a possible parasitic infection, was once someone's pet.
After she recovers, Fortunate will be put up for adoption.
— Read it at Massachusetts' Sea Coast Today
Photo: AP // Fortunate survived an 80-foot fall from a tree.
More from Vetstreet:
Blind dog gets help from a guide cat
My dog has a gay tail – What does this mean?
Cat helps baby learn English
Why does my cat meow at me?
Top 10 kitten names of the year

I have a cat, his name is socrates and he is a wonderful companion who gives as much or more love than he receives.  When he is hungry he sits next to his food supply and looks directly at it until I give him what he wants.  When he needs to go out in the garage to go potty he performs the same act of siting by the door looking to go out until I let him out.  In the evening when it gets toward our bedtime he will meoww looking toward the stairwell leading toward my bedroom where he sleeps at the foot of my bed. I have to supply him with a glass of water placed on the night stand each night where he will quench his thirst periodically during the night. I got socs at a shelter a few years ago when my wife who was then suffering from alzheimers (now passed away) needed a pet for companionship. I love the little guy with all my heart and hope he and I will leave this earth together.
Are you sure you want to delete this comment?
News, stories, tips and laughs for moms & dads
Transform the fall vegetable into cool decor pieces.

Put together these creative, but simple, Halloween looks for your youngsters.

We know you're documenting just about every move baby makes. (Do you even have any memory left on your phone? We didn't think so.) These tips from professional photographers can help you perfect your pics.

These six on-trend ideas will make baby's room your new favorite place to hang out.

Baby probably won't remember his first birthday party, but that doesn't mean you can't go all out (after all, parents need to celebrate making it through this first year, right?). These fun, colorful themes take planning to the next level.

See what celebrities who had problems conceiving have to say.

You'll be hearing a lot of advice and opinions. Some of it will be really helpful and some will be just plain wrong. Here are the most common things people say about babies that aren't true.

A new dad finds an Epcot Center's worth of innovation after expecting none at all.

The dog days of summer may be well behind us, but that doesn't mean it's time to pack in the outdoor adventures quite yet.

Protect yourself and your family with these ingenious gizmos and smartphone apps.

Make sure your go-to gadgets are as cute as your style, with these trendy tech finds!

Oh, how the times have changed...