Teens have tricks to conceal online activities
A new study finds that 70 percent of US teens hide their digital habits from their parents.
It's time to change that staid question: Parents, do you know where your children are? Likely, they're in their room on the computer. But where are they in the vast World Wide Web?  
"The Digital Divide," a study commissioned by Internet security company McAfee, asked U.S. parents and teens about household online habits. Responses to the study indicate that digital devices are a source of some familial deception.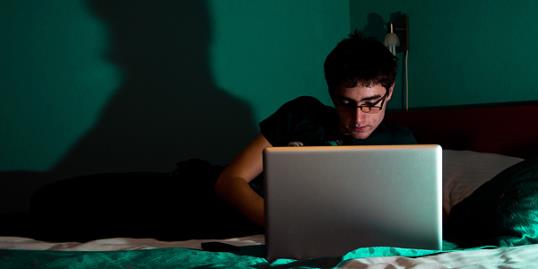 Seventy percent of teens have concealed their online behavior from parents; this is up from 45 percent in 2010. Fifty-three percent of teens confessed to clearing their browser's history. The second-most widely used strategy was closing or minimizing windows when parents were present.
More on MSN Living: 50 ways to stay bonded with your kids
Other cloaking techniques teens employed include hiding instant messages; using an Internet-enabled mobile device and creating a private account or fake social profile.
Most parents talk to their teens about online habits and monitor their children's virtual behaviors to an extent. However, one in three of the parents in the study identified their kids as more "tech-savvy" than they were.
Twenty-two percent of parents don't think their children can "get in trouble online."
But even if you're monitoring your teen's behavior, chances are you may not be getting the full picture. Teens know how to cover their technological tracks.
Thirty-three percent of U.S. teens surveyed claimed to be well-versed in disguising their Internet behavior from parents.
More on MSN Living: Totally awkward pet holiday photos
Secrecy is a natural side effect of adolescence. Yet, a recent study of U.S. teens reported this month found American adolescents to be more devious than their European counterparts. Thirty-two percent of U.S. teens admit to accessing nude or pornographic material online, compared with 25 percent of U.K. teens and 28.5 percent of German teens. Sixteen percent of U.S. teens acknowledged using a mobile phone to cheat academically.
Most frightening, however, are the 12 percent of teens who have met someone online whom they later met in-person.
Additionally, 17 percent of teens confess to hacking another person's social media accounts. Maybe not quite as surprising, but nonetheless a cause for concern, is the more than 30 percent of teens who have pirated media online.
Robert Siciliano, a McAfee online security expert, described it this way:
"Their online world is their everything today. Understanding how to manipulate digital media is like playing kickball in today's world."
Photo: Alen Ajan/Getty Images
Bing: What you need to know about teens and online safety
More on MSN Living:
10 most popular cat names
5 weird reasons couples have divorced
15 themed rooms for your teen
News, stories, tips and laughs for moms & dads
Make sure your go-to gadgets are as cute as your style, with these trendy tech finds!

Oh, how the times have changed...

Get ready to hit the mall! Check out the hottest back-to-school trends—and get ready to make a major style statement this year.

Unique, or downright strange?

This is Kevin Droniak and his grandma. They're besties, they're awesome and they're YouTube stars.

It can be difficult to entice little ones to eat anything at all, let alone to devour a healthy plate. But feeding your kids nutritious snacks after school just got way easier, thanks to these adorably clever and cute snack ideas! For more smart and fun ways to get your kids to enjoy healthful and delicious foods, try one of these amazingly artsy lunch ideas.

Through a tonsillectomy all the way to brain surgery, my mother deserves some recognition. She's my spine, my birthday shadow, my BFF, my thunder buddy, so Mommy, thank you.

My son needs me, as much as yours needs you. Sadly, my son needs me more. He needs someone to have his back, when it seems that the police, the men he'd wave to with excitement as a little boy, see him as a being worthy only of prison or death.

If you know someone who has adopted and have made some of these comments, don't fret... now you know!

"Because you shine from within," I said, touching my finger to her heart. "Not everybody sees it, but I do. I see it. And my job is to protect that light. So when people say mean comments that squelch that light, I want you to tell me. I will protect your light by listening and loving you, my brave, courageous, and unique little firefly."

Studies have shown that it helps, top education officials have recommended it, and now doctors are officially saying the same.

I may have accidentally dropped you a few times, forgotten to document your first fart, let a little pee fly and dressed you like an idiot, but I have also loved you with every piece of me, and you will never hear an apology for that.