Teens have tricks to conceal online activities
A new study finds that 70 percent of US teens hide their digital habits from their parents.
It's time to change that staid question: Parents, do you know where your children are? Likely, they're in their room on the computer. But where are they in the vast World Wide Web?  
"The Digital Divide," a study commissioned by Internet security company McAfee, asked U.S. parents and teens about household online habits. Responses to the study indicate that digital devices are a source of some familial deception.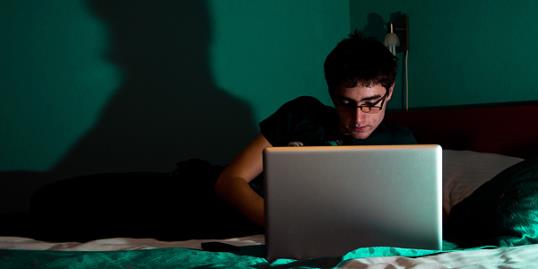 Seventy percent of teens have concealed their online behavior from parents; this is up from 45 percent in 2010. Fifty-three percent of teens confessed to clearing their browser's history. The second-most widely used strategy was closing or minimizing windows when parents were present.
More on MSN Living: 50 ways to stay bonded with your kids
Other cloaking techniques teens employed include hiding instant messages; using an Internet-enabled mobile device and creating a private account or fake social profile.
Most parents talk to their teens about online habits and monitor their children's virtual behaviors to an extent. However, one in three of the parents in the study identified their kids as more "tech-savvy" than they were.
Twenty-two percent of parents don't think their children can "get in trouble online."
But even if you're monitoring your teen's behavior, chances are you may not be getting the full picture. Teens know how to cover their technological tracks.
Thirty-three percent of U.S. teens surveyed claimed to be well-versed in disguising their Internet behavior from parents.
More on MSN Living: Totally awkward pet holiday photos
Secrecy is a natural side effect of adolescence. Yet, a recent study of U.S. teens reported this month found American adolescents to be more devious than their European counterparts. Thirty-two percent of U.S. teens admit to accessing nude or pornographic material online, compared with 25 percent of U.K. teens and 28.5 percent of German teens. Sixteen percent of U.S. teens acknowledged using a mobile phone to cheat academically.
Most frightening, however, are the 12 percent of teens who have met someone online whom they later met in-person.
Additionally, 17 percent of teens confess to hacking another person's social media accounts. Maybe not quite as surprising, but nonetheless a cause for concern, is the more than 30 percent of teens who have pirated media online.
Robert Siciliano, a McAfee online security expert, described it this way:
"Their online world is their everything today. Understanding how to manipulate digital media is like playing kickball in today's world."
Photo: Alen Ajan/Getty Images
Bing: What you need to know about teens and online safety
More on MSN Living:
10 most popular cat names
5 weird reasons couples have divorced
15 themed rooms for your teen
News, stories, tips and laughs for moms & dads
But will they get to stay together?

Readers share their favorite holiday family traditions that really make it the most wonderful time of the year. By Lauren Passell

Brand new Babycenter.com baby-naming reports reveal a few naming trends that may surprise you (or not).

Every family has its oddballs. And the holiday season is the one time of year when you're pretty much forced to interact and play nice with the grand majority of them. Click through the slideshow above for our guide to dealing with the five worst kinds of kin. *Disclaimer: All characters appearing in this work are fictitious. Any resemblance to real persons, living or dead, is purely coincidental.

When you're single, dating, and childless, the most important dining-out decision you need to make is red, white, or beer. But when you're married (or otherwise partnered) with kids, just thinking about eating out as a couple may have you reaching for the liquor cabinet: The babysitting tab alone often exceeds the meal, and that's assuming you can even find anyone reliable to watch the children. Do you just bring the kids along with you? As much as we're in favor of that, the answer is no: You do deserve a date night! And there are, in fact, better ways to go about hiring a babysitter than stalking teens at the local mall (or really anywhere: stalking teens = bad idea). Here are seven ways to find child care so you can go and enjoy a well-deserved night out.

Plus, kitten names to watch

The names that best symbolized our year

As you trim your tree, hang the lights, bake cookies and prepare for guests, remember that there's a certain member of your family who also deserves something extra special this holiday season: your dog. Save a little space under the tree for these beds, toys, collars and outfits for your favorite canine. Plus, we've even included a couple of gifts for the dog lovers in your life!

Dr. Marty Becker shares questions you should ask yourself before making the commitment to foster a shelter pet.

What one mom learned about herself might just change your world

From Ryan Gosling earrings to portable speakers, there's something here for kids of all ages.

When it comes to holiday giving, it's the thought that counts, which is why homemade gifts from kids are so treasured by their mothers. Children might not have money to spend on an expensive piece of jewelry or designer handbag, but they do have the time to DIY something special for their number one fan. If you're in charge of helping the little ones think of presents, check out the above list of homemade gifts for mom. From a custom vase to Instagram coasters to Warhol-inspired wall art, we have something for every taste and skill level.