Teens have tricks to conceal online activities
A new study finds that 70 percent of US teens hide their digital habits from their parents.
It's time to change that staid question: Parents, do you know where your children are? Likely, they're in their room on the computer. But where are they in the vast World Wide Web?  
"The Digital Divide," a study commissioned by Internet security company McAfee, asked U.S. parents and teens about household online habits. Responses to the study indicate that digital devices are a source of some familial deception.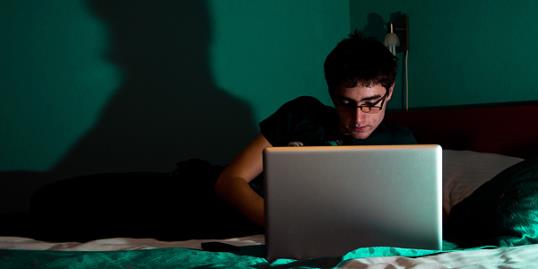 Seventy percent of teens have concealed their online behavior from parents; this is up from 45 percent in 2010. Fifty-three percent of teens confessed to clearing their browser's history. The second-most widely used strategy was closing or minimizing windows when parents were present.
More on MSN Living: 50 ways to stay bonded with your kids
Other cloaking techniques teens employed include hiding instant messages; using an Internet-enabled mobile device and creating a private account or fake social profile.
Most parents talk to their teens about online habits and monitor their children's virtual behaviors to an extent. However, one in three of the parents in the study identified their kids as more "tech-savvy" than they were.
Twenty-two percent of parents don't think their children can "get in trouble online."
But even if you're monitoring your teen's behavior, chances are you may not be getting the full picture. Teens know how to cover their technological tracks.
Thirty-three percent of U.S. teens surveyed claimed to be well-versed in disguising their Internet behavior from parents.
More on MSN Living: Totally awkward pet holiday photos
Secrecy is a natural side effect of adolescence. Yet, a recent study of U.S. teens reported this month found American adolescents to be more devious than their European counterparts. Thirty-two percent of U.S. teens admit to accessing nude or pornographic material online, compared with 25 percent of U.K. teens and 28.5 percent of German teens. Sixteen percent of U.S. teens acknowledged using a mobile phone to cheat academically.
Most frightening, however, are the 12 percent of teens who have met someone online whom they later met in-person.
Additionally, 17 percent of teens confess to hacking another person's social media accounts. Maybe not quite as surprising, but nonetheless a cause for concern, is the more than 30 percent of teens who have pirated media online.
Robert Siciliano, a McAfee online security expert, described it this way:
"Their online world is their everything today. Understanding how to manipulate digital media is like playing kickball in today's world."
Photo: Alen Ajan/Getty Images
Bing: What you need to know about teens and online safety
More on MSN Living:
10 most popular cat names
5 weird reasons couples have divorced
15 themed rooms for your teen
News, stories, tips and laughs for moms & dads
Got kids that are questioning whether or not the Easter Bunny is real? If you want to keep the tradition going at least one more year, try one of these ideas...

You're cold-hearted? We'll take care of that for you...read on.

This kid despises poetry and he's not afraid to let you know.

I used to be one of those moms who thought, 'who on earth would bring their child to an event like that?' and then I had a son. Here's why you might become a convert, too.

Take a look at your house for these telltale signs that a cat is running the show.

Check out this list of requirements you should meet before getting a new puppy or adult dog.

Virtually everything you need to know about relationships, you learned in nursery school: Treat people as you want to be treated, clean up after yourself, and don't be a know-it-all.

Here are our experts' best tips for how to be a positive role model for your kids so that they grow up healthy, strong and confident about the way they look.

Much like their famous owners, these pooches live a fabulous life. Some are rescues, others purebred, but one thing is certain – these dogs play an important part in their famous parents' lives. Can you guess who owns each of these dogs?

We captured a frame-by-frame look just for you.

Two controversial science projects resembled weapons, school officials said.