Teens have tricks to conceal online activities
A new study finds that 70 percent of US teens hide their digital habits from their parents.
It's time to change that staid question: Parents, do you know where your children are? Likely, they're in their room on the computer. But where are they in the vast World Wide Web?  
"The Digital Divide," a study commissioned by Internet security company McAfee, asked U.S. parents and teens about household online habits. Responses to the study indicate that digital devices are a source of some familial deception.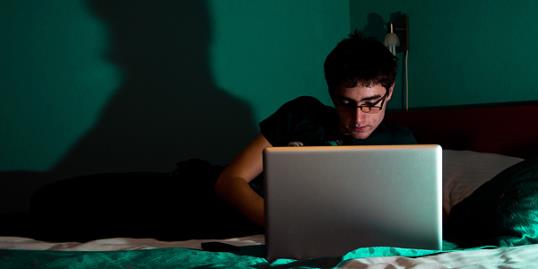 Seventy percent of teens have concealed their online behavior from parents; this is up from 45 percent in 2010. Fifty-three percent of teens confessed to clearing their browser's history. The second-most widely used strategy was closing or minimizing windows when parents were present.
More on MSN Living: 50 ways to stay bonded with your kids
Other cloaking techniques teens employed include hiding instant messages; using an Internet-enabled mobile device and creating a private account or fake social profile.
Most parents talk to their teens about online habits and monitor their children's virtual behaviors to an extent. However, one in three of the parents in the study identified their kids as more "tech-savvy" than they were.
Twenty-two percent of parents don't think their children can "get in trouble online."
But even if you're monitoring your teen's behavior, chances are you may not be getting the full picture. Teens know how to cover their technological tracks.
Thirty-three percent of U.S. teens surveyed claimed to be well-versed in disguising their Internet behavior from parents.
More on MSN Living: Totally awkward pet holiday photos
Secrecy is a natural side effect of adolescence. Yet, a recent study of U.S. teens reported this month found American adolescents to be more devious than their European counterparts. Thirty-two percent of U.S. teens admit to accessing nude or pornographic material online, compared with 25 percent of U.K. teens and 28.5 percent of German teens. Sixteen percent of U.S. teens acknowledged using a mobile phone to cheat academically.
Most frightening, however, are the 12 percent of teens who have met someone online whom they later met in-person.
Additionally, 17 percent of teens confess to hacking another person's social media accounts. Maybe not quite as surprising, but nonetheless a cause for concern, is the more than 30 percent of teens who have pirated media online.
Robert Siciliano, a McAfee online security expert, described it this way:
"Their online world is their everything today. Understanding how to manipulate digital media is like playing kickball in today's world."
Photo: Alen Ajan/Getty Images
Bing: What you need to know about teens and online safety
More on MSN Living:
10 most popular cat names
5 weird reasons couples have divorced
15 themed rooms for your teen
News, stories, tips and laughs for moms & dads
Jennifer Goodall gave birth Friday after much drama

My kids snapped a pic of me on my phone and it changed how I see myself

6-year-old has rare brain condition

He wanted to know if woman was pregnant

Did your state make the grade?

A new dad finds an Epcot Center's worth of innovation after expecting none at all.

Alcohol and tattoos are not meant for the pre-teen set

But Debra Harrell now has custody of daughter again

I am probably not the first to tell you this: Kids come with lots of stuff. Even if you try to be as minimal as possible, the little creatures require an awful lot to keep things running smoothly. Here's a master-plan slideshow of ways to cut corners on space in every room to accommodate all the things that come along with kids.

You never know for certain what type of parent you'll be until you've actually become one and your parenting style, as it becomes evident, may surprise you. Here are 4 parenting books to help you figure it all out.

Sunshine! Camping! Pool parties! BBQs! The sunny season is here and to help you make the most of it, we've hand-picked 7 great products to make this summer the best your family has ever had. Click through for our list to inspire your sunny day fun. From our sponsor: Walmart

We all love a picnic. But do one quick search for 'picnic ideas' on Pinterest and you're instantly teleported into a land of overachieving home chefs clearly looking for their big break on Food Network. Well, never mind that, we say. Scratch the 25-ingredient recipes and the incessant trips to the craft store for that perfect tablescape. Here are 5 truly simple picnic ideas that will look great, taste great, and make you feel like the winner you are! From our sponsor: Walmart