Teens have tricks to conceal online activities
A new study finds that 70 percent of US teens hide their digital habits from their parents.
It's time to change that staid question: Parents, do you know where your children are? Likely, they're in their room on the computer. But where are they in the vast World Wide Web?  
"The Digital Divide," a study commissioned by Internet security company McAfee, asked U.S. parents and teens about household online habits. Responses to the study indicate that digital devices are a source of some familial deception.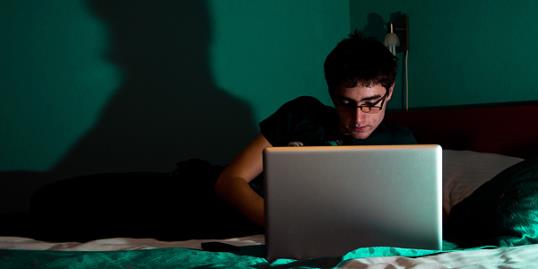 Seventy percent of teens have concealed their online behavior from parents; this is up from 45 percent in 2010. Fifty-three percent of teens confessed to clearing their browser's history. The second-most widely used strategy was closing or minimizing windows when parents were present.
More on MSN Living: 50 ways to stay bonded with your kids
Other cloaking techniques teens employed include hiding instant messages; using an Internet-enabled mobile device and creating a private account or fake social profile.
Most parents talk to their teens about online habits and monitor their children's virtual behaviors to an extent. However, one in three of the parents in the study identified their kids as more "tech-savvy" than they were.
Twenty-two percent of parents don't think their children can "get in trouble online."
But even if you're monitoring your teen's behavior, chances are you may not be getting the full picture. Teens know how to cover their technological tracks.
Thirty-three percent of U.S. teens surveyed claimed to be well-versed in disguising their Internet behavior from parents.
More on MSN Living: Totally awkward pet holiday photos
Secrecy is a natural side effect of adolescence. Yet, a recent study of U.S. teens reported this month found American adolescents to be more devious than their European counterparts. Thirty-two percent of U.S. teens admit to accessing nude or pornographic material online, compared with 25 percent of U.K. teens and 28.5 percent of German teens. Sixteen percent of U.S. teens acknowledged using a mobile phone to cheat academically.
Most frightening, however, are the 12 percent of teens who have met someone online whom they later met in-person.
Additionally, 17 percent of teens confess to hacking another person's social media accounts. Maybe not quite as surprising, but nonetheless a cause for concern, is the more than 30 percent of teens who have pirated media online.
Robert Siciliano, a McAfee online security expert, described it this way:
"Their online world is their everything today. Understanding how to manipulate digital media is like playing kickball in today's world."
Photo: Alen Ajan/Getty Images
Bing: What you need to know about teens and online safety
More on MSN Living:
10 most popular cat names
5 weird reasons couples have divorced
15 themed rooms for your teen
family: tips, trends & advice for all things family
One of the most unsettling consequences of bringing a child into your previously simple, happily oblivious manly life is that you're now unquestionably, inescapably…The Man.

Whether it was baby's first kick or the first time your boobs leaked in public, there's a point in every mom's life when the world as you know it ends and you realize -- Whoa, I'm someone's mom now. Some of our favorite mommy bloggers revealed what their aha moments were. They range from heartwarming to completely hilarious.

From DIY jewelry to homemade "flowers" to sweet vases, you can help your kid make mom's day with these crafty gifts.

The first parenting shock: They let you take the baby home. Like, without supervision. Only then do the real surprises unfold. Here's what readers told us was most unexpected for them as they embraced this whole mama thing.

Be prepared to say, 'awww,' multiple times while flipping through this collection super-sweet stuff for babies and kids on Etsy.com. Take a peek at some of our favorite finds for moms (and click 'More' to find out how to get this amazing gnome hat!)...By MSN Living editors

Your Mother's Day plans are all set, right? Brunch is booked and a fabulous gift is wrapped and ready to go. So take a breather and celebrate these stylish celebrity moms who work hard, care for their kids, and manage to look amazing in the process.

Find out this year's top baby names on Parenting.com, and see what we predict will be big in 2013

Sophia and Jacob reign supreme.

In an online contest, Parenting.com asked readers to tell us what it means to "have it all." Read the winner's moving essay on how that phrase has defined her motherhood, plus essays from the three runners up.

Tow lot employee finds abandoned pup.

Animals, says Dr. Patty Khuly, are the best listeners in the world and don't care that you've just been dumped or laid off.

Ask a mom if she's happier now that she has a child and she'll usually say yes.