Twins born 87 days apart
An intense 3 months separated the births of Amy and Katie Elliott.
Every birth is something of a miracle, but the arrival of twins Amy and Katie Elliott was extraordinary. The sisters, born to 34-year-old Maria Jones-Elliott of Glenmore, Ireland, were delivered 87 days apart.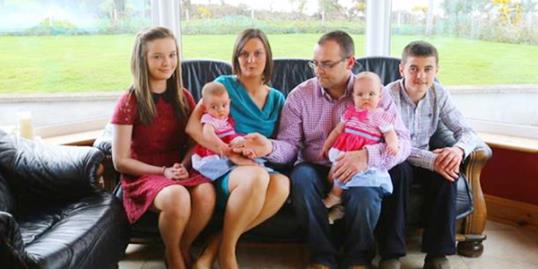 Amy, the older of the twins, was born at just 23 weeks and five days into her mother's pregnancy. After a grueling wait in which the lives of both girls were at risk, Katie was delivered in good health nearly three months later. Both twins were born and cared for at Waterford Regional Hospital, where their father, Chris, works as a psychiatric nurse.
Such an interval between the birth of twins is extremely rare. Describing the occurrence as "probably the first of its kind," Dr. Eddie O'Donnell, the obstetrician in charge of the twins' delivery team, cited medical references to a previous record of 84 days. A spokesman from Guinness World Records expects the Elliott girls' interval to be confirmed as a world record.
The family marvels at the twins now, but the news-making stretch between deliveries was profoundly trying. Maria's doctors feared she'd lose both twins when she went into premature labor late last May. After she spent two days in labor, Amy was born on June 1 at 1 pound, 3 ounces. She was immediately rushed to the hospital's pediatric intensive care unit and placed in an incubator.
It was four days before Maria could even see her daughter — and five weeks before she was allowed to hold her.
After Amy was delivered, doctors reportedly tried to induce the birth of the second twin but were unsuccessful. Rather than allow more attempts at inducing after contractions had stopped, Maria and Chris decided to listen to her body's signals and wait.
"It should have been a joyful time but it was horrific," Maria told The Mirror UK. "I had one baby in intensive care and one inside me, clinging to life."
Maria insisted on staying in the hospital until her second twin was born. Finally, on Aug. 27, doctors decided it was safe to induce labor. Katie was born healthy at just over 36 weeks, weighing 5 pounds, 10 ounces.
Two hours later, the twins were reunited in Amy's incubator.
"The nurse took Katie and put her in the incubator, facing her sister as they slept and Amy immediately smiled," Maria said. "There was no doubt that they recognized each other."
The twins are now happy and healthy at home with their parents and two older siblings, Olivia and Jack.
More from Family Room:
Strapless dresses banned at middle-school dance
Dad illustrates his kids' lunch bags
Should you bring your kids to work?
Love content like this? Friend us on Facebook, follow us on Twitter and find us on Pinterest.
Readers: Calling all mom bloggers — we're looking for fresh voices on MSN Living. Email us your samples and contact info.
Photo: Jones-Elliott Family via Mirror, http://aka.ms/Miracl​eTwins
News, stories, tips and laughs for moms & dads
A thrill-obsessed subculture claimed another life this week.

A few suggested answers for the diciest questions

Must-haves for every mommy on the road

Here's our list of fifteen moms in the food industry that deserve some recognition.

The site gets high marks for its user-friendly interface and excellent and responsive customer service. And the reviews are also pretty accurate. Compare amenities and prices next to a hotel's in the same area, and you're likely to see Airbnb come out on top.

We captured a frame-by-frame look just for you.

Other moms can be ruthless when it comes to picking apart your parenting choices. From dissing your decision to go back to work to criticizing when you started baby on solids, here are the most ridiculous comments moms have heard. Bonus, we've got just the right way to respond to the haters! You're welcome.

Nope, you don't have to spend the next nine months in black elastic-waist pants and oversize sweaters. And you don't have to shell out a fortune on your "temporary" wardrobe either. Check out these stylish and affordable maternity clothes.

Because society crumbles without us

Another kid figured out how to get into a claw machine.

As a new mom, you've recently discovered there are many things you can live without—sleep and modesty being chief among them. But what can't you live without? Seasoned moms share their Top 10 list for how to survive the early months of motherhood.

Here are our experts' best tips for how to be a positive role model for your kids so that they grow up healthy, strong and confident about the way they look.