Twins born 87 days apart
An intense 3 months separated the births of Amy and Katie Elliott.
Every birth is something of a miracle, but the arrival of twins Amy and Katie Elliott was extraordinary. The sisters, born to 34-year-old Maria Jones-Elliott of Glenmore, Ireland, were delivered 87 days apart.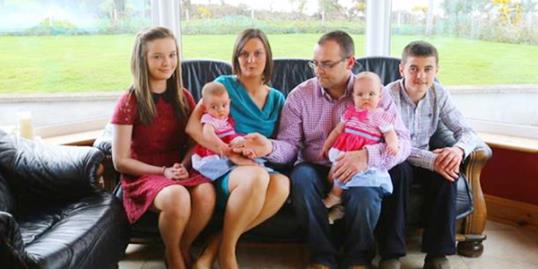 Amy, the older of the twins, was born at just 23 weeks and five days into her mother's pregnancy. After a grueling wait in which the lives of both girls were at risk, Katie was delivered in good health nearly three months later. Both twins were born and cared for at Waterford Regional Hospital, where their father, Chris, works as a psychiatric nurse.
Such an interval between the birth of twins is extremely rare. Describing the occurrence as "probably the first of its kind," Dr. Eddie O'Donnell, the obstetrician in charge of the twins' delivery team, cited medical references to a previous record of 84 days. A spokesman from Guinness World Records expects the Elliott girls' interval to be confirmed as a world record.
The family marvels at the twins now, but the news-making stretch between deliveries was profoundly trying. Maria's doctors feared she'd lose both twins when she went into premature labor late last May. After she spent two days in labor, Amy was born on June 1 at 1 pound, 3 ounces. She was immediately rushed to the hospital's pediatric intensive care unit and placed in an incubator.
It was four days before Maria could even see her daughter — and five weeks before she was allowed to hold her.
After Amy was delivered, doctors reportedly tried to induce the birth of the second twin but were unsuccessful. Rather than allow more attempts at inducing after contractions had stopped, Maria and Chris decided to listen to her body's signals and wait.
"It should have been a joyful time but it was horrific," Maria told The Mirror UK. "I had one baby in intensive care and one inside me, clinging to life."
Maria insisted on staying in the hospital until her second twin was born. Finally, on Aug. 27, doctors decided it was safe to induce labor. Katie was born healthy at just over 36 weeks, weighing 5 pounds, 10 ounces.
Two hours later, the twins were reunited in Amy's incubator.
"The nurse took Katie and put her in the incubator, facing her sister as they slept and Amy immediately smiled," Maria said. "There was no doubt that they recognized each other."
The twins are now happy and healthy at home with their parents and two older siblings, Olivia and Jack.
More from Family Room:
Strapless dresses banned at middle-school dance
Dad illustrates his kids' lunch bags
Should you bring your kids to work?
Love content like this? Friend us on Facebook, follow us on Twitter and find us on Pinterest.
Readers: Calling all mom bloggers — we're looking for fresh voices on MSN Living. Email us your samples and contact info.
Photo: Jones-Elliott Family via Mirror, http://aka.ms/Miracl​eTwins
News, stories, tips and laughs for moms & dads
Readers share their favorite holiday family traditions that really make it the most wonderful time of the year. By Lauren Passell

Brand new Babycenter.com baby-naming reports reveal a few naming trends that may surprise you (or not).

Every family has its oddballs. And the holiday season is the one time of year when you're pretty much forced to interact and play nice with the grand majority of them. Click through the slideshow above for our guide to dealing with the five worst kinds of kin. *Disclaimer: All characters appearing in this work are fictitious. Any resemblance to real persons, living or dead, is purely coincidental.

When you're single, dating, and childless, the most important dining-out decision you need to make is red, white, or beer. But when you're married (or otherwise partnered) with kids, just thinking about eating out as a couple may have you reaching for the liquor cabinet: The babysitting tab alone often exceeds the meal, and that's assuming you can even find anyone reliable to watch the children. Do you just bring the kids along with you? As much as we're in favor of that, the answer is no: You do deserve a date night! And there are, in fact, better ways to go about hiring a babysitter than stalking teens at the local mall (or really anywhere: stalking teens = bad idea). Here are seven ways to find child care so you can go and enjoy a well-deserved night out.

Plus, kitten names to watch

The names that best symbolized our year

As you trim your tree, hang the lights, bake cookies and prepare for guests, remember that there's a certain member of your family who also deserves something extra special this holiday season: your dog. Save a little space under the tree for these beds, toys, collars and outfits for your favorite canine. Plus, we've even included a couple of gifts for the dog lovers in your life!

Dr. Marty Becker shares questions you should ask yourself before making the commitment to foster a shelter pet.

What one mom learned about herself might just change your world

From Ryan Gosling earrings to portable speakers, there's something here for kids of all ages.

When it comes to holiday giving, it's the thought that counts, which is why homemade gifts from kids are so treasured by their mothers. Children might not have money to spend on an expensive piece of jewelry or designer handbag, but they do have the time to DIY something special for their number one fan. If you're in charge of helping the little ones think of presents, check out the above list of homemade gifts for mom. From a custom vase to Instagram coasters to Warhol-inspired wall art, we have something for every taste and skill level.

At our household, we have a large, diverse collection of toys. While I'm not as uptight as my husband on what enters our kids' toy chest, my husband must approve all toy acquisitions mostly because of aesthetics (appearance is important). In our search for functional and stylish toys, the sustainable ones often have the best design, and appeal to the visual and tactile senses or improve fine motor skills such as dexterity and hand coordination. Here are a few of our family favorites that intrigue and hold our little ones' attention—and look good, too.