School builds unisex bathrooms for transgender students
The Oregon high school's decision was called a 'smart and compassionate' move for transgender students.
Portland's largest public high school has repurposed six bathrooms for "third gender" students, or those who identify as transgender, reports "Good Morning America."  
"This (bathroom) issue requires us to consider the need to support our transgender students, while also doing our best to ensure the safety and comfort of all students," Portland Public Schools' General Counsel Jollee Patterson wrote in guidelines sent to school administrators in 2012 on how to handle transgender issues.
"In no case shall a transgender student be required to use a bathroom that conflicts with the student's gender identity," Patterson said.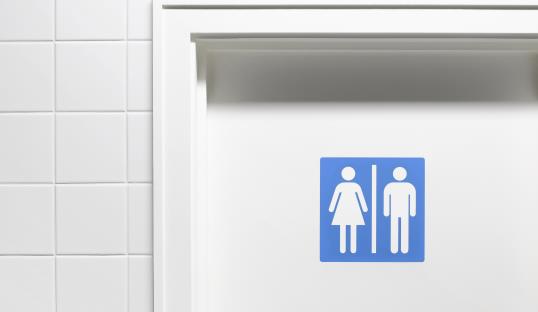 More from MSN Living: 4 musts for moms of boys
Scott Morrison, a senior at Grant High School who was born female but now identifies as male, told The Oregonian that he would avoid liquids during the school day because having to choose a gender-specific bathroom induced anxiety.  
Mara Keisling, executive director of the National Center for Transgender Equality, applauds Grant's decision to create unisex bathrooms, calling it a "smart and compassionate" move for the transgender students.
More from MSN Living: 10 single mom secrets
"Any school worth its salt wants to be a safe place and welcoming place for every student," Keisling was quoted as saying. "It's really great. They came up with a really good common-sense solution."
The project cost a few hundred dollars and will accommodate the roughly 10 students who are "out" as transgender.
Bing: Stories of LGBT youth
In 2007, Oregon passed the Oregon Equality Act, joining at least 15 other states and Washington, D.C., in offering some legal protection for transgender people.
"It seems like a really wonderful partnership between student advocates trying to create a safe space for transgender and nonconforming students and the school system to find a solution that will ensure folks can go to school and focus on learning," Sasha Buchert, communications manager of Basic Rights Oregon told The Oregonian.
Tell us what you think: Is this a positive step forward?
More from Family Room:
Study: Same-sex parents raise well-adjusted kids
Some teachers ban kids from having best friends
How to survive a quarter-life crisis
Love content like this? Friend us on Facebook, follow us on Twitter and find us on Pinterest.
Readers: Calling all mom bloggers — we're looking for fresh voices on MSN Living. Email us your samples and contact info!
Photo: School installs unisex bathrooms / Peter Dazeley/Getty Images
News, stories, tips and laughs for moms & dads
Find out which classroom supplies and dorm-room buys you don't need to spend a fortune on

4 steps for raising a child who doesn't feel emotionally stranded.

Any of these sound familiar?

Fire challenge involves pouring alcohol on one's chest and lighting it

A coincidence after the furlough?

Helpful tips for easing first day jitters.

Getting ready for fall has never been more fun.

Great reads for the back-to-school mindset.

Remember the concept of weekends being a time for rest, relaxation, and togetherness? No? Us either. Between soccer games, playdates, dragging your kids to see the new exhibition at the local children's museum, and we need to pick up a gift for that birthday party that starts in . . . 20 minutes, juggling a busy family's weekend schedule can be more stressful than a weekday. While we know it's simply not realistic to cancel all your plans and obligations moving forward, clearing the calendar for just one weekend can be just the refresher that your family's craving. Here's why.

You just had a baby? You're a superstar! All those diapers, all that spit up, and you're makin' magic happen. But you're also likely tired - really tired - and busy (so, so busy). Taking time for yourself might seem like an indulgence but a happy mom makes for a happy baby. Here are 7 things you should definitely do to keep your sanity intact and your spirit high. <more, below>

Summertime is on, and the kids are out of school. Every mom knows that for these three months it's more important than ever to keep the kids busy. But you don't have to schedule your life away with camps, or drop a bundle on activities and games that come in a box. You can make your own fun, and even include the kids in the prep, with some simple, inexpensive DIY crafts that will keep them playing 'til the lightening bugs come out. Make your own fingerpaint, bubbles, and crayons. Create a fort-building kit and superhero capes that will kick their imaginations into overdrive. Here are 10 of our favorite kid-friendly DIY crafts to fuel your summertime fun.