School builds unisex bathrooms for transgender students
The Oregon high school's decision was called a 'smart and compassionate' move for transgender students.
Portland's largest public high school has repurposed six bathrooms for "third gender" students, or those who identify as transgender, reports "Good Morning America."  
"This (bathroom) issue requires us to consider the need to support our transgender students, while also doing our best to ensure the safety and comfort of all students," Portland Public Schools' General Counsel Jollee Patterson wrote in guidelines sent to school administrators in 2012 on how to handle transgender issues.
"In no case shall a transgender student be required to use a bathroom that conflicts with the student's gender identity," Patterson said.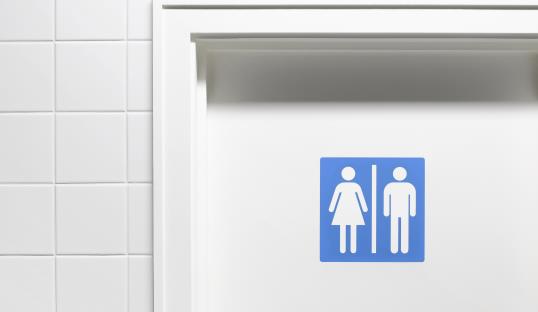 More from MSN Living: 4 musts for moms of boys
Scott Morrison, a senior at Grant High School who was born female but now identifies as male, told The Oregonian that he would avoid liquids during the school day because having to choose a gender-specific bathroom induced anxiety.  
Mara Keisling, executive director of the National Center for Transgender Equality, applauds Grant's decision to create unisex bathrooms, calling it a "smart and compassionate" move for the transgender students.
More from MSN Living: 10 single mom secrets
"Any school worth its salt wants to be a safe place and welcoming place for every student," Keisling was quoted as saying. "It's really great. They came up with a really good common-sense solution."
The project cost a few hundred dollars and will accommodate the roughly 10 students who are "out" as transgender.
Bing: Stories of LGBT youth
In 2007, Oregon passed the Oregon Equality Act, joining at least 15 other states and Washington, D.C., in offering some legal protection for transgender people.
"It seems like a really wonderful partnership between student advocates trying to create a safe space for transgender and nonconforming students and the school system to find a solution that will ensure folks can go to school and focus on learning," Sasha Buchert, communications manager of Basic Rights Oregon told The Oregonian.
Tell us what you think: Is this a positive step forward?
More from Family Room:
Study: Same-sex parents raise well-adjusted kids
Some teachers ban kids from having best friends
How to survive a quarter-life crisis
Love content like this? Friend us on Facebook, follow us on Twitter and find us on Pinterest.
Readers: Calling all mom bloggers — we're looking for fresh voices on MSN Living. Email us your samples and contact info!
Photo: School installs unisex bathrooms / Peter Dazeley/Getty Images
News, stories, tips and laughs for moms & dads
Make sure your go-to gadgets are as cute as your style, with these trendy tech finds!

Oh, how the times have changed...

Get ready to hit the mall! Check out the hottest back-to-school trends—and get ready to make a major style statement this year.

Unique, or downright strange?

This is Kevin Droniak and his grandma. They're besties, they're awesome and they're YouTube stars.

It can be difficult to entice little ones to eat anything at all, let alone to devour a healthy plate. But feeding your kids nutritious snacks after school just got way easier, thanks to these adorably clever and cute snack ideas! For more smart and fun ways to get your kids to enjoy healthful and delicious foods, try one of these amazingly artsy lunch ideas.

Through a tonsillectomy all the way to brain surgery, my mother deserves some recognition. She's my spine, my birthday shadow, my BFF, my thunder buddy, so Mommy, thank you.

My son needs me, as much as yours needs you. Sadly, my son needs me more. He needs someone to have his back, when it seems that the police, the men he'd wave to with excitement as a little boy, see him as a being worthy only of prison or death.

If you know someone who has adopted and have made some of these comments, don't fret... now you know!

"Because you shine from within," I said, touching my finger to her heart. "Not everybody sees it, but I do. I see it. And my job is to protect that light. So when people say mean comments that squelch that light, I want you to tell me. I will protect your light by listening and loving you, my brave, courageous, and unique little firefly."

Studies have shown that it helps, top education officials have recommended it, and now doctors are officially saying the same.

I may have accidentally dropped you a few times, forgotten to document your first fart, let a little pee fly and dressed you like an idiot, but I have also loved you with every piece of me, and you will never hear an apology for that.