Woman gives birth at zoo
A baby girl numbers among Rosamond Gifford Zoo's list of zoo-borns.
A zoo baby's birth usually causes a small, local frenzy. Those furry faces and clumsy, untested limbs effortlessly attract the media's lens and the public's affection.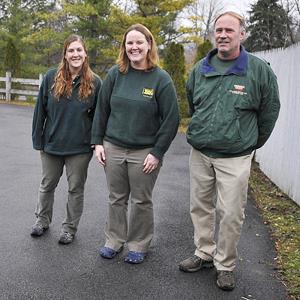 Last Friday Rosamond Gifford Zoo in Syracuse, N.Y., hosted the birth of a species more exotic to menageries. On Dec. 7, at 11 a.m., a 21-year-old woman delivered a baby girl near the zoo's bear exhibit.
More on MSN Living: 51 perfect family day trips
Zoo employees were quick to assist in the labor. They radioed for backup and assembled blankets. According to Rosamond Gifford Zoo Director Ted Fox, Liz Schmidt and Sarah Kohler, both first responders, were the first to arrive at the delivery. Schmidt attended the mother throughout the birth and checked the newborn's vital signs.
More on MSN Living: Top names for the top 10 dog breeds

"When Liz Schmidt and Sarah Kohler arrived on the scene she was in full labor. Within minutes she had given birth to the baby," Fox said.

A member of the woman's family called Onondaga County EMTs. The woman was rushed to the hospital following the delivery.
"It's pretty unusual to get a call about a woman in labor. It's happened several times throughout the years," said Fox. "But it has been pretty early on. We thought that would be the case Friday."
The exciting morning increased Rosamond Gifford's tally of zoo-born babies.
Fox said that the mother and infant were released from the hospital Monday.
Photo: Gary Walts/The Post-Standard/Landov​
Bing: Newborn polar bears die at zoo.
More on MSN Living: 
Funny sleeping baby photos
Best baby gear for every mom and dad
7 silly signs you are ready for a baby
News, stories, tips and laughs for moms & dads
What are we teaching our children when we focus on their achievements rather than their kindness?

Discover the seemingly insignificant things that can affect your chances of getting pregnant.

A thrill-obsessed subculture claimed another life this week.

A few suggested answers for the diciest questions

Must-haves for every mommy on the road

Here's our list of fifteen moms in the food industry that deserve some recognition.

The site gets high marks for its user-friendly interface and excellent and responsive customer service. And the reviews are also pretty accurate. Compare amenities and prices next to a hotel's in the same area, and you're likely to see Airbnb come out on top.

We captured a frame-by-frame look just for you.

Other moms can be ruthless when it comes to picking apart your parenting choices. From dissing your decision to go back to work to criticizing when you started baby on solids, here are the most ridiculous comments moms have heard. Bonus, we've got just the right way to respond to the haters! You're welcome.

Nope, you don't have to spend the next nine months in black elastic-waist pants and oversize sweaters. And you don't have to shell out a fortune on your "temporary" wardrobe either. Check out these stylish and affordable maternity clothes.

Because society crumbles without us

Another kid figured out how to get into a claw machine.