Woman gives birth at zoo
A baby girl numbers among Rosamond Gifford Zoo's list of zoo-borns.
A zoo baby's birth usually causes a small, local frenzy. Those furry faces and clumsy, untested limbs effortlessly attract the media's lens and the public's affection.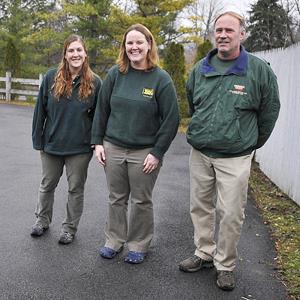 Last Friday Rosamond Gifford Zoo in Syracuse, N.Y., hosted the birth of a species more exotic to menageries. On Dec. 7, at 11 a.m., a 21-year-old woman delivered a baby girl near the zoo's bear exhibit.
More on MSN Living: 51 perfect family day trips
Zoo employees were quick to assist in the labor. They radioed for backup and assembled blankets. According to Rosamond Gifford Zoo Director Ted Fox, Liz Schmidt and Sarah Kohler, both first responders, were the first to arrive at the delivery. Schmidt attended the mother throughout the birth and checked the newborn's vital signs.
More on MSN Living: Top names for the top 10 dog breeds

"When Liz Schmidt and Sarah Kohler arrived on the scene she was in full labor. Within minutes she had given birth to the baby," Fox said.

A member of the woman's family called Onondaga County EMTs. The woman was rushed to the hospital following the delivery.
"It's pretty unusual to get a call about a woman in labor. It's happened several times throughout the years," said Fox. "But it has been pretty early on. We thought that would be the case Friday."
The exciting morning increased Rosamond Gifford's tally of zoo-born babies.
Fox said that the mother and infant were released from the hospital Monday.
Photo: Gary Walts/The Post-Standard/Landov​
Bing: Newborn polar bears die at zoo.
More on MSN Living: 
Funny sleeping baby photos
Best baby gear for every mom and dad
7 silly signs you are ready for a baby
News, stories, tips and laughs for moms & dads
It's that time again, parents...

One of our favorite ways to start the day is with a piping hot cup of coffee and a thought-provoking TED talk. In case you'€™re not familiar with the group, TED (which stands for Technology, Entertainment and Design) is a nonprofit organization dedicated to spreading ideas through projects and talks by a diverse group of inspired thinkers - people of all cultures, ages and disciplines. As you can probably guess, listening to these innovators share their ideas is a surefire way to jumpstart your day and get your creative juices flowing. Click through the slideshow above for the eight TED talks every parent needs to see. By Cordelia Tai

If you value the backside of your theater seat and making it to your next paycheck, you may want to stay home

One mom shares how she and her family make the Sedar fun and memorable for all

The threats were in public view on the boy's social media wall.

Sometimes, love isn't enough to save us.

Joe, Kevin, and Nick aren't the only hot bros in Hollywood. Seventeen has uncovered the cutest celebrity siblings!

Happify shares their results of a recent study on the importance of being nurturing

If you live with a feline companion, you know that cats can be quirky and totally entertaining. (Even if they'd never admit it in a million, trillion years.) Here are just a few of our favorite cat-isms, some with sandpaper tongue firmly in cheek. Did we miss any of yours?

What do eggs, rabbit breeding schedules, and a fertility goddess named Eostre have in common? They're all tied to popular Easter traditions! Learn the surprising past behind your favorite ways to celebrate.

Sure, beaches and amusement parks promise all kinds of family fun during spring or summer breaks. But there are plenty of ways to live it up without hitting the road.

No scared, crying kids sitting on the Easter bunny's lap here! We scoured Pinterest for some of the most adorable Easter-ready babies ever pinned, and these little cuties definitely did not disappoint...