Woman gives birth at zoo
A baby girl numbers among Rosamond Gifford Zoo's list of zoo-borns.
A zoo baby's birth usually causes a small, local frenzy. Those furry faces and clumsy, untested limbs effortlessly attract the media's lens and the public's affection.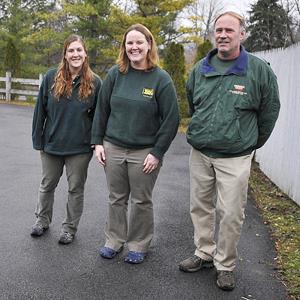 Last Friday Rosamond Gifford Zoo in Syracuse, N.Y., hosted the birth of a species more exotic to menageries. On Dec. 7, at 11 a.m., a 21-year-old woman delivered a baby girl near the zoo's bear exhibit.
More on MSN Living: 51 perfect family day trips
Zoo employees were quick to assist in the labor. They radioed for backup and assembled blankets. According to Rosamond Gifford Zoo Director Ted Fox, Liz Schmidt and Sarah Kohler, both first responders, were the first to arrive at the delivery. Schmidt attended the mother throughout the birth and checked the newborn's vital signs.
More on MSN Living: Top names for the top 10 dog breeds

"When Liz Schmidt and Sarah Kohler arrived on the scene she was in full labor. Within minutes she had given birth to the baby," Fox said.

A member of the woman's family called Onondaga County EMTs. The woman was rushed to the hospital following the delivery.
"It's pretty unusual to get a call about a woman in labor. It's happened several times throughout the years," said Fox. "But it has been pretty early on. We thought that would be the case Friday."
The exciting morning increased Rosamond Gifford's tally of zoo-born babies.
Fox said that the mother and infant were released from the hospital Monday.
Photo: Gary Walts/The Post-Standard/Landov​
Bing: Newborn polar bears die at zoo.
More on MSN Living: 
Funny sleeping baby photos
Best baby gear for every mom and dad
7 silly signs you are ready for a baby
News, stories, tips and laughs for moms & dads
My kids snapped a pic of me on my phone and it changed how I see myself

6-year-old has rare brain condition

He wanted to know if woman was pregnant

Did your state make the grade?

A new dad finds an Epcot Center's worth of innovation after expecting none at all.

Alcohol and tattoos are not meant for the pre-teen set

But Debra Harrell now has custody of daughter again

I am probably not the first to tell you this: Kids come with lots of stuff. Even if you try to be as minimal as possible, the little creatures require an awful lot to keep things running smoothly. Here's a master-plan slideshow of ways to cut corners on space in every room to accommodate all the things that come along with kids.

You never know for certain what type of parent you'll be until you've actually become one and your parenting style, as it becomes evident, may surprise you. Here are 4 parenting books to help you figure it all out.

Sunshine! Camping! Pool parties! BBQs! The sunny season is here and to help you make the most of it, we've hand-picked 7 great products to make this summer the best your family has ever had. Click through for our list to inspire your sunny day fun. From our sponsor: Walmart

We all love a picnic. But do one quick search for 'picnic ideas' on Pinterest and you're instantly teleported into a land of overachieving home chefs clearly looking for their big break on Food Network. Well, never mind that, we say. Scratch the 25-ingredient recipes and the incessant trips to the craft store for that perfect tablescape. Here are 5 truly simple picnic ideas that will look great, taste great, and make you feel like the winner you are! From our sponsor: Walmart

Admit it — you do these things, too! And that's OK. But maybe — just maybe — it's time to think about changing things up a little bit, for the sake of your sanity, your relationship with your kids, and because life's too short.