Woman gives birth at zoo
A baby girl numbers among Rosamond Gifford Zoo's list of zoo-borns.
A zoo baby's birth usually causes a small, local frenzy. Those furry faces and clumsy, untested limbs effortlessly attract the media's lens and the public's affection.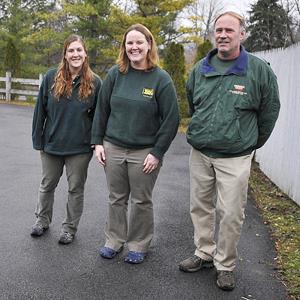 Last Friday Rosamond Gifford Zoo in Syracuse, N.Y., hosted the birth of a species more exotic to menageries. On Dec. 7, at 11 a.m., a 21-year-old woman delivered a baby girl near the zoo's bear exhibit.
More on MSN Living: 51 perfect family day trips
Zoo employees were quick to assist in the labor. They radioed for backup and assembled blankets. According to Rosamond Gifford Zoo Director Ted Fox, Liz Schmidt and Sarah Kohler, both first responders, were the first to arrive at the delivery. Schmidt attended the mother throughout the birth and checked the newborn's vital signs.
More on MSN Living: Top names for the top 10 dog breeds

"When Liz Schmidt and Sarah Kohler arrived on the scene she was in full labor. Within minutes she had given birth to the baby," Fox said.

A member of the woman's family called Onondaga County EMTs. The woman was rushed to the hospital following the delivery.
"It's pretty unusual to get a call about a woman in labor. It's happened several times throughout the years," said Fox. "But it has been pretty early on. We thought that would be the case Friday."
The exciting morning increased Rosamond Gifford's tally of zoo-born babies.
Fox said that the mother and infant were released from the hospital Monday.
Photo: Gary Walts/The Post-Standard/Landov​
Bing: Newborn polar bears die at zoo.
More on MSN Living: 
Funny sleeping baby photos
Best baby gear for every mom and dad
7 silly signs you are ready for a baby
News, stories, tips and laughs for moms & dads
Actress Kimberly Williams-Paisley hated the dementia that made her mother seem like a different person—erratic, silent, sometimes angry. Then she found a way to love that mom too.

Getting back into dating after baby can be tough -- and complicated -- but you deserve a shot at love, Mama! Just be on the look out for these red flags.

Mamas, take a cue from these smart ladies.

A habit of avoiding disappointment may result in idle adults.

What one mom learned about herself might just change your world

The 4 crucial conversations you need to have with your spouse before you make this decision.

You bring baby home and it seems like everyone has an opinion on which techniques you should use to get her to sleep, to feed her and to help her learn and develop. And they tell you which ones not to use too. So what's worth trying out and what's completely insane? Decide for yourself!

I'll say it: if your baby is melting down at Din Tai Fung, please pack your wipes and go

Pregnancy is just one long, unending stream of unsolicited advice—people love to tell you what to do, how to do it, and why you'd be crazy to do it any other way.

Maybe I was naïve, but I thought getting pregnant was as simple as having unprotected sex, and I'd be a mom in nine months flat. We spent years trying to prevent pregnancy, waiting until we were ready and having panic attacks if my period was late. So naturally, once we stopped preventing — boom! — it should've happened, right? Silly me.