Woman gives birth at zoo
A baby girl numbers among Rosamond Gifford Zoo's list of zoo-borns.
A zoo baby's birth usually causes a small, local frenzy. Those furry faces and clumsy, untested limbs effortlessly attract the media's lens and the public's affection.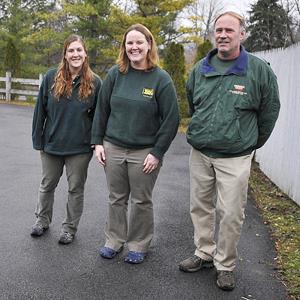 Last Friday Rosamond Gifford Zoo in Syracuse, N.Y., hosted the birth of a species more exotic to menageries. On Dec. 7, at 11 a.m., a 21-year-old woman delivered a baby girl near the zoo's bear exhibit.
More on MSN Living: 51 perfect family day trips
Zoo employees were quick to assist in the labor. They radioed for backup and assembled blankets. According to Rosamond Gifford Zoo Director Ted Fox, Liz Schmidt and Sarah Kohler, both first responders, were the first to arrive at the delivery. Schmidt attended the mother throughout the birth and checked the newborn's vital signs.
More on MSN Living: Top names for the top 10 dog breeds

"When Liz Schmidt and Sarah Kohler arrived on the scene she was in full labor. Within minutes she had given birth to the baby," Fox said.

A member of the woman's family called Onondaga County EMTs. The woman was rushed to the hospital following the delivery.
"It's pretty unusual to get a call about a woman in labor. It's happened several times throughout the years," said Fox. "But it has been pretty early on. We thought that would be the case Friday."
The exciting morning increased Rosamond Gifford's tally of zoo-born babies.
Fox said that the mother and infant were released from the hospital Monday.
Photo: Gary Walts/The Post-Standard/Landov​
Bing: Newborn polar bears die at zoo.
More on MSN Living: 
Funny sleeping baby photos
Best baby gear for every mom and dad
7 silly signs you are ready for a baby
News, stories, tips and laughs for moms & dads
Transform the fall vegetable into cool decor pieces.

Put together these creative, but simple, Halloween looks for your youngsters.

We know you're documenting just about every move baby makes. (Do you even have any memory left on your phone? We didn't think so.) These tips from professional photographers can help you perfect your pics.

These six on-trend ideas will make baby's room your new favorite place to hang out.

Baby probably won't remember his first birthday party, but that doesn't mean you can't go all out (after all, parents need to celebrate making it through this first year, right?). These fun, colorful themes take planning to the next level.

See what celebrities who had problems conceiving have to say.

You'll be hearing a lot of advice and opinions. Some of it will be really helpful and some will be just plain wrong. Here are the most common things people say about babies that aren't true.

A new dad finds an Epcot Center's worth of innovation after expecting none at all.

The dog days of summer may be well behind us, but that doesn't mean it's time to pack in the outdoor adventures quite yet.

Protect yourself and your family with these ingenious gizmos and smartphone apps.

Make sure your go-to gadgets are as cute as your style, with these trendy tech finds!

Oh, how the times have changed...