Iowa holds top spot for high school graduation rate
The US Department of Education released data this week detailing high school graduation rates by state in 2010-11.
This week, Iowa was handed top honors for the nation's highest four-year high school graduation rate in the 2010-11 academic year, according to the U.S. Department of Education. This was the first year that all 50 states used a consistent, more accurate measure.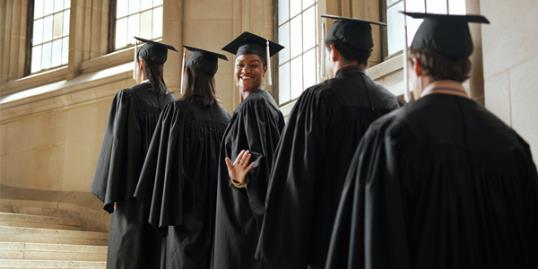 This transition to a common metric to gauge graduation rates reflects states' efforts to create greater uniformity and responsibility in reporting high school graduation data. In addition, it meets federal requirements established in October 2008.
More on MSN Living: 50 ways to stay bonded with your kids
"By using this new measure, states will be more honest in holding schools accountable and ensuring that students succeed," U.S. Secretary of Education Arne Duncan said in the U.S. Department of Education report. "Ultimately, these data will help states target support to ensure more students graduate on time, college and career ready."
More on MSN Living: Totally awkward pet holiday photos
According to state data, Iowa graduated 88 percent of students, with Texas, Vermont, Nebraska, New Hampshire, Tennessee, Wisconsin, Indiana and North Dakota close behind at 86 percent or better. Comparatively, Nevada and New Mexico graduated considerably fewer students; 62 and 63 percent, respectively.
Read the full story at DesMoinesRegister.co​m.
Photo: Ryan McVay/Getty Images
Bing: Top graduation songs for 2012
More on MSN Living:
10 most popular cat names
5 weird reasons couples have divorced
15 themed rooms for your teen
News, stories, tips and laughs for moms & dads
Transform the fall vegetable into cool decor pieces.

Put together these creative, but simple, Halloween looks for your youngsters.

We know you're documenting just about every move baby makes. (Do you even have any memory left on your phone? We didn't think so.) These tips from professional photographers can help you perfect your pics.

These six on-trend ideas will make baby's room your new favorite place to hang out.

Baby probably won't remember his first birthday party, but that doesn't mean you can't go all out (after all, parents need to celebrate making it through this first year, right?). These fun, colorful themes take planning to the next level.

See what celebrities who had problems conceiving have to say.

You'll be hearing a lot of advice and opinions. Some of it will be really helpful and some will be just plain wrong. Here are the most common things people say about babies that aren't true.

A new dad finds an Epcot Center's worth of innovation after expecting none at all.

The dog days of summer may be well behind us, but that doesn't mean it's time to pack in the outdoor adventures quite yet.

Protect yourself and your family with these ingenious gizmos and smartphone apps.

Make sure your go-to gadgets are as cute as your style, with these trendy tech finds!

Oh, how the times have changed...