Iowa holds top spot for high school graduation rate
The US Department of Education released data this week detailing high school graduation rates by state in 2010-11.
This week, Iowa was handed top honors for the nation's highest four-year high school graduation rate in the 2010-11 academic year, according to the U.S. Department of Education. This was the first year that all 50 states used a consistent, more accurate measure.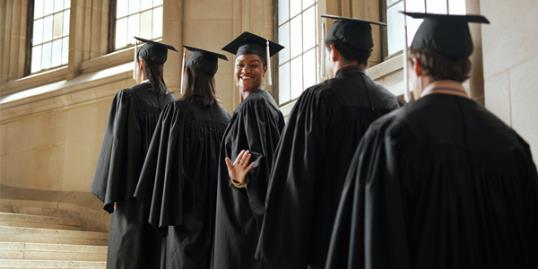 This transition to a common metric to gauge graduation rates reflects states' efforts to create greater uniformity and responsibility in reporting high school graduation data. In addition, it meets federal requirements established in October 2008.
More on MSN Living: 50 ways to stay bonded with your kids
"By using this new measure, states will be more honest in holding schools accountable and ensuring that students succeed," U.S. Secretary of Education Arne Duncan said in the U.S. Department of Education report. "Ultimately, these data will help states target support to ensure more students graduate on time, college and career ready."
More on MSN Living: Totally awkward pet holiday photos
According to state data, Iowa graduated 88 percent of students, with Texas, Vermont, Nebraska, New Hampshire, Tennessee, Wisconsin, Indiana and North Dakota close behind at 86 percent or better. Comparatively, Nevada and New Mexico graduated considerably fewer students; 62 and 63 percent, respectively.
Read the full story at DesMoinesRegister.co​m.
Photo: Ryan McVay/Getty Images
Bing: Top graduation songs for 2012
More on MSN Living:
10 most popular cat names
5 weird reasons couples have divorced
15 themed rooms for your teen
News, stories, tips and laughs for moms & dads
A new dad finds an Epcot Center's worth of innovation after expecting none at all.

Alcohol and tattoos are not meant for the pre-teen set

But Debra Harrell now has custody of daughter again

I am probably not the first to tell you this: Kids come with lots of stuff. Even if you try to be as minimal as possible, the little creatures require an awful lot to keep things running smoothly. Here's a master-plan slideshow of ways to cut corners on space in every room to accommodate all the things that come along with kids.

You never know for certain what type of parent you'll be until you've actually become one and your parenting style, as it becomes evident, may surprise you. Here are 4 parenting books to help you figure it all out.

Sunshine! Camping! Pool parties! BBQs! The sunny season is here and to help you make the most of it, we've hand-picked 7 great products to make this summer the best your family has ever had. Click through for our list to inspire your sunny day fun. From our sponsor: Walmart

We all love a picnic. But do one quick search for 'picnic ideas' on Pinterest and you're instantly teleported into a land of overachieving home chefs clearly looking for their big break on Food Network. Well, never mind that, we say. Scratch the 25-ingredient recipes and the incessant trips to the craft store for that perfect tablescape. Here are 5 truly simple picnic ideas that will look great, taste great, and make you feel like the winner you are! From our sponsor: Walmart

Admit it — you do these things, too! And that's OK. But maybe — just maybe — it's time to think about changing things up a little bit, for the sake of your sanity, your relationship with your kids, and because life's too short.

We asked veterinary experts and readers which breeds they think and if it is OK to shave longhaired pets in the summer.

Celeb moms post photos to show off their weight loss, but then they undermine their progress in the captions.

Kriste Lewis was inspired by her kidney disease to try out

Hittin' the road, moms and dads? Plan for these five things to happen...