Iowa holds top spot for high school graduation rate
The US Department of Education released data this week detailing high school graduation rates by state in 2010-11.
This week, Iowa was handed top honors for the nation's highest four-year high school graduation rate in the 2010-11 academic year, according to the U.S. Department of Education. This was the first year that all 50 states used a consistent, more accurate measure.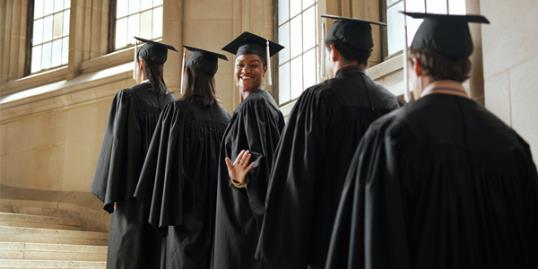 This transition to a common metric to gauge graduation rates reflects states' efforts to create greater uniformity and responsibility in reporting high school graduation data. In addition, it meets federal requirements established in October 2008.
More on MSN Living: 50 ways to stay bonded with your kids
"By using this new measure, states will be more honest in holding schools accountable and ensuring that students succeed," U.S. Secretary of Education Arne Duncan said in the U.S. Department of Education report. "Ultimately, these data will help states target support to ensure more students graduate on time, college and career ready."
More on MSN Living: Totally awkward pet holiday photos
According to state data, Iowa graduated 88 percent of students, with Texas, Vermont, Nebraska, New Hampshire, Tennessee, Wisconsin, Indiana and North Dakota close behind at 86 percent or better. Comparatively, Nevada and New Mexico graduated considerably fewer students; 62 and 63 percent, respectively.
Read the full story at DesMoinesRegister.co​m.
Photo: Ryan McVay/Getty Images
Bing: Top graduation songs for 2012
More on MSN Living:
10 most popular cat names
5 weird reasons couples have divorced
15 themed rooms for your teen
News, stories, tips and laughs for moms & dads
What are we teaching our children when we focus on their achievements rather than their kindness?

Discover the seemingly insignificant things that can affect your chances of getting pregnant.

A thrill-obsessed subculture claimed another life this week.

A few suggested answers for the diciest questions

Must-haves for every mommy on the road

Here's our list of fifteen moms in the food industry that deserve some recognition.

The site gets high marks for its user-friendly interface and excellent and responsive customer service. And the reviews are also pretty accurate. Compare amenities and prices next to a hotel's in the same area, and you're likely to see Airbnb come out on top.

We captured a frame-by-frame look just for you.

Other moms can be ruthless when it comes to picking apart your parenting choices. From dissing your decision to go back to work to criticizing when you started baby on solids, here are the most ridiculous comments moms have heard. Bonus, we've got just the right way to respond to the haters! You're welcome.

Nope, you don't have to spend the next nine months in black elastic-waist pants and oversize sweaters. And you don't have to shell out a fortune on your "temporary" wardrobe either. Check out these stylish and affordable maternity clothes.

Because society crumbles without us

Another kid figured out how to get into a claw machine.