Iowa holds top spot for high school graduation rate
The US Department of Education released data this week detailing high school graduation rates by state in 2010-11.
This week, Iowa was handed top honors for the nation's highest four-year high school graduation rate in the 2010-11 academic year, according to the U.S. Department of Education. This was the first year that all 50 states used a consistent, more accurate measure.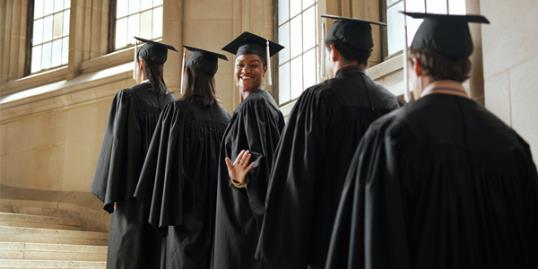 This transition to a common metric to gauge graduation rates reflects states' efforts to create greater uniformity and responsibility in reporting high school graduation data. In addition, it meets federal requirements established in October 2008.
More on MSN Living: 50 ways to stay bonded with your kids
"By using this new measure, states will be more honest in holding schools accountable and ensuring that students succeed," U.S. Secretary of Education Arne Duncan said in the U.S. Department of Education report. "Ultimately, these data will help states target support to ensure more students graduate on time, college and career ready."
More on MSN Living: Totally awkward pet holiday photos
According to state data, Iowa graduated 88 percent of students, with Texas, Vermont, Nebraska, New Hampshire, Tennessee, Wisconsin, Indiana and North Dakota close behind at 86 percent or better. Comparatively, Nevada and New Mexico graduated considerably fewer students; 62 and 63 percent, respectively.
Read the full story at DesMoinesRegister.co​m.
Photo: Ryan McVay/Getty Images
Bing: Top graduation songs for 2012
More on MSN Living:
10 most popular cat names
5 weird reasons couples have divorced
15 themed rooms for your teen
News, stories, tips and laughs for moms & dads
Learning these 10 things is a good base with which to begin the tough preteen and teen years. Helping our children maneuver life is our jobs as parents, even if we haven't quite figured it all out ourselves yet.

In a few short weeks you'll be dropping your child off at college, where they'll spend the next four years learning, laughing, and probably partying. Of course, in true teen fashion, your child has already started shopping for their dorm room essentials. Don't panic just yet!

When tots burst through the door after a busy day at school, the first order of business is securing a snack.

The only thing more important than what you pack your child for lunch is what you pack it in.

Frustrated mom invents Ignore No More app

Do you have the right mix of moms surrounding you?

It's hard to keep young kids entertained while being confined indoors, but fear not, for we have some fun ideas to keep the entire family from climbing the walls during rainy days.

Back in our day, ending up with the same exact backpack as your BFF was a legitimate back-to-school concern. Nowadays? There are so many options, it's dizzying!

It is a parent's eternal dilemma: What do I make the kids for lunch today? And tomorrow? And next week? We fall into ruts, succumb to the tried-and-true, give in to our children's demands for junk food. No more! These school lunch ideas—for everything from sandwiches to snacks to hot meals—will freshen up your daily routine, so much so you may be tempted to make them for yourself.

Whether your kids have recently gone back to school or are preparing to go shortly, it's never too late to start thinking about how we can make this year successful and low-stress, both for our kids and ourselves. With that, here are 6 things parents might want to stop doing this year in order to make it the best one yet...for all of you!

Some families spend their after-dinner time playing card games, watching television, or prepping for the next day. And that is fine and dandy, but be sure to incorporate some new, fun games and activities into your evenings to keep it fresh and exciting during the school year.

Head back to school in style with these fashionable, affordable picks