'Dear Santa' wish comes true for bullied sister
A young boy's heartbreaking letter is answered with good will.
Christmas has come early this year to Amber Suffern, the third-grader from North Carolina whose brother wrote to Santa asking that school bullies stop picking on her. A swirl of attention surrounded 8-year-old Amber and twin brother Ryan after the "Dear Santa" letter went viral last week, and now the media are helping to make the twins' wishes come true.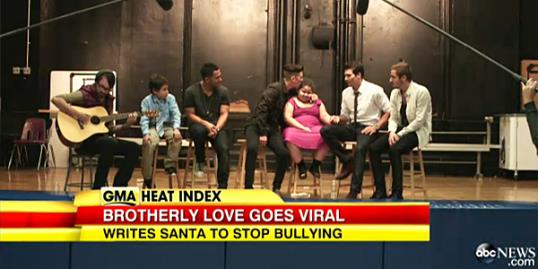 ABC's "Good Morning America" invited Amber, Ryan and their mother to the morning show's New York City studio on Friday. Recounting the story of brotherly love, "GMA" co-anchor Josh Elliott asked Ryan to read on camera the letter he'd written to Santa, describing it as "as beautiful as it was gut-wrenching."

Ryan began making his way through his own writing:

Dear Santa … I wanted a remot contor car and helicopter, but I don't want that any mor. Kid at school are still picking on Amber and its not fair because she doesnt do anything to them and it makes me mad. I prayed that they will stop but god is bisy and needs your help.
Asking if was "against the rules to give a gift early," Ryan put in one more request to the man up North. 
Can you ask Big Time Rush to come to Amber's B-day party. It will make her so happy.
"GMA" couldn't stop the kids on Amber's bus from taunting her and calling her cruel names — but they had some pull with her favorite boy band. 
Elliott told the twins that Ryan's letter had made it up to the North Pole early. Then, from behind a curtain, out walked the four members of Big Time Rush. 
Amber was slack-jawed and speechless. Her mom, Karen, was in tears. Ryan took his high fives. And things got even better when Big Time Rush sat the twins up on a pair of stools to serenade them. 
Carlos Pena from the band told HuffPost Live, "Ryan is so exceptional. He literally wrote that he didn't want anything — no cars, no nothing — just please, help my sister out. For an 8-year-old to be like that? To me, that's so inspiring."
The Suffern family was invited  to be VIP guests of Big Time Rush at a New York City concert this past weekend. 

Said "GMA" anchor Elliott at the close of the segment, "Bullying is a scourge that is taking our most precious resource — the young children of this country — so we need to stop it."
More from The Family Room:
Student banned over dyed hair
Daughters more likely to care for elderly parents
Flying Nannies: Would you use one during your next flight with baby?
Subscribe to The Family Room | Friend us on Facebook, follow us on Twitter and find us on Pinterest.
Photo: Video still of Ryan & Amber Suffern with Big Time Rush (Courtesy of GMA/ABC News)
News, stories, tips and laughs for moms & dads
Two sociologists have found that parents who have daughters are more inclined to support the GOP and turn a cold shoulder to Democrats.

The experts at Nameberry.com predict what will be big in baby-naming next year

Famed event-planner David Stark shared tips for making chic holiday decorations using items you already have around the house. Take a look!

Sociologist Karen Z. Kramer found that over the past decade more than 550,000 men were stay-at-home fathers, which is about 3.5 percent of the married with kids population.

Ben Miller celebrates his wife's birthday and the anniversary of the day their premature son Ward Miles came home for good with a video documenting his first year.

Adopting an animal is a major commitment. Yet all too often people put more effort into researching what kind of car to get than the type of pet that would best fit their lifestyle.

'Tis the season to send out holiday greeting cards to all your friends and family. But, as our friends at Awkward Family Pet Photos know, not all holiday snapshots are the same. Some are just plain kooky — especially when pets are included. So with good tidings and great cheer, here are 10 wacky holiday animal portraits that are sure to make you laugh out loud and get you in the holiday spirit. And possibly make you think twice about dressing up the family cat this year.

King of the jungle? Nah, it's just a labradoodle!

Side-by-side images of adorable babies and their celebrity doppelgängers

Do you have a finicky furry friend on your holiday gift list this year? You're in luck! We've rounded up the coolest cat-approved products to bring you purrfect gift ideas for every kind of cat -- from the curious kitten to the most refined feline. Any one of these special gifts could make your resident kitty purr with pleasure and maybe, just maybe, like the present this year even more than the box and wrapping paper it came in!

Plus, puppy names to watch

This holiday season's hottest toy has yet to be revealed, but more often than not, the best gifts are the ones kids don't even know to ask for. So this year, surprise your kids with unique presents under the tree, and watch as their eyes light up when they unwrap them. From space-age sand to a DIY race track, these out-of-the-box gift ideas will provide some serious shopping inspiration. Click through the slideshow above for all our favorite picks.