Why The Onion's tweet about Quvenzhané Wallis made me so upset
When our children take their turn in the spotlight, they have the right to leave it unscathed. It's our job as adults to protect them.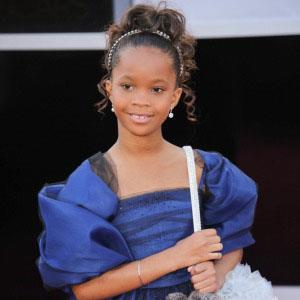 By Sabrina James 
Last night I sat down to watch the Oscar red carpet with my 6-year-old daughter Kaia. She played dress-up with her American Girl doll while I followed the commentary on Twitter. "Look, Mommy! Julie's all ready for the red carpet," she exclaimed, showing off the updo she created for her doll. She watched with mild interest until the moment we'd been waiting for arrived: Nine-year-old Quvenzhané Wallis appeared in a frenzy of flashing camera lights with her mom and sister in tow. "Look, Mommy, there she is! Look at her purse! It's a puppy!" Kaia jumped up and down. "I want one of those!" What a moment! I wanted my daughter to see a little girl, just like her, walking the red carpet among the most talented women in Hollywood. Quvenzhané did not disappoint. She was sassy and confident while talking to reporters. And she was dressed in a perfectly age-appropriate Armani gown that she chose because "it's sparkly!" Her mom looked on, proud as can be. I had a tear in my eye. "Do you know that she's going to play Annie in the new movie?" I asked. Kaia's smile was so big. "Wow, Mommy! She's the luckiest girl in the world!"
PLUS: The Best of Oscars 2013 
I have been a huge fan of Quvenzhané from the moment I saw the trailer for Beasts of the Southern Wild. She made the movie when she was only 6 years old and earned herself a Best Actress Oscar nomination for her performance. She deserves a standing ovation from us. Instead, last night, on her special night, she was subjected to the most distasteful showing of adult "humor" I have ever seen. It started with a "joke" by Oscar host Seth MacFarlane about how it will be "sixteen years before she's too old" for George Clooney, but sadly it didn't stop there. The popular satire site The Onion tweeted the following to its more than 4 million followers during the show last night: 
"Everyone else seems afraid to say it, but that Quvenzhané Wallis is kind of a ____, right?"
(If you want to see the actual tweet, it's here.)
As if it wasn't bad enough that she was sexualized in front of her peers during what was undoubtedly the most exciting night of her life, but to be further humiliated on a social networking site and called one of the most degrading terms that can be used toward women is reprehensible. The Onion is a satire site and although I am acutely aware that they didn't mean it, does that make it better? Am I supposed to laugh at the absurdity of the statement? Am I supposed to look at my daughter and think, wow, it would be really really funny and smart if someone jokingly called her the c word? How ironic. 
Many online have tried to make this a race issue. Saying she was singled out because she's a young black girl. I hope that's not the case. To me, this has less to do with race and everything to do with the fact that we have stopped respecting the innocence of our children. We've become so desensitized by the Toddlers and Tiaras culture that we take hurtful aim at those who epitomize childhood as much as the fluffy puppy purses they carry on the red carpet. Imagine what went through Quvenzhané's mother's mind when someone pulled her aside last night to tell her what happened. Did her stomach bottom out like mine did? Did she look at her daughter with a tear in her eye and thinkwhy? Why tonight? What is wrong with this world? 
I want my little girl to know she can do anything she sets her mind to. She can be herself, silly purse and all, and star in whatever version of life she desires. Kaia went to sleep last night clutching her American Girl doll tight, updo still in place, as I imagine Q did with her puppy purse. Both, I am sure, completely unaware of the storm brewing online in defense of little girls like them. In defense of their innocence. When our children take their turn in the spotlight, they have the right to leave it unscathed. It's our job as adults to protect them. 
I wish the headlines today were different. I wish we lived in a world where Quvenzhané could wake up this morning and search the internet with her mama to find herself on our best-dressed lists. To see celebrities like Oprah and Beyoncé, her biggest fans, rave about her. Instead her family must hide the horrible truth from her. The truth that our media took a cheap shot at someone too small to stand up for herself or to even know what the word she was called means. 
The way we treat our kids is no laughing matter. Quvenzhané Wallis is a lot of things. She is smart. She is sassy. She is talented. She is beautiful. And she is a child. She is not the c word. But thanks to the insensitive staffer at The Onion who decided to tweet and then recant the vulgar comment, this incident too is one of the ways she'll be remembered. 
As chief executive Steve Hannah of the Onion wrote in his apology this morning, "Miss Wallis, you are young and talented and deserve better. All of us at The Onion are deeply sorry." We all are, little girl. So, so sorry. 
More from Parenting: 
The best animated movies for kids
How the media affects childhood behavior 
News, stories, tips and laughs for moms & dads
Let these DIY dog bed projects be your inspiration and within a single weekend, you can construct something that really makes Rex feel like a king.

The task of finding an eco-friendly, safe-for-baby gift parents-to-be will actually use is kind of challenging. Add to that a price limit of $50, and the feat suddenly feels impossible! Fortunately, we combed the marketplace for some of the prettiest, most useful, sweetest gifts for baby and family. Many are fine on their own, while others would work well as part of a bigger basket — you know, if you wish to achieve that shower-goer hero status.

Jennifer Goodall gave birth Friday after much drama

My kids snapped a pic of me on my phone and it changed how I see myself

6-year-old has rare brain condition

He wanted to know if woman was pregnant

Did your state make the grade?

A new dad finds an Epcot Center's worth of innovation after expecting none at all.

Alcohol and tattoos are not meant for the pre-teen set

But Debra Harrell now has custody of daughter again

I am probably not the first to tell you this: Kids come with lots of stuff. Even if you try to be as minimal as possible, the little creatures require an awful lot to keep things running smoothly. Here's a master-plan slideshow of ways to cut corners on space in every room to accommodate all the things that come along with kids.

You never know for certain what type of parent you'll be until you've actually become one and your parenting style, as it becomes evident, may surprise you. Here are 4 parenting books to help you figure it all out.