Avoid what-not-to-say moments with new parents
Sleep-deprived and super-stressed new parents have heard it all.
NEW YORK (AP) — Your sex life will never be the same. In my day. What, not breast-feeding?
From diet tips to "little baby, little problems," sleep-deprived and super-stressed new parents have heard it all. And they want you to stop it.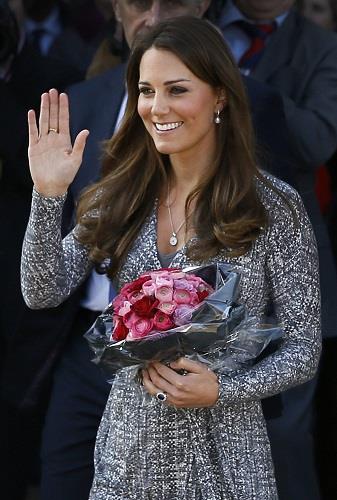 As Britain's Prince William and his wife, Kate, move along on their parenting journey, it seems even the queen has had a what-not-to-say moment. According to a special edition of Us magazine on raising royals, she exclaimed soon after William's birth: "Thank goodness he hasn't ears like his father!"
Most every new parent has a greatest hits of lame advice and annoying remarks. For fitness buff Brook Benten, mom of 4-month-old Hayes, her list included her post-baby body.
MSN Living: Top 10 secret mom confessions
"My swollen uterus made me look like I was still five months pregnant," said the Round Rock, Texas, mom. "I was elated to be a mother, but I knew good and well that I looked baaaaad. Well-intending visitors would look me once over and say, 'Wow! You look great!'"
And how should that have gone? "Compliment our baby. Tell us he/she is the cutest baby you've ever seen. But don't compliment the body of the new mother."
Devon Clement is a postpartum doula in Princeton, N.J. Basically, her job description is to be helpful to new parents. She has overheard some doozies and made up a facetious script for clients to hang on their doors. It covers a lot of ground:
"Dear Guests,
Thank you so much for coming to see our new addition(s), and for bringing your smiles, gifts and good wishes. Thank you, also, for leaving your germs at home. If you think you may be sick, we'll have a visit by waving at each other through the window. We also greatly appreciate the hot or easy-to-heat-up meal you've brought us, and the fact that you plan to keep your visit nice and short.
MSN Living: 7 annoying moms you'll meet at the park
"We've had a busy few days/weeks around here, so please excuse the mess in the house and the fact that I am still in my pajamas. ... I may need to breastfeed while you are here. If this offends you or makes you uncomfortable, I keep some blankets close by for you to put over your head.
"While we find it very interesting to hear your stories about what things were like when you had your babies, please keep your advice to yourself unless asked, especially if it comes with an air of judgment. We have enough information coming at us, and we are doing OK, thanks."
Bing: Parents' secret confessions
Perhaps most acutely distressed in the very early months are the parents of preemies.
Megan Lubin of Philadelphia gave birth three months early to her now-2-year-old and spent that time in a hospital's neonatal intensive care unit. Once he did come home, during winter, she and her husband didn't host many visitors or go out that much.
"When we did interact with the outside world, the comments and questions flooded in," she said. "We certainly didn't mind if people were curious or genuinely interested in our son, but it was hurtful at times when strangers would compare their child to ours."
Things not to say to the parents of a preemie?
"'Well, my child is the same age and much bigger!' Or, 'Your son is awfully thin,'" Lubin suggests. "The worst was when they would compare what their child was able to do."
Brandi Jordan, who owns a parenting resource center in Los Angeles, said the way to avoid ticking off new parents is pretty simple.
"I think that people should not give advice. Period," she said. "People see it as open license when they see someone with a baby to give them their opinion on how they should have socks on, or they should have a hat on, or they need sunblock, or you shouldn't be taking them out, they're too young. Some people make themselves armchair experts because they've read a lot of things."
That, she said, is why the what-not-to-say problem is so out of control these days. Blogs, social networks and simple online search are the armchair expert's best friends, said Jordan, who has a 6-year-old.
Instead of advice, how about not coming over for a visit when you have a cold, even though you think you and your kids are no longer contagious? How about not asking the new parents of multiples: "Are they natural or IVF?"
But she has a suggestion for new parents, too: How about not rejecting outright the experiences of your own parents due to their grandparently status?
"A lot of new parents discount what their own parents actually know, but a lot of grandparents do have good traditional things that work really well," she said.
First, she said, parents need to realize that they really do need help. "Before, you didn't need help because your family was right there and did everything, but so many people are far removed from their families."
But make sure help is help. Visits should be 10 minutes, not two hours, in the early days unless you plan to throw in a load of laundry, do dishes or cook a meal.
Dr. Richard So, a pediatrician at Cleveland Clinic Children's hospital, has three kids of his own. The youngest is not yet 2.
His advice for well-meaning loved ones: "Leave the lasagna or manicotti at the door."
Among the what-not-to-say moments that set his phone ringing: "Oh my gosh, what is that rash on your baby's face?" And "Oh my gosh, what's wrong with your baby's head?"
Rashes: They're common for newborns. The head: It often doesn't exit a woman's body completely round.
So what should a well-intentioned visitor be doing?
"Ninety percent is just reassuring that mother that she's doing the right things, that she's not going to harm her baby," he said. "All a new baby needs to do is eat, sleep, poop and grow."
More from The Family Room:
Royal baby makes his debut
What were the prince and duchess like as kids?
What will the royal baby's last name be?
Subscribe to The Family Room | Friend us on Facebook, follow us on Twitter and find us on Pinterest.
Photo: Duchess of Cambridge in February. (AP Photo/Kirsty Wigglesworth, File)
News, stories, tips and laughs for moms & dads
Protect yourself and your family with these ingenious gizmos and smartphone apps.

Make sure your go-to gadgets are as cute as your style, with these trendy tech finds!

Oh, how the times have changed...

Get ready to hit the mall! Check out the hottest back-to-school trends—and get ready to make a major style statement this year.

Unique, or downright strange?

This is Kevin Droniak and his grandma. They're besties, they're awesome and they're YouTube stars.

It can be difficult to entice little ones to eat anything at all, let alone to devour a healthy plate. But feeding your kids nutritious snacks after school just got way easier, thanks to these adorably clever and cute snack ideas! For more smart and fun ways to get your kids to enjoy healthful and delicious foods, try one of these amazingly artsy lunch ideas.

Through a tonsillectomy all the way to brain surgery, my mother deserves some recognition. She's my spine, my birthday shadow, my BFF, my thunder buddy, so Mommy, thank you.

My son needs me, as much as yours needs you. Sadly, my son needs me more. He needs someone to have his back, when it seems that the police, the men he'd wave to with excitement as a little boy, see him as a being worthy only of prison or death.

If you know someone who has adopted and have made some of these comments, don't fret... now you know!

"Because you shine from within," I said, touching my finger to her heart. "Not everybody sees it, but I do. I see it. And my job is to protect that light. So when people say mean comments that squelch that light, I want you to tell me. I will protect your light by listening and loving you, my brave, courageous, and unique little firefly."

Studies have shown that it helps, top education officials have recommended it, and now doctors are officially saying the same.