Students, teachers: No gay kids at prom
Some teens, parents and teachers at an Indiana school are fighting to ban gays for a 'traditional' prom.
A group of several students, parents, and at least one teacher at Sullivan High School in Sullivan, Indiana are lobbying for a "traditional prom" that would ban gay students from attending reports Huffington Post.
Administrators at Sullivan High School are not backing the movement, so the group is considering the possibility of a "separate but equal" prom.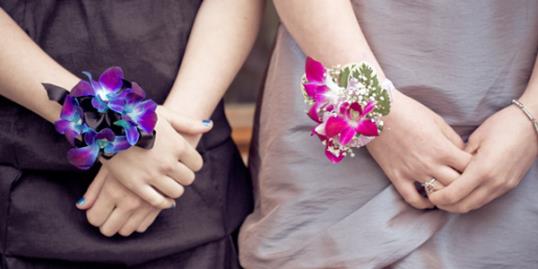 More from MSN Living: How dogs make our lives better
"We want to make the public see that we love the homosexuals, but we don't think it's right nor should it be accepted," student Bonnie McCammon told NBC 2.
Several local pastors also support the separate prom movement.
"Christians have always been prepared for a fight. Jesus gave us armor for the front, not the back; we're not running anymore," Bill Phegley with Carlisle Church told NBC 2.
Meanwhile, a Facebook page, Support The Sullivan High School Prom For All Students, is gaining momentum in defense of the school's lesbian, gay, bisexual and transgender (LGBT) student body. Currently, the page has over 2,300 likes.
More on MSN Living: 10 adorable Valentine's Day ideas for kids
Seattle-based LGBT activist Dan Savage also weighed in on the subject in his blog:
"There's no way to stop the haters at Sullivan High School from holding an independent prom for the special bigoted kids. But here's what we can do: We can make a noise so loud enough that all the queer kids at Sullivan High School hear it. Those kids need to know that there are people -- a lot of people -- who think this sh*t is wrong."
Do you think it's OK for schools to have a "traditional" prom and an "alternative" prom?
Tell us on Facebook: How do YOU feel about this?
Bing: Worst prom photos ever
Love content like this? Friend us on Facebook, follow us on Twitter and find us on Pinterest.
Readers: Calling all mom bloggers – we're looking for fresh voices on MSN Living. Email us your samples and contact info!
Photo: Angela Auclair/Getty Images

This is so lame. Half the people who claim to be gay are just jumping on the bandwagon so they have something to fill their empty lives. All of a sudden everyone is gay, yeah right. True gay people like the ones we grew up with wouldn't let stuff like this bother them, they knew acceptance would never be gained by force or flamboyance. The more push the more resistance they will receive. By the way a true Christian knows we are all sinners and fall short of the glory of God. Yes straight and gay alike need to turn from their sins and seek Jesus.

Most sanctimonious Christians are bigots who use their religion and the Bible as an excuse for their bad behavior. If they stated they wanted a "separate, but equal" prom for whites and blacks, we all know what would happen. Why is this any different? One prom for all students or no prom. Period.

Lobbying for this kind of behavior is the most un-christ thing anyone could do. To say 'Jesus gave us armor for the front' is a front for people's own hate-filled ways ideologies they call: morals. This has nothing to do with morals. If the school was responsible they wouldn't allow this kind of thing to happen. We will look back at history at stories like this and say: I can't believe this kind of thing happened. Great way to care about your students way to go - singling them out, making it so they can't participate, and basically saying we don't accept you as a person at all. 
Are you sure you want to delete this comment?
News, stories, tips and laughs for moms & dads
"Because you shine from within," I said, touching my finger to her heart. "Not everybody sees it, but I do. I see it. And my job is to protect that light. So when people say mean comments that squelch that light, I want you to tell me. I will protect your light by listening and loving you, my brave, courageous, and unique little firefly."

Studies have shown that it helps, top education officials have recommended it, and now doctors are officially saying the same.

I may have accidentally dropped you a few times, forgotten to document your first fart, let a little pee fly and dressed you like an idiot, but I have also loved you with every piece of me, and you will never hear an apology for that.

Back-to-school shopping is still in full swing, and your little gents probably need some new kicks to round out their fall wardrobes (you already picked up some bold shoes for the little ladies in your life, right?).

Not every kid is a fan of returning to the classroom, so parents try to ease the blow with a little back-to-school shopping.

Would you rather be a parent now or then?

As all the kids line up to go to school, your son, Timmy, turns to you and says, "I don't want to take the bus. My stomach hurts. Please don't make me go." You cringe and think, Here we go again. What should be a simple morning routine explodes into a daunting challenge.

The strong bonds that dogs can form are undeniable.

Think you know your pet's every unspoken wish? Think again. Your pet is unlikely to be capable of communicating her wants and needs in ways you might assume she would. Even those of you most in touch with your pets' feelings are likely missing a few cues here and there.

The Chesapeake Bay Retriever made both our readers' and veterinary professionals' lists of breeds that love the water.

You might proudly call yourself a dog owner, pet parent or canine guardian, but let's be real: Your dog owns you. You might be laughing now, but think about it — you've surrendered the best seat on the sofa to him, you plan your entire weekend around his trips to the dog park, and you take him to the groomer more often than you get your own hair cut. And let's not forget who's in every photo on your Facebook and Instagram feeds. Sound familiar? We thought so. But in case you still think you're in charge, here are seven classic signs that your dog is the one calling the shots.

One of the best things about being a veterinarian is all the different dogs I get to meet. Of course, I love the Labs and Beagles and Boxers and Poodles, not to mention those crazy Canine Cocktails, or what my parents used to call Heinz 57s. They are among the more popular dogs out there, and I see a lot of them. In fact, it used to be that it was rare to see anything else. Here are nine dog breeds I sometimes see now that I didn't see in the past.