Siblings meet 67 years later
After decades of searching, Anthony Leonard finally met his biological family.
An adoptee, Anthony Leonard had been searching for his long-lost siblings for years. After nearly seven decades, Leonard recently met his sister, Heather Nelson, and brother, Kim, at the Portland airport.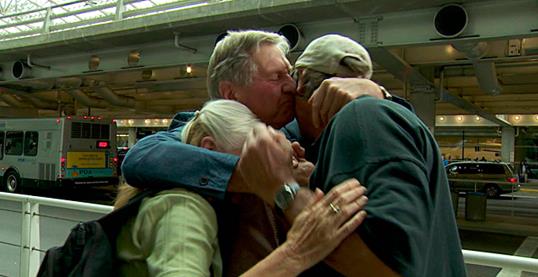 MSN Living: An adoption journey – with a shocking twist
"I've needed a big brother my whole life," Nelson told KATU. She previously believed she was the oldest in the family.
Their mother was a young nurse during World War II. She fell in love with a soldier who was deployed to Belgium. After he was gone for over a year, she thought the worst. Eventually, she met someone else. As Nelson explained:
"She's 25. She's pregnant with Anthony but she never told us and we never knew by looking at the pictures that that was the case." 
MSN Living: The truth & lies about adoption

When their mother discovered her soldier was alive, she gave Anthony up for adoption and moved to the United States to marry the love of her life. Nelson only recently discovered the secret when Leonard contacted her from England. 
Unfortunately, the siblings' mother passed away 12 years ago.
"I think she engineered it from heaven myself," Nelson said. "That's what I think."
Watch the whole heartwarming story here.
More from Family Room:
Couple regrets conceiving twins
Some parents trade adopted kids online
Best and worst careers for working moms
Subscribe to The Family Room | Friend us on Facebook, follow us on Twitter and find us on Pinterest.
Photo: Siblings are reunited in Oregon after 67 years (Courtesy of KATU.com)

After six decades my wife's brothers and sisters, with two sisters yet to find, have been reunited.  Unfortunately my wife went to be with our Lord before this took place but you can bet she is watching over everyone with a big smile on her beautiful face.  So, why don't all you complainers just put it in park and be happy for those who have found each other, regardless of the past.
I thought this story was about the siblings meeting for the first time and their joy in finding one another!  It appears from the postings I've read its about judging the mother and other women both known and unknown! 
 I will leave the judging to the other posting folks who MUST BE very qualified to judge others and just say GREAT TO THE SIBLINGS!

Just another reason why shared parenting should be law in custody cases. This shows the selfish reasons of many, many women who have children from affairs. The man's father was out fighting the Nazi's and this woman was at home getting laid, THEN gave up the kid because she didn't want the returning soldier to dump her. Pitiful. Happens everyday.

Are you sure you want to delete this comment?
News, stories, tips and laughs for moms & dads
6-year-old has rare brain condition

He wanted to know if woman was pregnant

Did your state make the grade?

A new dad finds an Epcot Center's worth of innovation after expecting none at all.

Alcohol and tattoos are not meant for the pre-teen set

But Debra Harrell now has custody of daughter again

I am probably not the first to tell you this: Kids come with lots of stuff. Even if you try to be as minimal as possible, the little creatures require an awful lot to keep things running smoothly. Here's a master-plan slideshow of ways to cut corners on space in every room to accommodate all the things that come along with kids.

You never know for certain what type of parent you'll be until you've actually become one and your parenting style, as it becomes evident, may surprise you. Here are 4 parenting books to help you figure it all out.

Sunshine! Camping! Pool parties! BBQs! The sunny season is here and to help you make the most of it, we've hand-picked 7 great products to make this summer the best your family has ever had. Click through for our list to inspire your sunny day fun. From our sponsor: Walmart

We all love a picnic. But do one quick search for 'picnic ideas' on Pinterest and you're instantly teleported into a land of overachieving home chefs clearly looking for their big break on Food Network. Well, never mind that, we say. Scratch the 25-ingredient recipes and the incessant trips to the craft store for that perfect tablescape. Here are 5 truly simple picnic ideas that will look great, taste great, and make you feel like the winner you are! From our sponsor: Walmart

Admit it — you do these things, too! And that's OK. But maybe — just maybe — it's time to think about changing things up a little bit, for the sake of your sanity, your relationship with your kids, and because life's too short.

We asked veterinary experts and readers which breeds they think and if it is OK to shave longhaired pets in the summer.