5 states to increase class time in some schools
A three-year pilot program will add 300 hours of learning time to help boost achievement.
In an effort to step up student achievement, Colorado, Connecticut, Massachusetts, New York, and Tennessee announced today a three-year pilot program that will affect nearly 20,000 students reports Newser. Initially, the program will roll out in 35 schools, which will extend both the school day and the school year during the 2013-14 academic year, The New York Times reports.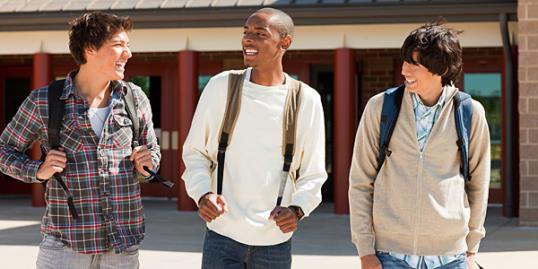 More on MSN Living: 10 ways your cat shows you love
The 300 extra hours of classroom time is meant to help underperforming students stay globally competitive on standardized tests and allow more access to enrichment activities like art and music, reports The Associated Press. Already, more than 1,000 U.S. schools operate on expanded schedules, an increase of 53 percent over 2009, reports the AP.
Increased classroom time has been a long-time priority for Education Secretary Arne Duncan. "Whether educators have more time to enrich instruction or students have more time to learn how to play an instrument and write computer code, adding meaningful in-school hours is a critical investment that better prepares children to be successful in the 21st century," Duncan was quoted in a statement to the AP.
More on MSN Living: Most popular kitten and puppy names
The programs will be run by state education officials and subsidized with federal, state, and district funds as well as resources from the National Center on Time & Learning and the Ford Foundation, which is committing $3 million a year in grants over the next three years.
According to the AP, not everyone is convinced about this extension in class time. A report last year from the National School Boards Association's Center for Public Education pointed out that a number of nations that are out-educating the United States - Finland, Japan and South Korea, for example - actually spend fewer hours in school than most U.S. students.
So, if extra learning time is the not the solution, how do we celebrate great teachers, strengthen the educational system and give students the tools they need to succeed in the 21st century? Discuss with others on our Facebook page...
Read the fully story at The New York Times.
Bing: The argument for an extended school day
Photo: Image Source/Getty Images
More on MSN Living:
The reality of being a working mom
The secret life of a stay-at-home mom
10 hot trends in baby products
News, stories, tips and laughs for moms & dads
Protect yourself and your family with these ingenious gizmos and smartphone apps.

Make sure your go-to gadgets are as cute as your style, with these trendy tech finds!

Oh, how the times have changed...

Get ready to hit the mall! Check out the hottest back-to-school trends—and get ready to make a major style statement this year.

Unique, or downright strange?

This is Kevin Droniak and his grandma. They're besties, they're awesome and they're YouTube stars.

It can be difficult to entice little ones to eat anything at all, let alone to devour a healthy plate. But feeding your kids nutritious snacks after school just got way easier, thanks to these adorably clever and cute snack ideas! For more smart and fun ways to get your kids to enjoy healthful and delicious foods, try one of these amazingly artsy lunch ideas.

Through a tonsillectomy all the way to brain surgery, my mother deserves some recognition. She's my spine, my birthday shadow, my BFF, my thunder buddy, so Mommy, thank you.

My son needs me, as much as yours needs you. Sadly, my son needs me more. He needs someone to have his back, when it seems that the police, the men he'd wave to with excitement as a little boy, see him as a being worthy only of prison or death.

If you know someone who has adopted and have made some of these comments, don't fret... now you know!

"Because you shine from within," I said, touching my finger to her heart. "Not everybody sees it, but I do. I see it. And my job is to protect that light. So when people say mean comments that squelch that light, I want you to tell me. I will protect your light by listening and loving you, my brave, courageous, and unique little firefly."

Studies have shown that it helps, top education officials have recommended it, and now doctors are officially saying the same.