5 states to increase class time in some schools
A three-year pilot program will add 300 hours of learning time to help boost achievement.
In an effort to step up student achievement, Colorado, Connecticut, Massachusetts, New York, and Tennessee announced today a three-year pilot program that will affect nearly 20,000 students reports Newser. Initially, the program will roll out in 35 schools, which will extend both the school day and the school year during the 2013-14 academic year, The New York Times reports.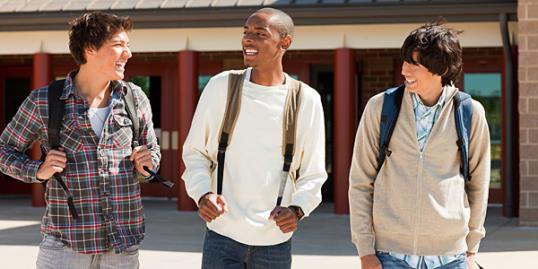 More on MSN Living: 10 ways your cat shows you love
The 300 extra hours of classroom time is meant to help underperforming students stay globally competitive on standardized tests and allow more access to enrichment activities like art and music, reports The Associated Press. Already, more than 1,000 U.S. schools operate on expanded schedules, an increase of 53 percent over 2009, reports the AP.
Increased classroom time has been a long-time priority for Education Secretary Arne Duncan. "Whether educators have more time to enrich instruction or students have more time to learn how to play an instrument and write computer code, adding meaningful in-school hours is a critical investment that better prepares children to be successful in the 21st century," Duncan was quoted in a statement to the AP.
More on MSN Living: Most popular kitten and puppy names
The programs will be run by state education officials and subsidized with federal, state, and district funds as well as resources from the National Center on Time & Learning and the Ford Foundation, which is committing $3 million a year in grants over the next three years.
According to the AP, not everyone is convinced about this extension in class time. A report last year from the National School Boards Association's Center for Public Education pointed out that a number of nations that are out-educating the United States - Finland, Japan and South Korea, for example - actually spend fewer hours in school than most U.S. students.
So, if extra learning time is the not the solution, how do we celebrate great teachers, strengthen the educational system and give students the tools they need to succeed in the 21st century? Discuss with others on our Facebook page...
Read the fully story at The New York Times.
Bing: The argument for an extended school day
Photo: Image Source/Getty Images
More on MSN Living:
The reality of being a working mom
The secret life of a stay-at-home mom
10 hot trends in baby products
News, stories, tips and laughs for moms & dads
6-year-old has rare brain condition

He wanted to know if woman was pregnant

Did your state make the grade?

A new dad finds an Epcot Center's worth of innovation after expecting none at all.

Alcohol and tattoos are not meant for the pre-teen set

But Debra Harrell now has custody of daughter again

I am probably not the first to tell you this: Kids come with lots of stuff. Even if you try to be as minimal as possible, the little creatures require an awful lot to keep things running smoothly. Here's a master-plan slideshow of ways to cut corners on space in every room to accommodate all the things that come along with kids.

You never know for certain what type of parent you'll be until you've actually become one and your parenting style, as it becomes evident, may surprise you. Here are 4 parenting books to help you figure it all out.

Sunshine! Camping! Pool parties! BBQs! The sunny season is here and to help you make the most of it, we've hand-picked 7 great products to make this summer the best your family has ever had. Click through for our list to inspire your sunny day fun. From our sponsor: Walmart

We all love a picnic. But do one quick search for 'picnic ideas' on Pinterest and you're instantly teleported into a land of overachieving home chefs clearly looking for their big break on Food Network. Well, never mind that, we say. Scratch the 25-ingredient recipes and the incessant trips to the craft store for that perfect tablescape. Here are 5 truly simple picnic ideas that will look great, taste great, and make you feel like the winner you are! From our sponsor: Walmart

Admit it — you do these things, too! And that's OK. But maybe — just maybe — it's time to think about changing things up a little bit, for the sake of your sanity, your relationship with your kids, and because life's too short.

We asked veterinary experts and readers which breeds they think and if it is OK to shave longhaired pets in the summer.