School bans Ten Commandments from classrooms
One Oklahoma school district has decided to remove plaques of the Ten Commandments from classrooms in response to a student complaint.
After one student blew the whistle, an Oklahoma school district decided to permanently take down the Ten Commandments in all its classrooms.
The student, Gage Pulliam, reached out to the Freedom from Religion Foundation for support in getting the plaques removed from the school.
"I just want people to know I'm not attacking Christianity," Pulliam told 4029tv.com. "I'm just trying to make everything equal for everyone."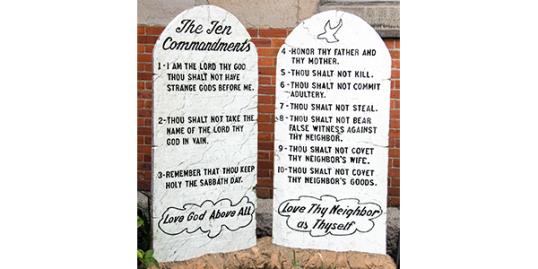 More from MSN Living: What no one told me about motherhood
School administrators did not fight the complaint, reportedly in fear of facing a lawsuit.
"There's no point in continuing to fight a losing battle," Jerry Richardson, the school district's attorney, told 4029tv.com. "In these types of situations, schools districts get sued and lose. They end up not only having to pay their lawyers, but the other side's lawyers, as well."
Bing: What role should religion play in public education?
The decision to pull down the Ten Commandment flags was made during a standing room-only Monday school board meeting.
More from MSN Living: 8 most wrinkled dog breeds
"We hate the decision that they've had to make, but we support them in the decision," said Pastor Shawn Money, reports 4029tv.com. "We pray that there is an alternative and that someday those Commandments will go back up on the wall."
Read the entire story here and a copy of the letter sent from the Freedom from Religion Foundation here.
Tell us: Do you think the school district did the right thing?
More from The Family Room
How to talk to your kids about kidnapping
'Sesame Street' gets new Hispanic character
Most popular baby names of 2012
Love content like this? Friend us on Facebook, follow us on Twitter, and find us on Pinterest.
Readers: Calling all mom bloggers — we're looking for fresh voices on MSN Living. Email us your samples and contact info.
Photo: Ten Commandments / Richard Goerg/Getty Images
News, stories, tips and laughs for moms & dads
Would you rather be a parent now or then?

As all the kids line up to go to school, your son, Timmy, turns to you and says, "I don't want to take the bus. My stomach hurts. Please don't make me go." You cringe and think, Here we go again. What should be a simple morning routine explodes into a daunting challenge.

The strong bonds that dogs can form are undeniable.

Think you know your pet's every unspoken wish? Think again. Your pet is unlikely to be capable of communicating her wants and needs in ways you might assume she would. Even those of you most in touch with your pets' feelings are likely missing a few cues here and there.

The Chesapeake Bay Retriever made both our readers' and veterinary professionals' lists of breeds that love the water.

You might proudly call yourself a dog owner, pet parent or canine guardian, but let's be real: Your dog owns you. You might be laughing now, but think about it — you've surrendered the best seat on the sofa to him, you plan your entire weekend around his trips to the dog park, and you take him to the groomer more often than you get your own hair cut. And let's not forget who's in every photo on your Facebook and Instagram feeds. Sound familiar? We thought so. But in case you still think you're in charge, here are seven classic signs that your dog is the one calling the shots.