School bans Ten Commandments from classrooms
One Oklahoma school district has decided to remove plaques of the Ten Commandments from classrooms in response to a student complaint.
After one student blew the whistle, an Oklahoma school district decided to permanently take down the Ten Commandments in all its classrooms.
The student, Gage Pulliam, reached out to the Freedom from Religion Foundation for support in getting the plaques removed from the school.
"I just want people to know I'm not attacking Christianity," Pulliam told 4029tv.com. "I'm just trying to make everything equal for everyone."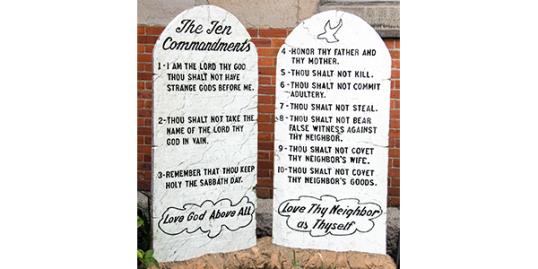 More from MSN Living: What no one told me about motherhood
School administrators did not fight the complaint, reportedly in fear of facing a lawsuit.
"There's no point in continuing to fight a losing battle," Jerry Richardson, the school district's attorney, told 4029tv.com. "In these types of situations, schools districts get sued and lose. They end up not only having to pay their lawyers, but the other side's lawyers, as well."
Bing: What role should religion play in public education?
The decision to pull down the Ten Commandment flags was made during a standing room-only Monday school board meeting.
More from MSN Living: 8 most wrinkled dog breeds
"We hate the decision that they've had to make, but we support them in the decision," said Pastor Shawn Money, reports 4029tv.com. "We pray that there is an alternative and that someday those Commandments will go back up on the wall."
Read the entire story here and a copy of the letter sent from the Freedom from Religion Foundation here.
Tell us: Do you think the school district did the right thing?
More from The Family Room
How to talk to your kids about kidnapping
'Sesame Street' gets new Hispanic character
Most popular baby names of 2012
Love content like this? Friend us on Facebook, follow us on Twitter, and find us on Pinterest.
Readers: Calling all mom bloggers — we're looking for fresh voices on MSN Living. Email us your samples and contact info.
Photo: Ten Commandments / Richard Goerg/Getty Images
News, stories, tips and laughs for moms & dads
Get ready to hit the mall! Check out the hottest back-to-school trends—and get ready to make a major style statement this year.

Unique, or downright strange?

This is Kevin Droniak and his grandma. They're besties, they're awesome and they're YouTube stars.

It can be difficult to entice little ones to eat anything at all, let alone to devour a healthy plate. But feeding your kids nutritious snacks after school just got way easier, thanks to these adorably clever and cute snack ideas! For more smart and fun ways to get your kids to enjoy healthful and delicious foods, try one of these amazingly artsy lunch ideas.

Through a tonsillectomy all the way to brain surgery, my mother deserves some recognition. She's my spine, my birthday shadow, my BFF, my thunder buddy, so Mommy, thank you.

My son needs me, as much as yours needs you. Sadly, my son needs me more. He needs someone to have his back, when it seems that the police, the men he'd wave to with excitement as a little boy, see him as a being worthy only of prison or death.

If you know someone who has adopted and have made some of these comments, don't fret... now you know!

"Because you shine from within," I said, touching my finger to her heart. "Not everybody sees it, but I do. I see it. And my job is to protect that light. So when people say mean comments that squelch that light, I want you to tell me. I will protect your light by listening and loving you, my brave, courageous, and unique little firefly."

Studies have shown that it helps, top education officials have recommended it, and now doctors are officially saying the same.

I may have accidentally dropped you a few times, forgotten to document your first fart, let a little pee fly and dressed you like an idiot, but I have also loved you with every piece of me, and you will never hear an apology for that.

Back-to-school shopping is still in full swing, and your little gents probably need some new kicks to round out their fall wardrobes (you already picked up some bold shoes for the little ladies in your life, right?).

Not every kid is a fan of returning to the classroom, so parents try to ease the blow with a little back-to-school shopping.