School bans Ten Commandments from classrooms
One Oklahoma school district has decided to remove plaques of the Ten Commandments from classrooms in response to a student complaint.
After one student blew the whistle, an Oklahoma school district decided to permanently take down the Ten Commandments in all its classrooms.
The student, Gage Pulliam, reached out to the Freedom from Religion Foundation for support in getting the plaques removed from the school.
"I just want people to know I'm not attacking Christianity," Pulliam told 4029tv.com. "I'm just trying to make everything equal for everyone."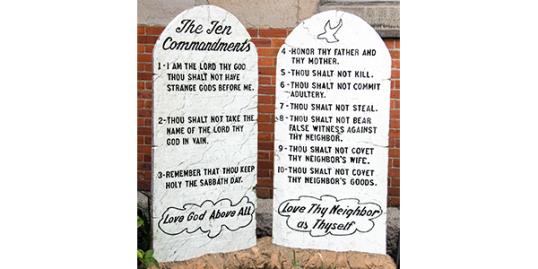 More from MSN Living: What no one told me about motherhood
School administrators did not fight the complaint, reportedly in fear of facing a lawsuit.
"There's no point in continuing to fight a losing battle," Jerry Richardson, the school district's attorney, told 4029tv.com. "In these types of situations, schools districts get sued and lose. They end up not only having to pay their lawyers, but the other side's lawyers, as well."
Bing: What role should religion play in public education?
The decision to pull down the Ten Commandment flags was made during a standing room-only Monday school board meeting.
More from MSN Living: 8 most wrinkled dog breeds
"We hate the decision that they've had to make, but we support them in the decision," said Pastor Shawn Money, reports 4029tv.com. "We pray that there is an alternative and that someday those Commandments will go back up on the wall."
Read the entire story here and a copy of the letter sent from the Freedom from Religion Foundation here.
Tell us: Do you think the school district did the right thing?
More from The Family Room
How to talk to your kids about kidnapping
'Sesame Street' gets new Hispanic character
Most popular baby names of 2012
Love content like this? Friend us on Facebook, follow us on Twitter, and find us on Pinterest.
Readers: Calling all mom bloggers — we're looking for fresh voices on MSN Living. Email us your samples and contact info.
Photo: Ten Commandments / Richard Goerg/Getty Images
News, stories, tips and laughs for moms & dads
It's time to start rifling through bins of composition notebooks, glue sticks and highlighter pens. Your kids are heading back to school! We've rounded up 10 relatively easy DIY ideas from Pinterest to satisfy any crafty (or wannabe) parent. Send your kids off with one of these cute concepts that are sure to deliver lots of 'likes' on your Facebook page.

Family had lived in Portugal for several years

Dining hall food, delish? Yes! With a little know-how and maybe a few minutes waiting to use the communal microwave, you can DIY concoctions that are healthy, yummy, and will definitely keep you from snoozing through your afternoon classes.

The dog days of summer may be well behind us, but that doesn't mean it's time to pack in the outdoor adventures quite yet.

Between the Halloween costume sewing and pumpkin patch outings, you probably don't have time to give your little one's nursery a full-blown Fall makeover. But luckily there are plenty of simple, sweet ways to incorporate the season.

During the prekids phase of marriage, the focus of your relationship is on a party of two, and if you're lucky, it's pretty blissful.

From about first grade all the way through college, back-to-school shopping meant color-coded lists and endless trips to the local Target. There's nothing like the giddy feeling of writing in a brand new planner (with colored pens of course). Maybe it was just my OCD kicking in, but getting organized for the new school year felt therapeutic in a Martha Stewart sort of way.

Every year, my mother insisted on the classic first day of school photo—uniform on, hair bow in place, plus frilly socks and Mary Janes, of course. But no photo opp was complete without my Kipling backpack that was about as big as I was (at least until 2nd grade or so).

Some people make big resolutions right before New Year's Eve, others on their birthdays, but mine always happen while back-to-school shopping. Something about the pristine, blank pages of my untouched notebooks and crisp, un-sharpened pencils has always made me feel like anything's possible: This will be the year I actually write down my assignments. I'm going to hole-punch and and organize all my handouts. No more showing up to class unprepared!

A special relationship that's worth noting.

You might have more in common than you think.

Feeling outsmarted by your little? So is this mother.