Connecticut shooting: Parents react with fear, sadness and empathy
'News of any harm done to children hits home', one mother says.
Written by Elena Donovan Mauer for TheBump.com
Friday morning, at Sandy Hook Elementary School in Newtown, Connecticut, gunman Ryan Lanza reportedly killed 26 people of whom 20 were small children. As news of this tragedy spread across the country, parents reacted in shock and sorrow -- crying, hugging their kids a little tighter and even considering homeschooling, for fear that this type of tragedy could happen in their own communities. It seems we're all shaken up by this horrific event and can't help but imagine being in the shoes of parents who lost their children, or those whose kids will be forever affected by what they experienced today.
"I feel absolutely awful thinking about those poor families and the terror they must have felt as they raced to school to see if their babies were okay. I am squeezing my daughter tight and covering her in kisses." -- Vanessa R.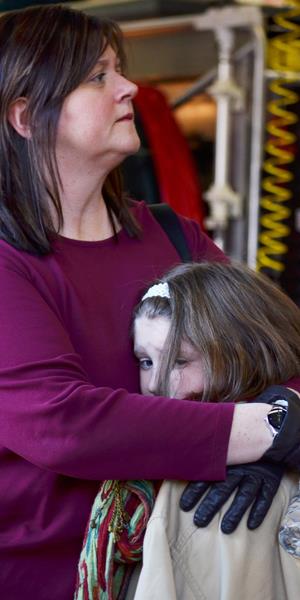 More from The Bump: Prepare for possible emergencies
"News of any harm done to children hits home. Motherhood changes how you look at life, and you suddenly feel the pain that those parents are going through. Keeping them all in our thoughts and very grateful that mine are safe." -- Sandra G.
"What a scary world we live in where we have to fear sending our babies to elementary school. My heart aches for the parents of those babies and the world." -- Anastasia B.
"I have lost all faith in humanity." -- Amanda G.
"I just held my 11-day-old and cried. I'm so anxious for her big sister to get home from school so I can hug her tight as well." -- Tara M.
"There are no words. I'm speechless. And seriously considering homeschooling my daughter." -- Hannah L.
More from The Bump: Being pregnant during a high-stress even and what to do
"We are going to homeschool and not look back. I want to wrap my arms around those parents." -- Mary M.
"It's every parent's nightmare." -- Shelley P.
"My child starts preschool next year, and this makes me second-guess sending her." -- Amanda V.
"I'm terrified. I don't know how I will send my daughter to school in a country where this happens far too much. I am a public school teacher, and this makes me want to quit and homeschool my baby." -- Jenn D.
"My daughter hasn't left my lap, and I have no intentions of putting her down anytime soon! As a new mama, my heart hurts in ways I've never felt before for all those parents!" -- Gina R.
"I'm afraid for my son's future. As a mother, I want nothing more than to hold him close and keep him safe. We can't be with our children 24/7, but to know of these types of dangers and evil makes me want nothing but to do just that." -- Lupe E.
"It's very sad to hear, and being a new mommy, it hit me on a deeper level. I live in Connecticut, and I never expected anything like this to happen here. Everyone around here is in utter shock, sick and saddened by this tragedy." -- Christine Y. 
"Having a kindergartner and knowing an entire kindergarten class is unaccounted for breaks my heart! There is such innocence at that age, and I just cannot fathom it!" -- Paige V.
"This broke my heart as an expecting mother -- I am truly scared to bring my baby into this world with such monsters amongst us! Just praying for these babies and their families." -- Jessica J.
"Don't forget the survivors whose lives will be forever scarred by this tragedy!" -- Meredith P.
"It breaks my heart and absolutely terrifies me to bring my two girls up in a world like this." -- Jamie B.
"I can't stop crying, but I have to because it's time to pick my kids up from school. How do you explain this?" -- Chasity C.
"Scared. My son is three, just a few short years away from being in school full-time. Things like this are happening more and more, and it's scary. I can't even imagine [what it will be like for] the families left in the wake of this." -- Megan G.
"My heart and prayers are with those families. No child should ever have to feel that kind of fear." – Shannon B.
"There are no words to truly explain how saddened and devastated I feel. All 600-plus children in that school lost their innocence today." -- Heather W.
"I pray for all the families affected. My heart is utterly crushed. The most precious things in the world were taken away from their parents. I cannot understand this." -- Abbie Q.
Photo: AP Images / The Bump
More from The Bump:
How to keep baby safe
Are you sharing too much about baby online?
How is your nanny using social media?
Top 10 fears of new moms
How to find the right caregiver
News, stories, tips and laughs for moms & dads
Millennials have a notoriously bad rap. In the age of all-encompassing technology, recent generations are often criticized for their affinity for video games, their short attention spans and their selfie-obsession. Such insularity in face of the apex of globalization seems especially troubling. And yet, there may be hope. All conjecture aside, social media has a different story to tell about the leaders of tomorrow. Not too long ago, Malala Yousufzai became the youngest Nobel Peace Prize nominee in history, but she's not the only wunderkind to watch. Click through this slideshow for our list of today's top ten inspirational kids. We think you'll find Malala's in very good company.

Find yourself wandering the aisles, suddenly needing an owl-shaped candle while drinking a $5 latte? You're not alone, moms...

When it comes to traveling with the family, "adventure" can mean a lot of different things. Just packing the suitcases for a 3-hour flight can be an adventure of its own. And surviving a 5-hour flight with a toddler? That's a whole different kind of adventure (tip: pack snacks). But when your family adventure is good, it can be is really, really good. Sometimes swimming with dolphins or ziplining through the rainforest is just the kind of vacation that will make you forget all about airport hassle, and will get your kids (even the teens) smiling. From hiking the Rockies to white-water rafting, we've found 11 family adventure vacations that will get the adrenaline pumping without driving you crazy.

When you're expecting a baby, preparations can be overwhelming. Decorating is stressful as it is, and when it comes to nurseries, there are the added concerns of reducing sharp edges, use of engaging colors and -- if you're a believer in the powers of feng shui—optimal furniture placement. Luckily, your favorite fashionable A-listers are here with tons of dazzling baby room ideas. Click through this slideshow for more nursery ideas from celebrities, stylists and just plain fashionable moms.

Our Research Institute scouted out the New York City Toy Fair and spotted a few standouts we predict will be topping wish lists shortly.

When we scoped out the New York City Toy Fair, we spotted everything from human-like robots to kid-friendly DIY projects.

Stroll down any aisle of a Toys"R"Us these days and you'll be confronted with a billion options that are light-years beyond anything you had to entertain yourself with as a kid. Lego cruise ships (complete with flatscreen TVs in the lounge and sideboard jet-skis), battery-operated Mercedes-Benz sedans, and hi-tech tablets with Android operating systems abound. We wondered, as we let ourselves get nostalgic for a moment, if any of the beloved toys we played with as children were still even on the market. Thanks to a quick hunt on the Internet we were able to find that Fisher Price still makes their classic Two Tune TV, and you can still get your hands on a good ol' Slinky. Here's a roundup of the best old-school toys for kids-- we encourage you to click through the slideshow and consider wrapping up a well-loved classic for your little one this year.

Not great with a budget? Don't sweat it. Try these simple ways to save.

Watch the video of Kristen Bell going head to head with paparazzi - it will make you angry

Every year, toy makers from around the world gather to show their latest creations at the Toy Fair in New York City. The high-tech models, gadgets and trinkets on display put those basic Legos we played with at kids to shame. Here are 10 new toys that we'd happily buy or children. Or, really, ourselves.

Here's some parenting advice for whatever stage of separation or divorce you're in.

Whether you pop it in the mail or post it on social media, a creative photo is a surefire way to grab everyone's attention and proudly say, "I'm pregnant!" Prepare for a lot of likes.