Single child families: The new normal?
According to the U.S. Census Bureau, the single child family is the fastest-growing family unit. Is one child the new traditional family - and is it fair?
Nearly half of children in the U.K. are in single-child families, Aquarius magazine reports. It's the same in some parts of the U.S. where according to the U.S. Census Bureau, the single child family is the fastest-growing family unit.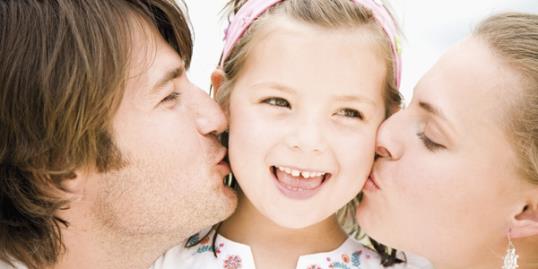 More from MSN Living: Top 10 dog names of the year
Gallup first measured Americans' preferred family size in 1936, at which time close to two-thirds (64 percent) thought three or more children was ideal. This view stretched to 77 percent at the end of World War II and remained near 70 percent for an additional two decades. But attitudes shifted in the 1970s following the publication of the book "The Population Bomb," which warned of the catastrophic risks of overpopulation.
As U.S. birth rates drop – the Centers for Disease Control and Prevention (CDC) reported that the country experienced a four percentage point decline in live births between 2007 and 2009 – and preferences continue to shift toward smaller family sizes, the great only child debate rages on.
More from MSN Living: 15 amazing, inspiring baby nurseries
Take Carmen* for example. The 32-year-old woman loved growing up sans siblings and would highly recommend it.
"In my opinion, children without siblings are higher achievers because they're exposed to increased parental scrutiny," she told Aquarius magazine. "When the spotlight is on you, and only you, you pull your socks up that bit higher."
In his book, "Maybe One: A Case for Smaller Families," author Bill McKibben reveals that only children also score higher when it comes to making friends, adjusting to new environments, self-control and interpersonal skills.
Amelia*, 46, is one of four siblings and mother of four children, believes in the benefits from growing up with a sister or brother at home.
"Growing up in a big family, there were times I would quite happily have swapped all my siblings for the chance to have my own bedroom," she told Aquarius magazine. "But as adults, they are my go-to people – a phenomenon researchers at Ohio State University call the 'hour glass effect of siblings.' meaning how we grow apart and then grow back together in later years."
Tell us on Facebook: Do you think it's fair to have an only child? What are the positives and negatives of this family dynamic?
*Names changed to protect identity
Bing: How much does it cost to raise a child?
More from Family Room:
Teen mom denied right to breast feed
Toddler death raises concern over car seat rules
Violent video games and child aggression
Love content like this? Friend us on Facebook, follow us on Twitter and find us on Pinterest.
Readers: Calling all mom bloggers – we're looking for fresh voices on MSN Living. Email us your samples and contact info!
Photo: Single child families / Sonntag/Getty Images
News, stories, tips and laughs for moms & dads
Get ready to hit the mall! Check out the hottest back-to-school trends—and get ready to make a major style statement this year.

Unique, or downright strange?

This is Kevin Droniak and his grandma. They're besties, they're awesome and they're YouTube stars.

It can be difficult to entice little ones to eat anything at all, let alone to devour a healthy plate. But feeding your kids nutritious snacks after school just got way easier, thanks to these adorably clever and cute snack ideas! For more smart and fun ways to get your kids to enjoy healthful and delicious foods, try one of these amazingly artsy lunch ideas.

Through a tonsillectomy all the way to brain surgery, my mother deserves some recognition. She's my spine, my birthday shadow, my BFF, my thunder buddy, so Mommy, thank you.

My son needs me, as much as yours needs you. Sadly, my son needs me more. He needs someone to have his back, when it seems that the police, the men he'd wave to with excitement as a little boy, see him as a being worthy only of prison or death.

If you know someone who has adopted and have made some of these comments, don't fret... now you know!

"Because you shine from within," I said, touching my finger to her heart. "Not everybody sees it, but I do. I see it. And my job is to protect that light. So when people say mean comments that squelch that light, I want you to tell me. I will protect your light by listening and loving you, my brave, courageous, and unique little firefly."

Studies have shown that it helps, top education officials have recommended it, and now doctors are officially saying the same.

I may have accidentally dropped you a few times, forgotten to document your first fart, let a little pee fly and dressed you like an idiot, but I have also loved you with every piece of me, and you will never hear an apology for that.

Back-to-school shopping is still in full swing, and your little gents probably need some new kicks to round out their fall wardrobes (you already picked up some bold shoes for the little ladies in your life, right?).

Not every kid is a fan of returning to the classroom, so parents try to ease the blow with a little back-to-school shopping.