Single child families: The new normal?
According to the U.S. Census Bureau, the single child family is the fastest-growing family unit. Is one child the new traditional family - and is it fair?
Nearly half of children in the U.K. are in single-child families, Aquarius magazine reports. It's the same in some parts of the U.S. where according to the U.S. Census Bureau, the single child family is the fastest-growing family unit.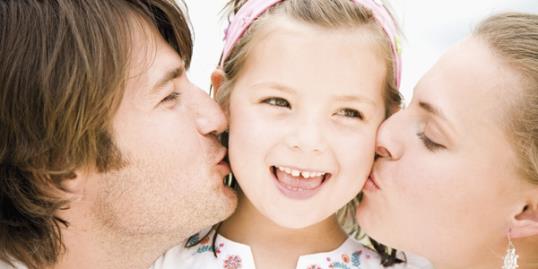 More from MSN Living: Top 10 dog names of the year
Gallup first measured Americans' preferred family size in 1936, at which time close to two-thirds (64 percent) thought three or more children was ideal. This view stretched to 77 percent at the end of World War II and remained near 70 percent for an additional two decades. But attitudes shifted in the 1970s following the publication of the book "The Population Bomb," which warned of the catastrophic risks of overpopulation.
As U.S. birth rates drop – the Centers for Disease Control and Prevention (CDC) reported that the country experienced a four percentage point decline in live births between 2007 and 2009 – and preferences continue to shift toward smaller family sizes, the great only child debate rages on.
More from MSN Living: 15 amazing, inspiring baby nurseries
Take Carmen* for example. The 32-year-old woman loved growing up sans siblings and would highly recommend it.
"In my opinion, children without siblings are higher achievers because they're exposed to increased parental scrutiny," she told Aquarius magazine. "When the spotlight is on you, and only you, you pull your socks up that bit higher."
In his book, "Maybe One: A Case for Smaller Families," author Bill McKibben reveals that only children also score higher when it comes to making friends, adjusting to new environments, self-control and interpersonal skills.
Amelia*, 46, is one of four siblings and mother of four children, believes in the benefits from growing up with a sister or brother at home.
"Growing up in a big family, there were times I would quite happily have swapped all my siblings for the chance to have my own bedroom," she told Aquarius magazine. "But as adults, they are my go-to people – a phenomenon researchers at Ohio State University call the 'hour glass effect of siblings.' meaning how we grow apart and then grow back together in later years."
Tell us on Facebook: Do you think it's fair to have an only child? What are the positives and negatives of this family dynamic?
*Names changed to protect identity
Bing: How much does it cost to raise a child?
More from Family Room:
Teen mom denied right to breast feed
Toddler death raises concern over car seat rules
Violent video games and child aggression
Love content like this? Friend us on Facebook, follow us on Twitter and find us on Pinterest.
Readers: Calling all mom bloggers – we're looking for fresh voices on MSN Living. Email us your samples and contact info!
Photo: Single child families / Sonntag/Getty Images
News, stories, tips and laughs for moms & dads
Yep, you're older than you think

Avoid these gaffes for a better relationship with your stepchildren—and your spouse.

The top 25 best holiday movies for kids and their families, from old school classics like Miracle on 34th Street and It's a Wonderful Life, to newer classics like Elf and The Nightmare Before Christmas.

Since the dawn of time, we men have been preprogrammed with two biological imperatives: Number one: to bravely kill bathtub spiders; and number two: to reproduce. (Actually, I really should have ordered those in reverse.) So what happens when we find out we're infertile?

New mamas weigh in on all the things they wish someone had warned them about before baby arrived.

We scoured Pinterest for 30 way-too-cute Elf on the Shelf poses we'd never seen before...let these inspire you during your family's funniest tradition.

Stroll down any aisle of a Toys"R"Us these days and you'll be confronted with a billion options that are light-years beyond anything you had to entertain yourself with as a kid. Lego cruise ships (complete with flatscreen TVs in the lounge and sideboard jet-skis), battery-operated Mercedes-Benz sedans, and hi-tech tablets with Android operating systems abound. We wondered, as we let ourselves get nostalgic for a moment, if any of the beloved toys we played with as children were still even on the market. Thanks to a quick hunt on the Internet we were able to find that Fisher Price still makes their classic Two Tune TV, and you can still get your hands on a good ol' Slinky. Here's a roundup of the best old-school toys for kids-- we encourage you to click through the slideshow and consider wrapping up a well-loved classic for your little one this year.

Cabbage Path Kids turn 30 this year.

Baby booms are certainly fun, but the pileup of shower invites can be rough on a bank account. The challenge: Find a great gift for cheap that's cute, useful, "big" enough to count as a whole gift...and doesn't seem like you skimped. Here are eight fun, functional options I love that definitely fit the bill. And they're all under $30! By The Bump Editors

You'd be shocked at how much a choice selection of apps can change your life for the better. From a honing device for kid-friendly locations to a virtual accountant, these eleven apps belong on every parent's home screen. It may seem counterintuitive, but amping up your smartphone with these handy features will actually make unplugging that much easier, since you know you've got your bases covered. Check them out in the slideshow above, download what you will, and we bet you won't be able to remember what life was like without them.

12 playful and engaging gift ideas for babies and toddlers this season.