Single child families: The new normal?
According to the U.S. Census Bureau, the single child family is the fastest-growing family unit. Is one child the new traditional family - and is it fair?
Nearly half of children in the U.K. are in single-child families, Aquarius magazine reports. It's the same in some parts of the U.S. where according to the U.S. Census Bureau, the single child family is the fastest-growing family unit.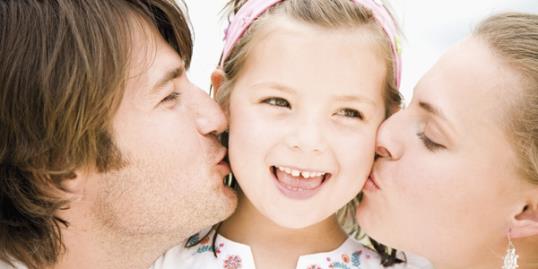 More from MSN Living: Top 10 dog names of the year
Gallup first measured Americans' preferred family size in 1936, at which time close to two-thirds (64 percent) thought three or more children was ideal. This view stretched to 77 percent at the end of World War II and remained near 70 percent for an additional two decades. But attitudes shifted in the 1970s following the publication of the book "The Population Bomb," which warned of the catastrophic risks of overpopulation.
As U.S. birth rates drop – the Centers for Disease Control and Prevention (CDC) reported that the country experienced a four percentage point decline in live births between 2007 and 2009 – and preferences continue to shift toward smaller family sizes, the great only child debate rages on.
More from MSN Living: 15 amazing, inspiring baby nurseries
Take Carmen* for example. The 32-year-old woman loved growing up sans siblings and would highly recommend it.
"In my opinion, children without siblings are higher achievers because they're exposed to increased parental scrutiny," she told Aquarius magazine. "When the spotlight is on you, and only you, you pull your socks up that bit higher."
In his book, "Maybe One: A Case for Smaller Families," author Bill McKibben reveals that only children also score higher when it comes to making friends, adjusting to new environments, self-control and interpersonal skills.
Amelia*, 46, is one of four siblings and mother of four children, believes in the benefits from growing up with a sister or brother at home.
"Growing up in a big family, there were times I would quite happily have swapped all my siblings for the chance to have my own bedroom," she told Aquarius magazine. "But as adults, they are my go-to people – a phenomenon researchers at Ohio State University call the 'hour glass effect of siblings.' meaning how we grow apart and then grow back together in later years."
Tell us on Facebook: Do you think it's fair to have an only child? What are the positives and negatives of this family dynamic?
*Names changed to protect identity
Bing: How much does it cost to raise a child?
More from Family Room:
Teen mom denied right to breast feed
Toddler death raises concern over car seat rules
Violent video games and child aggression
Love content like this? Friend us on Facebook, follow us on Twitter and find us on Pinterest.
Readers: Calling all mom bloggers – we're looking for fresh voices on MSN Living. Email us your samples and contact info!
Photo: Single child families / Sonntag/Getty Images
News, stories, tips and laughs for moms & dads
Back-to-school shopping is still in full swing, and your little gents probably need some new kicks to round out their fall wardrobes (you already picked up some bold shoes for the little ladies in your life, right?).

Not every kid is a fan of returning to the classroom, so parents try to ease the blow with a little back-to-school shopping.

Would you rather be a parent now or then?

As all the kids line up to go to school, your son, Timmy, turns to you and says, "I don't want to take the bus. My stomach hurts. Please don't make me go." You cringe and think, Here we go again. What should be a simple morning routine explodes into a daunting challenge.

The strong bonds that dogs can form are undeniable.

Think you know your pet's every unspoken wish? Think again. Your pet is unlikely to be capable of communicating her wants and needs in ways you might assume she would. Even those of you most in touch with your pets' feelings are likely missing a few cues here and there.

The Chesapeake Bay Retriever made both our readers' and veterinary professionals' lists of breeds that love the water.

You might proudly call yourself a dog owner, pet parent or canine guardian, but let's be real: Your dog owns you. You might be laughing now, but think about it — you've surrendered the best seat on the sofa to him, you plan your entire weekend around his trips to the dog park, and you take him to the groomer more often than you get your own hair cut. And let's not forget who's in every photo on your Facebook and Instagram feeds. Sound familiar? We thought so. But in case you still think you're in charge, here are seven classic signs that your dog is the one calling the shots.

One of the best things about being a veterinarian is all the different dogs I get to meet. Of course, I love the Labs and Beagles and Boxers and Poodles, not to mention those crazy Canine Cocktails, or what my parents used to call Heinz 57s. They are among the more popular dogs out there, and I see a lot of them. In fact, it used to be that it was rare to see anything else. Here are nine dog breeds I sometimes see now that I didn't see in the past.

Learning these 10 things is a good base with which to begin the tough preteen and teen years. Helping our children maneuver life is our jobs as parents, even if we haven't quite figured it all out ourselves yet.

Is your teen about to attend one of these top-ranking schools?

We've all seen her... But should we judge her?