Single child families: The new normal?
According to the U.S. Census Bureau, the single child family is the fastest-growing family unit. Is one child the new traditional family - and is it fair?
Nearly half of children in the U.K. are in single-child families, Aquarius magazine reports. It's the same in some parts of the U.S. where according to the U.S. Census Bureau, the single child family is the fastest-growing family unit.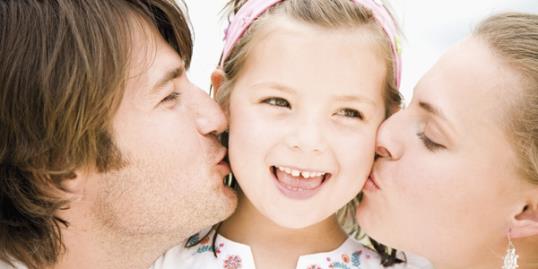 More from MSN Living: Top 10 dog names of the year
Gallup first measured Americans' preferred family size in 1936, at which time close to two-thirds (64 percent) thought three or more children was ideal. This view stretched to 77 percent at the end of World War II and remained near 70 percent for an additional two decades. But attitudes shifted in the 1970s following the publication of the book "The Population Bomb," which warned of the catastrophic risks of overpopulation.
As U.S. birth rates drop – the Centers for Disease Control and Prevention (CDC) reported that the country experienced a four percentage point decline in live births between 2007 and 2009 – and preferences continue to shift toward smaller family sizes, the great only child debate rages on.
More from MSN Living: 15 amazing, inspiring baby nurseries
Take Carmen* for example. The 32-year-old woman loved growing up sans siblings and would highly recommend it.
"In my opinion, children without siblings are higher achievers because they're exposed to increased parental scrutiny," she told Aquarius magazine. "When the spotlight is on you, and only you, you pull your socks up that bit higher."
In his book, "Maybe One: A Case for Smaller Families," author Bill McKibben reveals that only children also score higher when it comes to making friends, adjusting to new environments, self-control and interpersonal skills.
Amelia*, 46, is one of four siblings and mother of four children, believes in the benefits from growing up with a sister or brother at home.
"Growing up in a big family, there were times I would quite happily have swapped all my siblings for the chance to have my own bedroom," she told Aquarius magazine. "But as adults, they are my go-to people – a phenomenon researchers at Ohio State University call the 'hour glass effect of siblings.' meaning how we grow apart and then grow back together in later years."
Tell us on Facebook: Do you think it's fair to have an only child? What are the positives and negatives of this family dynamic?
*Names changed to protect identity
Bing: How much does it cost to raise a child?
More from Family Room:
Teen mom denied right to breast feed
Toddler death raises concern over car seat rules
Violent video games and child aggression
Love content like this? Friend us on Facebook, follow us on Twitter and find us on Pinterest.
Readers: Calling all mom bloggers – we're looking for fresh voices on MSN Living. Email us your samples and contact info!
Photo: Single child families / Sonntag/Getty Images
News, stories, tips and laughs for moms & dads
Remember the concept of weekends being a time for rest, relaxation, and togetherness? No? Us either. Between soccer games, playdates, dragging your kids to see the new exhibition at the local children's museum, and we need to pick up a gift for that birthday party that starts in . . . 20 minutes, juggling a busy family's weekend schedule can be more stressful than a weekday. While we know it's simply not realistic to cancel all your plans and obligations moving forward, clearing the calendar for just one weekend can be just the refresher that your family's craving. Here's why.

Any of these sound familiar?

4 steps for raising a child who doesn't feel emotionally stranded.

You just had a baby? You're a superstar! All those diapers, all that spit up, and you're makin' magic happen. But you're also likely tired - really tired - and busy (so, so busy). Taking time for yourself might seem like an indulgence but a happy mom makes for a happy baby. Here are 7 things you should definitely do to keep your sanity intact and your spirit high. <more, below>

Summertime is on, and the kids are out of school. Every mom knows that for these three months it's more important than ever to keep the kids busy. But you don't have to schedule your life away with camps, or drop a bundle on activities and games that come in a box. You can make your own fun, and even include the kids in the prep, with some simple, inexpensive DIY crafts that will keep them playing 'til the lightening bugs come out. Make your own fingerpaint, bubbles, and crayons. Create a fort-building kit and superhero capes that will kick their imaginations into overdrive. Here are 10 of our favorite kid-friendly DIY crafts to fuel your summertime fun.

Let these DIY dog bed projects be your inspiration and within a single weekend, you can construct something that really makes Rex feel like a king.

The task of finding an eco-friendly, safe-for-baby gift parents-to-be will actually use is kind of challenging. Add to that a price limit of $50, and the feat suddenly feels impossible! Fortunately, we combed the marketplace for some of the prettiest, most useful, sweetest gifts for baby and family. Many are fine on their own, while others would work well as part of a bigger basket — you know, if you wish to achieve that shower-goer hero status.

Jennifer Goodall gave birth Friday after much drama

My kids snapped a pic of me on my phone and it changed how I see myself

6-year-old has rare brain condition

He wanted to know if woman was pregnant

Did your state make the grade?