Possible dangers of helicopter parenting
Could extreme levels of parental protection and responsiveness to children be counterproductive?
When did obsessing about kids' safety and success became the norm? And what happens to students who aren't allowed to suffer through setbacks?
A new study out of Queensland University of Technology examines the concept of "overparenting," which is characterized as parents' misguided attempt to improve their child's current and future personal and academic success. Other common terms for this parenting style include 'helicopter parenting' (hovering closely overhead, rarely out of reach, whether their children need them or not) and 'lawnmower parenting' (mothers and fathers attempting to smooth out and mow down all obstacles).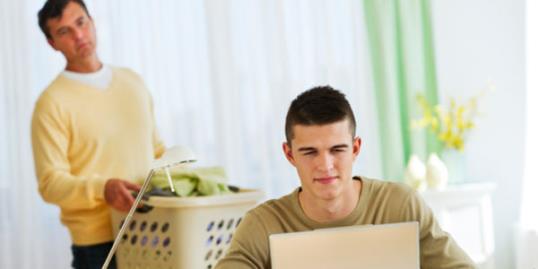 More from MSN Living: Crazy dating trends we hope go away
In a recent article in The Atlantic, English, Latin, and writing teacher Jessica Lahey of Lyme, New Hampshire talks about this whole new level of overprotectiveness and the findings of the study. "Parents who raise their children in a state of helplessness and powerlessness, children destined to an anxious adulthood, lacking the emotional resources they will need to cope with inevitable setback and failure," Lahey writes.
More from MSN Living: The truth behind Seen on TV products
In an attempt to understand such behaviors, the authors of the study surveyed psychologists, guidance counselors, and teachers. One example of overparenting that surfaced included parents who "take their child's perception as truth, regardless of the facts," and are "quick to believe their child over the adult and deny the possibility that their child was at fault or would even do something of that nature."
As a teacher, Lahey encounters most what the authors term "high responsiveness and low demandingness" parents. These parents are highly responsive to the perceived needs and issues of their children, and don't give their children the chance to solve their own problems.
Bing: Secrets of successful parents
You know the type. The parent who drops everything to deliver forgotten homework or lunch money. They are so overprotective of their children that they never learn to take responsibility (and the natural consequences) of their actions. Yet, given a choice, teachers say, overinvolved parents are preferable to invisible ones.
The challenge is helping parents know when they are crossing the line.  A 100 percent safe world is not possible. And every teacher has a story of a student who needed to fail in order to be reassured that the world wouldn't come to an end.
Back in 1918, D.H. Lawrence offered this advice: "How to begin to educate a child. First rule: leave him alone. Second rule: leave him alone. Third rule: leave him alone. That is the whole beginning."
Do you think that overparenting could negatively impact a child's wellbeing?
More from Family Room:
Most addictive video games for kids
Toddler death raises concern over car seat rules
Violent video games and child aggression
Love content like this? Friend us on Facebook, follow us on Twitter and find us on Pinterest.
Readers: Calling all mom bloggers – we're looking for fresh voices on MSN Living. Email us your samples and contact info!
Photo: Tetra Images/Getty Images
News, stories, tips and laughs for moms & dads
Transform the fall vegetable into cool decor pieces.

Put together these creative, but simple, Halloween looks for your youngsters.

We know you're documenting just about every move baby makes. (Do you even have any memory left on your phone? We didn't think so.) These tips from professional photographers can help you perfect your pics.

These six on-trend ideas will make baby's room your new favorite place to hang out.

Baby probably won't remember his first birthday party, but that doesn't mean you can't go all out (after all, parents need to celebrate making it through this first year, right?). These fun, colorful themes take planning to the next level.

See what celebrities who had problems conceiving have to say.

You'll be hearing a lot of advice and opinions. Some of it will be really helpful and some will be just plain wrong. Here are the most common things people say about babies that aren't true.

A new dad finds an Epcot Center's worth of innovation after expecting none at all.

The dog days of summer may be well behind us, but that doesn't mean it's time to pack in the outdoor adventures quite yet.

Protect yourself and your family with these ingenious gizmos and smartphone apps.

Make sure your go-to gadgets are as cute as your style, with these trendy tech finds!

Oh, how the times have changed...