Michelle Duggar says she's trying for baby No. 20!
How many is too many?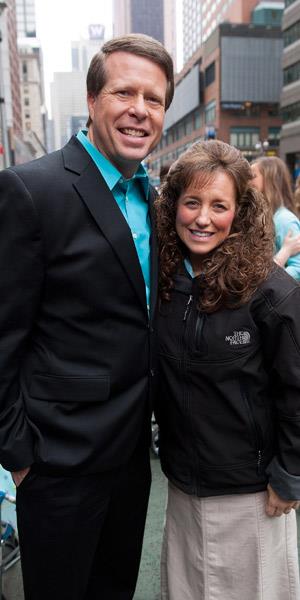 Word on the
CelebrityBabyScoop
street is that
Michelle Duggar
and her gang of
19 kids
are ready to open their arms once more for
baby No. 20
!
Jim Bob
and Michelle, who are parents to more J-named kids than I can count on my hands (but not my hands and toes combined, y'all!), are not currently expecting — but it doesn't mean they aren't trying to add another baby to the already oversized mix. In an exclusive interview with
CelebrityBabyScoop.c​om
, Michelle shared: "I would be so grateful if the Lord blessed us with another one. We're trying at this point and we shall see if that is a possibility. If not, we are so thankful and grateful for the ones that God has given us so far. We are also definitely enjoying our grandbabies! They are so precious!"
Back in March, Michelle spoke with People about the possibility of adoption. She said, "The kids are definitely pushing towards wanting us to open our home up to another child or more. They see how much we have been blessed with and how little so many children have and they want to share. We tell our children that would have to be something that is God's will for our family, and we will see if it is. Our children love children, and we all do." Looks like, for now, the plan is to conceive naturally.
But before you fall off your rocker, Michelle says she's well aware that the critics feel adding one more baby Duggar may officially cause the cup to runneth over — but they still want to try. "I think that there is this ideology that goes behind overpopulation that I don't really agree with," she says. "It's a different perspective and that's where people have their different ideas, and that's okay. That's what makes the world go around; there are many different ideas and different perspectives about certain topics."
And don't ask mama if she's done her research, because she and JB are well-versed in the world of overpopulation (and they don't agree!). She added, "We have studied it and I believe that there is a misconception about overpopulation. I think that the whole mindset of overpopulation is really overrated. A few years back, we stated that the whole population of the world could be stood
shoulder-to-shoulder​
in Jacksonville. That may have changed a little bit since we've heard that statistic."
One thing you've got give Michelle credit for (whether you're with her or not), is the fact that she doesn't let public opinion deter her and her family from their beliefs, their desires and most importantly — their family planning. She even chalks some of the negative comments about their decision to expand once more to basic math. She told CelebrityBabyScoop, "People were saying, 'Oh, that's way too many kids and I can't imagine that many children in one family!' However, my daughter, Jill, said to us, 'Mom, Dad, I don't understand why people would say that. Love really, truly multiplies…it doesn't divide. When you have more people in the family, there is that many more people to spread love all around!' I think Jill said it very wisely; love does multiply. It's a joy, because there are that many more people and that much more love in the house!"
While I couldn't picture parenting — or hell, even delivering — 19 kids and still wanting more, I can totally get behind their daughter's comments. Adding to your family really does make the love multiply (even though diapers, space and baby gear it does not).
The joys that new baby and a new family member bring are unlike anything else in the world, so it's not hard to see that Michelle, Jim Bob and their brood just want sprinkle a little more of that special sauce around. It's sweet, isn't it?
Do you think 20 babies is too many?
More from The Bump:
By Kylie McConville
Photo: Getty Images / The Bump
News, stories, tips and laughs for moms & dads
Adopting an animal is a major commitment. Yet all too often people put more effort into researching what kind of car to get than the type of pet that would best fit their lifestyle.

'Tis the season to send out holiday greeting cards to all your friends and family. But, as our friends at Awkward Family Pet Photos know, not all holiday snapshots are the same. Some are just plain kooky — especially when pets are included. So with good tidings and great cheer, here are 10 wacky holiday animal portraits that are sure to make you laugh out loud and get you in the holiday spirit. And possibly make you think twice about dressing up the family cat this year.

King of the jungle? Nah, it's just a labradoodle!

Side-by-side images of adorable babies and their celebrity doppelgängers

Do you have a finicky furry friend on your holiday gift list this year? You're in luck! We've rounded up the coolest cat-approved products to bring you purrfect gift ideas for every kind of cat -- from the curious kitten to the most refined feline. Any one of these special gifts could make your resident kitty purr with pleasure and maybe, just maybe, like the present this year even more than the box and wrapping paper it came in!

Plus, puppy names to watch

This holiday season's hottest toy has yet to be revealed, but more often than not, the best gifts are the ones kids don't even know to ask for. So this year, surprise your kids with unique presents under the tree, and watch as their eyes light up when they unwrap them. From space-age sand to a DIY race track, these out-of-the-box gift ideas will provide some serious shopping inspiration. Click through the slideshow above for all our favorite picks.

Yep, you're older than you think

Avoid these gaffes for a better relationship with your stepchildren—and your spouse.

The top 25 best holiday movies for kids and their families, from old school classics like Miracle on 34th Street and It's a Wonderful Life, to newer classics like Elf and The Nightmare Before Christmas.

Since the dawn of time, we men have been preprogrammed with two biological imperatives: Number one: to bravely kill bathtub spiders; and number two: to reproduce. (Actually, I really should have ordered those in reverse.) So what happens when we find out we're infertile?

New mamas weigh in on all the things they wish someone had warned them about before baby arrived.