Michelle Duggar says she's trying for baby No. 20!
How many is too many?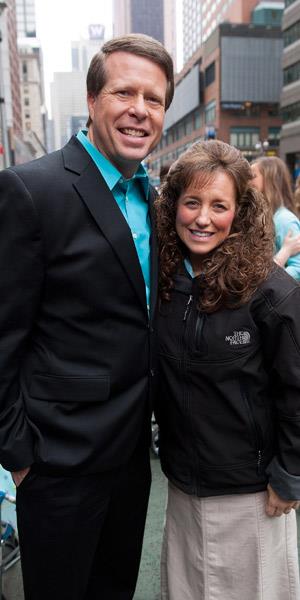 Word on the
CelebrityBabyScoop
street is that
Michelle Duggar
and her gang of
19 kids
are ready to open their arms once more for
baby No. 20
!
Jim Bob
and Michelle, who are parents to more J-named kids than I can count on my hands (but not my hands and toes combined, y'all!), are not currently expecting — but it doesn't mean they aren't trying to add another baby to the already oversized mix. In an exclusive interview with
CelebrityBabyScoop.c​om
, Michelle shared: "I would be so grateful if the Lord blessed us with another one. We're trying at this point and we shall see if that is a possibility. If not, we are so thankful and grateful for the ones that God has given us so far. We are also definitely enjoying our grandbabies! They are so precious!"
Back in March, Michelle spoke with People about the possibility of adoption. She said, "The kids are definitely pushing towards wanting us to open our home up to another child or more. They see how much we have been blessed with and how little so many children have and they want to share. We tell our children that would have to be something that is God's will for our family, and we will see if it is. Our children love children, and we all do." Looks like, for now, the plan is to conceive naturally.
But before you fall off your rocker, Michelle says she's well aware that the critics feel adding one more baby Duggar may officially cause the cup to runneth over — but they still want to try. "I think that there is this ideology that goes behind overpopulation that I don't really agree with," she says. "It's a different perspective and that's where people have their different ideas, and that's okay. That's what makes the world go around; there are many different ideas and different perspectives about certain topics."
And don't ask mama if she's done her research, because she and JB are well-versed in the world of overpopulation (and they don't agree!). She added, "We have studied it and I believe that there is a misconception about overpopulation. I think that the whole mindset of overpopulation is really overrated. A few years back, we stated that the whole population of the world could be stood
shoulder-to-shoulder​
in Jacksonville. That may have changed a little bit since we've heard that statistic."
One thing you've got give Michelle credit for (whether you're with her or not), is the fact that she doesn't let public opinion deter her and her family from their beliefs, their desires and most importantly — their family planning. She even chalks some of the negative comments about their decision to expand once more to basic math. She told CelebrityBabyScoop, "People were saying, 'Oh, that's way too many kids and I can't imagine that many children in one family!' However, my daughter, Jill, said to us, 'Mom, Dad, I don't understand why people would say that. Love really, truly multiplies…it doesn't divide. When you have more people in the family, there is that many more people to spread love all around!' I think Jill said it very wisely; love does multiply. It's a joy, because there are that many more people and that much more love in the house!"
While I couldn't picture parenting — or hell, even delivering — 19 kids and still wanting more, I can totally get behind their daughter's comments. Adding to your family really does make the love multiply (even though diapers, space and baby gear it does not).
The joys that new baby and a new family member bring are unlike anything else in the world, so it's not hard to see that Michelle, Jim Bob and their brood just want sprinkle a little more of that special sauce around. It's sweet, isn't it?
Do you think 20 babies is too many?
More from The Bump:
By Kylie McConville
Photo: Getty Images / The Bump
News, stories, tips and laughs for moms & dads
Make sure your go-to gadgets are as cute as your style, with these trendy tech finds!

Oh, how the times have changed...

Get ready to hit the mall! Check out the hottest back-to-school trends—and get ready to make a major style statement this year.

Unique, or downright strange?

This is Kevin Droniak and his grandma. They're besties, they're awesome and they're YouTube stars.

It can be difficult to entice little ones to eat anything at all, let alone to devour a healthy plate. But feeding your kids nutritious snacks after school just got way easier, thanks to these adorably clever and cute snack ideas! For more smart and fun ways to get your kids to enjoy healthful and delicious foods, try one of these amazingly artsy lunch ideas.

Through a tonsillectomy all the way to brain surgery, my mother deserves some recognition. She's my spine, my birthday shadow, my BFF, my thunder buddy, so Mommy, thank you.

My son needs me, as much as yours needs you. Sadly, my son needs me more. He needs someone to have his back, when it seems that the police, the men he'd wave to with excitement as a little boy, see him as a being worthy only of prison or death.

If you know someone who has adopted and have made some of these comments, don't fret... now you know!

"Because you shine from within," I said, touching my finger to her heart. "Not everybody sees it, but I do. I see it. And my job is to protect that light. So when people say mean comments that squelch that light, I want you to tell me. I will protect your light by listening and loving you, my brave, courageous, and unique little firefly."

Studies have shown that it helps, top education officials have recommended it, and now doctors are officially saying the same.

I may have accidentally dropped you a few times, forgotten to document your first fart, let a little pee fly and dressed you like an idiot, but I have also loved you with every piece of me, and you will never hear an apology for that.