If I Show You Pictures of My Kids, Please Don't Show me Pictures of Your Dogs
There's no way your dog is as cute, so don't even try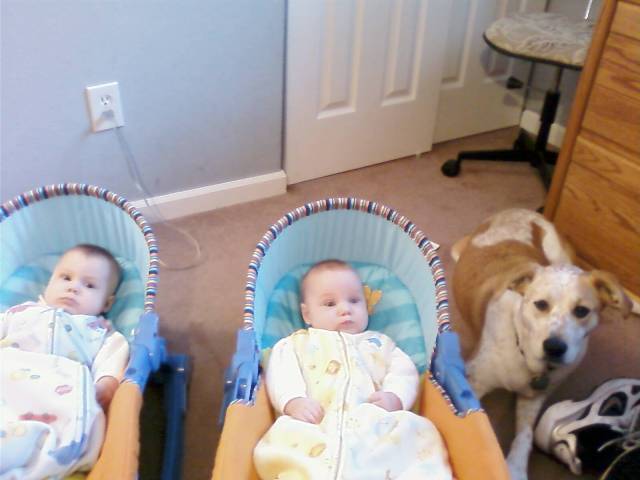 First of all, I want to make it clear that I am a dog lover (I actually have a book coming out about dogs in Fall 2011—shameless plug). My dog means the world to me, even if it is a world of following it around with plastic bags. But that doesn't mean my dog is in any way on par with my human offspring. Unfortunately, there are people who are under the impression that they can hold up their sides of conversations about kids with mentions of what couch cushions their "babies" recently shredded. 
I know how much puppy-parents love their pooches. I love my dog. But dog-parents must understand that if we show you a picture of our kids, the appropriate response is, "Oh my God, they're adorable!" regardless of the photo.  Then, if you like you can say, "We just have dogs" and show pictures of your dogs. By saying, "We just have dogs" you correctly acknowledge that pooches are not on par with human offspring. However, if after I show you a picture of my kids, and you say something like, "Here are my babies" and then force me to look at your old, matted and dreadlocked Irish sheepdog, I'm going to be polite and say, "Oh, how cute." But what I'm really thinking is that "you didn't really just compare your dog to my human child, did you?" One day my child will know how to drive a car, your "kid" will merely stick his head out of one—and chances are he won't even know how to use his paw to hit the electronic window opener.
Also, when we tell stories about the cute, amazing things our kids do, don't follow up with a story about how your dog once got a shoe stuck on its nose. We're bragging about our children conquering the challenges of physical and mental development—it doesn't fit for you to then highlight your dog's incompetence. Guess what, dog-parents, my kids can actually put shoes on their feet. What do you think about that?
But please keep in mind that parents do want to hear about your beloved pets. We love that you have a source of happiness and joy in your life. We do want to see pictures of your dog being adorably incompetent. But just know that it's a bit annoying for you to think you're holding up your side of a conversation about kids by talking about your dog.
News, stories, tips and laughs for moms & dads
Protect yourself and your family with these ingenious gizmos and smartphone apps.

Make sure your go-to gadgets are as cute as your style, with these trendy tech finds!

Oh, how the times have changed...

Get ready to hit the mall! Check out the hottest back-to-school trends—and get ready to make a major style statement this year.

Unique, or downright strange?

This is Kevin Droniak and his grandma. They're besties, they're awesome and they're YouTube stars.

It can be difficult to entice little ones to eat anything at all, let alone to devour a healthy plate. But feeding your kids nutritious snacks after school just got way easier, thanks to these adorably clever and cute snack ideas! For more smart and fun ways to get your kids to enjoy healthful and delicious foods, try one of these amazingly artsy lunch ideas.

Through a tonsillectomy all the way to brain surgery, my mother deserves some recognition. She's my spine, my birthday shadow, my BFF, my thunder buddy, so Mommy, thank you.

My son needs me, as much as yours needs you. Sadly, my son needs me more. He needs someone to have his back, when it seems that the police, the men he'd wave to with excitement as a little boy, see him as a being worthy only of prison or death.

If you know someone who has adopted and have made some of these comments, don't fret... now you know!

"Because you shine from within," I said, touching my finger to her heart. "Not everybody sees it, but I do. I see it. And my job is to protect that light. So when people say mean comments that squelch that light, I want you to tell me. I will protect your light by listening and loving you, my brave, courageous, and unique little firefly."

Studies have shown that it helps, top education officials have recommended it, and now doctors are officially saying the same.