If I Show You Pictures of My Kids, Please Don't Show me Pictures of Your Dogs
There's no way your dog is as cute, so don't even try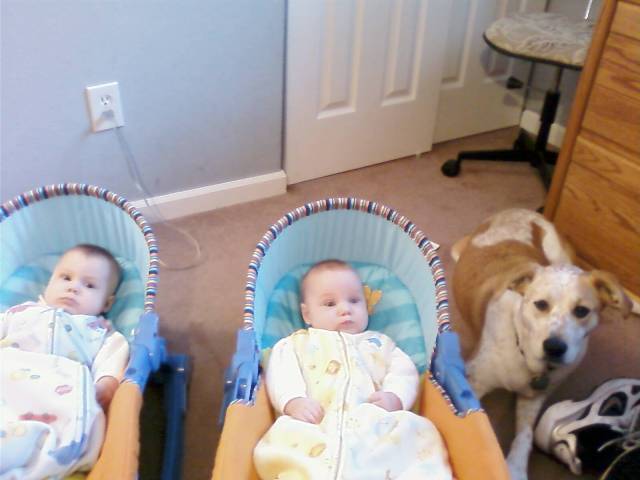 First of all, I want to make it clear that I am a dog lover (I actually have a book coming out about dogs in Fall 2011—shameless plug). My dog means the world to me, even if it is a world of following it around with plastic bags. But that doesn't mean my dog is in any way on par with my human offspring. Unfortunately, there are people who are under the impression that they can hold up their sides of conversations about kids with mentions of what couch cushions their "babies" recently shredded. 
I know how much puppy-parents love their pooches. I love my dog. But dog-parents must understand that if we show you a picture of our kids, the appropriate response is, "Oh my God, they're adorable!" regardless of the photo.  Then, if you like you can say, "We just have dogs" and show pictures of your dogs. By saying, "We just have dogs" you correctly acknowledge that pooches are not on par with human offspring. However, if after I show you a picture of my kids, and you say something like, "Here are my babies" and then force me to look at your old, matted and dreadlocked Irish sheepdog, I'm going to be polite and say, "Oh, how cute." But what I'm really thinking is that "you didn't really just compare your dog to my human child, did you?" One day my child will know how to drive a car, your "kid" will merely stick his head out of one—and chances are he won't even know how to use his paw to hit the electronic window opener.
Also, when we tell stories about the cute, amazing things our kids do, don't follow up with a story about how your dog once got a shoe stuck on its nose. We're bragging about our children conquering the challenges of physical and mental development—it doesn't fit for you to then highlight your dog's incompetence. Guess what, dog-parents, my kids can actually put shoes on their feet. What do you think about that?
But please keep in mind that parents do want to hear about your beloved pets. We love that you have a source of happiness and joy in your life. We do want to see pictures of your dog being adorably incompetent. But just know that it's a bit annoying for you to think you're holding up your side of a conversation about kids by talking about your dog.
News, stories, tips and laughs for moms & dads
Two sociologists have found that parents who have daughters are more inclined to support the GOP and turn a cold shoulder to Democrats.

The experts at Nameberry.com predict what will be big in baby-naming next year

Famed event-planner David Stark shared tips for making chic holiday decorations using items you already have around the house. Take a look!

Sociologist Karen Z. Kramer found that over the past decade more than 550,000 men were stay-at-home fathers, which is about 3.5 percent of the married with kids population.

Ben Miller celebrates his wife's birthday and the anniversary of the day their premature son Ward Miles came home for good with a video documenting his first year.

Adopting an animal is a major commitment. Yet all too often people put more effort into researching what kind of car to get than the type of pet that would best fit their lifestyle.

'Tis the season to send out holiday greeting cards to all your friends and family. But, as our friends at Awkward Family Pet Photos know, not all holiday snapshots are the same. Some are just plain kooky — especially when pets are included. So with good tidings and great cheer, here are 10 wacky holiday animal portraits that are sure to make you laugh out loud and get you in the holiday spirit. And possibly make you think twice about dressing up the family cat this year.

King of the jungle? Nah, it's just a labradoodle!

Side-by-side images of adorable babies and their celebrity doppelgängers

Do you have a finicky furry friend on your holiday gift list this year? You're in luck! We've rounded up the coolest cat-approved products to bring you purrfect gift ideas for every kind of cat -- from the curious kitten to the most refined feline. Any one of these special gifts could make your resident kitty purr with pleasure and maybe, just maybe, like the present this year even more than the box and wrapping paper it came in!

Plus, puppy names to watch

This holiday season's hottest toy has yet to be revealed, but more often than not, the best gifts are the ones kids don't even know to ask for. So this year, surprise your kids with unique presents under the tree, and watch as their eyes light up when they unwrap them. From space-age sand to a DIY race track, these out-of-the-box gift ideas will provide some serious shopping inspiration. Click through the slideshow above for all our favorite picks.