If I Show You Pictures of My Kids, Please Don't Show me Pictures of Your Dogs
There's no way your dog is as cute, so don't even try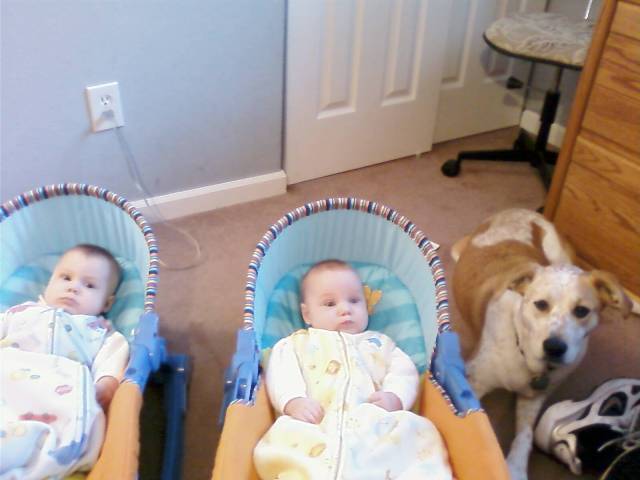 First of all, I want to make it clear that I am a dog lover (I actually have a book coming out about dogs in Fall 2011—shameless plug). My dog means the world to me, even if it is a world of following it around with plastic bags. But that doesn't mean my dog is in any way on par with my human offspring. Unfortunately, there are people who are under the impression that they can hold up their sides of conversations about kids with mentions of what couch cushions their "babies" recently shredded. 
I know how much puppy-parents love their pooches. I love my dog. But dog-parents must understand that if we show you a picture of our kids, the appropriate response is, "Oh my God, they're adorable!" regardless of the photo.  Then, if you like you can say, "We just have dogs" and show pictures of your dogs. By saying, "We just have dogs" you correctly acknowledge that pooches are not on par with human offspring. However, if after I show you a picture of my kids, and you say something like, "Here are my babies" and then force me to look at your old, matted and dreadlocked Irish sheepdog, I'm going to be polite and say, "Oh, how cute." But what I'm really thinking is that "you didn't really just compare your dog to my human child, did you?" One day my child will know how to drive a car, your "kid" will merely stick his head out of one—and chances are he won't even know how to use his paw to hit the electronic window opener.
Also, when we tell stories about the cute, amazing things our kids do, don't follow up with a story about how your dog once got a shoe stuck on its nose. We're bragging about our children conquering the challenges of physical and mental development—it doesn't fit for you to then highlight your dog's incompetence. Guess what, dog-parents, my kids can actually put shoes on their feet. What do you think about that?
But please keep in mind that parents do want to hear about your beloved pets. We love that you have a source of happiness and joy in your life. We do want to see pictures of your dog being adorably incompetent. But just know that it's a bit annoying for you to think you're holding up your side of a conversation about kids by talking about your dog.
News, stories, tips and laughs for moms & dads
A thrill-obsessed subculture claimed another life this week.

A few suggested answers for the diciest questions

Must-haves for every mommy on the road

Here's our list of fifteen moms in the food industry that deserve some recognition.

The site gets high marks for its user-friendly interface and excellent and responsive customer service. And the reviews are also pretty accurate. Compare amenities and prices next to a hotel's in the same area, and you're likely to see Airbnb come out on top.

We captured a frame-by-frame look just for you.

Other moms can be ruthless when it comes to picking apart your parenting choices. From dissing your decision to go back to work to criticizing when you started baby on solids, here are the most ridiculous comments moms have heard. Bonus, we've got just the right way to respond to the haters! You're welcome.

Nope, you don't have to spend the next nine months in black elastic-waist pants and oversize sweaters. And you don't have to shell out a fortune on your "temporary" wardrobe either. Check out these stylish and affordable maternity clothes.

Because society crumbles without us

Another kid figured out how to get into a claw machine.

As a new mom, you've recently discovered there are many things you can live without—sleep and modesty being chief among them. But what can't you live without? Seasoned moms share their Top 10 list for how to survive the early months of motherhood.

Here are our experts' best tips for how to be a positive role model for your kids so that they grow up healthy, strong and confident about the way they look.