If I Show You Pictures of My Kids, Please Don't Show me Pictures of Your Dogs
There's no way your dog is as cute, so don't even try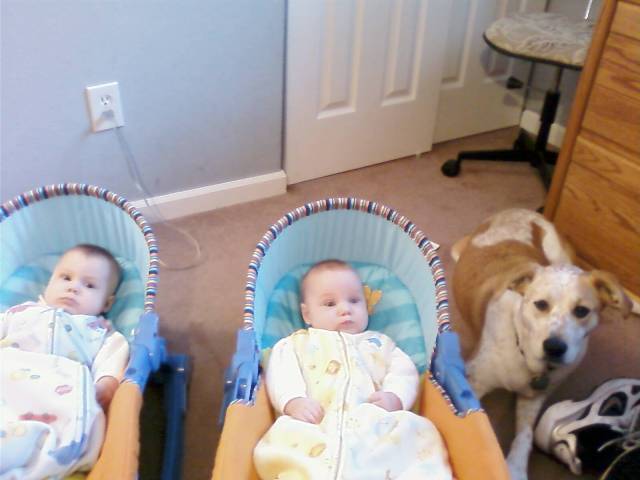 First of all, I want to make it clear that I am a dog lover (I actually have a book coming out about dogs in Fall 2011—shameless plug). My dog means the world to me, even if it is a world of following it around with plastic bags. But that doesn't mean my dog is in any way on par with my human offspring. Unfortunately, there are people who are under the impression that they can hold up their sides of conversations about kids with mentions of what couch cushions their "babies" recently shredded. 
I know how much puppy-parents love their pooches. I love my dog. But dog-parents must understand that if we show you a picture of our kids, the appropriate response is, "Oh my God, they're adorable!" regardless of the photo.  Then, if you like you can say, "We just have dogs" and show pictures of your dogs. By saying, "We just have dogs" you correctly acknowledge that pooches are not on par with human offspring. However, if after I show you a picture of my kids, and you say something like, "Here are my babies" and then force me to look at your old, matted and dreadlocked Irish sheepdog, I'm going to be polite and say, "Oh, how cute." But what I'm really thinking is that "you didn't really just compare your dog to my human child, did you?" One day my child will know how to drive a car, your "kid" will merely stick his head out of one—and chances are he won't even know how to use his paw to hit the electronic window opener.
Also, when we tell stories about the cute, amazing things our kids do, don't follow up with a story about how your dog once got a shoe stuck on its nose. We're bragging about our children conquering the challenges of physical and mental development—it doesn't fit for you to then highlight your dog's incompetence. Guess what, dog-parents, my kids can actually put shoes on their feet. What do you think about that?
But please keep in mind that parents do want to hear about your beloved pets. We love that you have a source of happiness and joy in your life. We do want to see pictures of your dog being adorably incompetent. But just know that it's a bit annoying for you to think you're holding up your side of a conversation about kids by talking about your dog.
News, stories, tips and laughs for moms & dads
6-year-old has rare brain condition

He wanted to know if woman was pregnant

Did your state make the grade?

A new dad finds an Epcot Center's worth of innovation after expecting none at all.

Alcohol and tattoos are not meant for the pre-teen set

But Debra Harrell now has custody of daughter again

I am probably not the first to tell you this: Kids come with lots of stuff. Even if you try to be as minimal as possible, the little creatures require an awful lot to keep things running smoothly. Here's a master-plan slideshow of ways to cut corners on space in every room to accommodate all the things that come along with kids.

You never know for certain what type of parent you'll be until you've actually become one and your parenting style, as it becomes evident, may surprise you. Here are 4 parenting books to help you figure it all out.

Sunshine! Camping! Pool parties! BBQs! The sunny season is here and to help you make the most of it, we've hand-picked 7 great products to make this summer the best your family has ever had. Click through for our list to inspire your sunny day fun. From our sponsor: Walmart

We all love a picnic. But do one quick search for 'picnic ideas' on Pinterest and you're instantly teleported into a land of overachieving home chefs clearly looking for their big break on Food Network. Well, never mind that, we say. Scratch the 25-ingredient recipes and the incessant trips to the craft store for that perfect tablescape. Here are 5 truly simple picnic ideas that will look great, taste great, and make you feel like the winner you are! From our sponsor: Walmart

Admit it — you do these things, too! And that's OK. But maybe — just maybe — it's time to think about changing things up a little bit, for the sake of your sanity, your relationship with your kids, and because life's too short.

We asked veterinary experts and readers which breeds they think and if it is OK to shave longhaired pets in the summer.