A baby is trending and her name is Hashtag
Did one couple take Twitter too far in the naming of their newborn?
Baby Hashtag made her debut in the Twitterverse on Saturday night. Named for an action on the popular social media platform, a hashtag or "#" for short, is a symbol used to mark keywords or topics in a tweet. The baby's debut was announced on her parent's Facebook page:
"Hashtag Jameson was born at 10oclock last nite. She weys 8pounds and I luv her so much!!!!!!"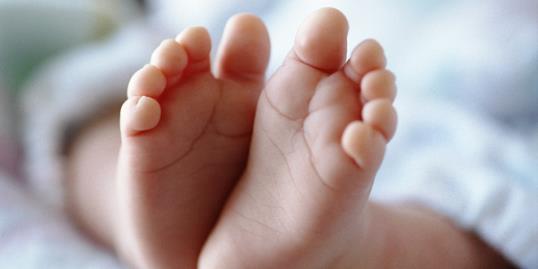 It's not the first time that a baby has been given a social media-inspired name. Last year, TechCrunch reported that a young Egyptian man named his firstborn daughter "Facebook" to celebrate the Jan. 25 revolution and the role social media played in organizing protests in Tahrir Square.
More on MSN Living: 50 ways to stay bonded with your kids
An Israeli couple took it one step further, naming their newborn girl "Like" for the popular thumbs-up feature on the Facebook site, according to WebProNews.com.
"I'm not going to come out and judge another parent's choice of name, but I wonder if this is the kind of thing that mom and dad will regret in two years when people are talking about Twitter the way we talk about Friendster today," says Matt Villano, author of the "Are We There Yet?: Traveling With Kids" blog on Parenting.com. "That said, if Ron Artest can change his name to Metta World Peace and Chad Ochocinco can change his name back to Chad Johnson, perhaps names mean less in today's day and age than we'd like to admit."
So the million-dollar baby-naming question is, who's going to call dibs on Pinterest? #LOL
Weigh in on Facebook – Awesome or awful?
More on MSN Living: Totally awkward pet holiday photos
Read the full story at Mashable.com.
Bing: Weirdest baby names
More on MSN Living:
10 most popular cat names
5 weird reasons couples have divorced
15 themed rooms for your teen
Photo: Barbara Peacock/Getty Images
News, stories, tips and laughs for moms & dads
Find out which classroom supplies and dorm-room buys you don't need to spend a fortune on

4 steps for raising a child who doesn't feel emotionally stranded.

Any of these sound familiar?

Fire challenge involves pouring alcohol on one's chest and lighting it

A coincidence after the furlough?

Helpful tips for easing first day jitters.

Getting ready for fall has never been more fun.

Great reads for the back-to-school mindset.

Remember the concept of weekends being a time for rest, relaxation, and togetherness? No? Us either. Between soccer games, playdates, dragging your kids to see the new exhibition at the local children's museum, and we need to pick up a gift for that birthday party that starts in . . . 20 minutes, juggling a busy family's weekend schedule can be more stressful than a weekday. While we know it's simply not realistic to cancel all your plans and obligations moving forward, clearing the calendar for just one weekend can be just the refresher that your family's craving. Here's why.

You just had a baby? You're a superstar! All those diapers, all that spit up, and you're makin' magic happen. But you're also likely tired - really tired - and busy (so, so busy). Taking time for yourself might seem like an indulgence but a happy mom makes for a happy baby. Here are 7 things you should definitely do to keep your sanity intact and your spirit high. <more, below>

Summertime is on, and the kids are out of school. Every mom knows that for these three months it's more important than ever to keep the kids busy. But you don't have to schedule your life away with camps, or drop a bundle on activities and games that come in a box. You can make your own fun, and even include the kids in the prep, with some simple, inexpensive DIY crafts that will keep them playing 'til the lightening bugs come out. Make your own fingerpaint, bubbles, and crayons. Create a fort-building kit and superhero capes that will kick their imaginations into overdrive. Here are 10 of our favorite kid-friendly DIY crafts to fuel your summertime fun.