A baby is trending and her name is Hashtag
Did one couple take Twitter too far in the naming of their newborn?
Baby Hashtag made her debut in the Twitterverse on Saturday night. Named for an action on the popular social media platform, a hashtag or "#" for short, is a symbol used to mark keywords or topics in a tweet. The baby's debut was announced on her parent's Facebook page:
"Hashtag Jameson was born at 10oclock last nite. She weys 8pounds and I luv her so much!!!!!!"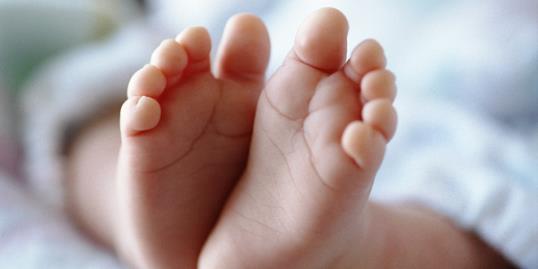 It's not the first time that a baby has been given a social media-inspired name. Last year, TechCrunch reported that a young Egyptian man named his firstborn daughter "Facebook" to celebrate the Jan. 25 revolution and the role social media played in organizing protests in Tahrir Square.
More on MSN Living: 50 ways to stay bonded with your kids
An Israeli couple took it one step further, naming their newborn girl "Like" for the popular thumbs-up feature on the Facebook site, according to WebProNews.com.
"I'm not going to come out and judge another parent's choice of name, but I wonder if this is the kind of thing that mom and dad will regret in two years when people are talking about Twitter the way we talk about Friendster today," says Matt Villano, author of the "Are We There Yet?: Traveling With Kids" blog on Parenting.com. "That said, if Ron Artest can change his name to Metta World Peace and Chad Ochocinco can change his name back to Chad Johnson, perhaps names mean less in today's day and age than we'd like to admit."
So the million-dollar baby-naming question is, who's going to call dibs on Pinterest? #LOL
Weigh in on Facebook – Awesome or awful?
More on MSN Living: Totally awkward pet holiday photos
Read the full story at Mashable.com.
Bing: Weirdest baby names
More on MSN Living:
10 most popular cat names
5 weird reasons couples have divorced
15 themed rooms for your teen
Photo: Barbara Peacock/Getty Images
News, stories, tips and laughs for moms & dads
Make the most of the summer with these family-oriented activities!

Here our experts' best tips for how to be a positive role model for your kids so that they grow up healthy, strong and confident about the way they look.

Pets are part of many children's lives. Learn how to help them foster strong, healthy relationships.

It's that time again, parents...

One of our favorite ways to start the day is with a piping hot cup of coffee and a thought-provoking TED talk. In case you'€™re not familiar with the group, TED (which stands for Technology, Entertainment and Design) is a nonprofit organization dedicated to spreading ideas through projects and talks by a diverse group of inspired thinkers - people of all cultures, ages and disciplines. As you can probably guess, listening to these innovators share their ideas is a surefire way to jumpstart your day and get your creative juices flowing. Click through the slideshow above for the eight TED talks every parent needs to see. By Cordelia Tai

Much like their famous owners, these pooches live a fabulous life. Some are rescues, others purebred, but one thing is certain – these dogs play an important part in their famous parents' lives. Can you guess who owns each of these dogs?

If you value the backside of your theater seat and making it to your next paycheck, you may want to stay home

Two controversial science projects resembled weapons, school officials said.

One mom shares how she and her family make the Sedar fun and memorable for all

The threats were in public view on the boy's social media wall.

Sometimes, love isn't enough to save us.

Joe, Kevin, and Nick aren't the only hot bros in Hollywood. Seventeen has uncovered the cutest celebrity siblings!